Once you start exploring the ocean with your kids, it won't be long until their curiosity is soaring. Grab these free resources to explore the layers of the ocean to teach your kids about the regions of the water that cover so much of the Earth's surface.
Since I live on an island, I can't help but want to teach my kids all about the ocean. My kids have grown to love the ocean so much that my daughter (13) wants to pursue a career in marine biology.
The island where we live is in the Pacific Ocean, the largest ocean on Earth, covering around 30% (or 1/3) of the Earth's surface. Pacific means Tepre Pacificum in Latin, "peaceful sea".
It is no wonder why my daughter loves the ocean. It is peaceful, its beauty surrounds us, and we have seen its power during storms.
The ocean remains a mystery to her, to me, and every other human on Earth. Literally, every human. These stats will blow your mind.
We can see that oceans cover around 70% of the Earth's surface. There is no doubt in studying the oceans. Your kids will ask you some questions like how big the ocean is, how deep is the ocean, etc.
Well, the incredible truth is this.
As vast as the ocean is and vital for the source of living things (70% of our oxygen comes from the ocean, NatGeoKids), a whopping 80 percent of the ocean has never been mapped, never been observed, or explored.
It is way too difficult still and way too expensive to explore the ocean in its entirety with the current underwater vehicles and sonar technology that exists today. Therefore only 10 percent of the entire global ocean waters have been mapped my sonar technologies.
Even adults are curious about what else is out there then? It boggles my mind. What sea creatures haven't we discovered? How cool must they look, and how do they live? Are there huge sea animals out there? Could they have beautiful or even neon colors?
The National Oceanic and Atmospheric Administration (NOAA) is working to increase understanding of this ocean realm, which will remain a mystery to humankind for quite a while.
So, where do we begin our ocean unit study?
The best place to start an ocean unit study with ocean terminology and then with studying its layers – also called ocean zones. Different animals live within each layer of the ocean, so you can incorporate the animals with each layer you teach your kids.
Here is a basic overview of the five layers or zones of the ocean:
Layer 1 – The Trenches (Hadalpelagic Zone)
Layer #1 is the deepest layer of the ocean located in the basin or below. Of course, it is darker than dark, colder than cold. No light can even penetrate this layer at all.
Even though these conditions may seem impossible for creatures to thrive, some creatures live here. Mostly the animals living in the trenches are starfish and other invertebrates.
Layer 2 – The Abyss (Abyssopelagic Zone)
This layer or zone has temperatures that are near freezing, and there is no light at all. It is home to creatures, including sea stars (starfish) or squid.
Get this – 75% of the ocean floor is in this zone, the Abyss.
Layer 3 – The Midnight Zone (Bathypelagic Zone)
This layer is super cool, as some of the animals here produce their very own light. These are called bioluminescent creatures.
Many of the creatures here are either red or black due to the lack of sunlight. Whales often go hunting in the Midnight, or Dark Zone, for food.
Layer 4 – The Twilight Zone (Mesopelagic Zone)
This layer has faint sunlight and is home to cool sea creatures like the swordfish, the wolf eel, and even some bioluminescent creatures.
Layer 5 – The Sunlight Zone (Epipelagic Zone)
This is the tangible part of the ocean. It is where we can swim, where we find the coral reef, and where photosynthesis occurs.
Can you believe this is the only layer of the ocean that most of us will only ever have access to?! That is pretty amazing.
Now, let's get some resources to teach our kids all about these mysterious layers of the ocean.
You may want to check out our Ocean Notebook, a companion to Ocean Anatomy by Julia Rothman.
In the Ocean Notebook students learn all about life in the ocean, layers of the ocean, the ocean floor, coral reefs, tide pools, and much more.
FREE Resources to Explore the Layers of the Ocean:
FREE! – KS2 The Layers of the Ocean PowerPoint | twinkl
Oceans-Its Layers FREE | sravya kalangi
FREE Ocean Worksheets for PreK and Kindergarten (8 Pages) | Cookies and Racecars
Learn about the Ocean Zones | Natural Beach Living
Ocean Zones For Kids: Learning About The Amazing Ocean | Simply Everyday Mom
Ocean Zones FREE Worksheets for Kids | Living Life and Learning
Montessori Inspired Layers of the Ocean for Preschoolers | Pinay Homeschooler
Ocean Zones FREE Practice Questions | Help Teaching
Layers of the Ocean FREE Printables | Teach Me Mommy
Ocean Layers (Elementary Level) FREE Coloring Page | Coloring Nature
FREE Activities to Explore the Layers of the Ocean:
Layers of The Ocean Lesson And Soap Making For Kids | STEAM Powered Family
Ocean Zones for Kids and Ocean Activities | Natural Beach Living
Make Your Own Ocean Zones In A Jar | I Can Teach My Child
Simplified Ocean Zones in a Bottle (3 Zones) | Science 4 Superheroes
DIY Ocean Layers! | Learning Resources Blog
Ocean Zones and Animals FREE Activity | Kindergarten Connection
Learning About the Layers Of The Ocean (Paint Sample Craft For Kids) | A Little Pinch of Perfect
Ocean Activities for Kids | Something2Offer
Paint Strip Ocean Depths [Read and Record] | Deceptively Educational
Ocean Zones for Kids: Layers of the Sea Science Project | KC Adventures
Zones of the Ocean Sensory Bottles | Montessori Parenting – The Kavanaugh Report
Ocean Zones Upcycled Kids Craft FREE Ocean Animals Printables | Living Porpoisefully
FREE Ocean Zones 3 Part Cards | Tots Learning Lots
FREE 3D Ocean Layer Bingo | Ellen McHenry's Basement Workshop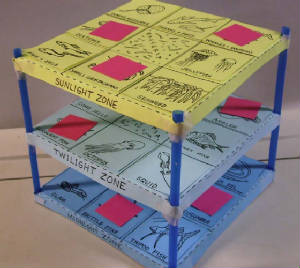 Exploring Ocean Layers Science Activity for Kids | Fun with Mama
Creative Ocean Zones Activity for Kids | Happy Tot Shelf
FREE Ocean Layers Animal Printables:
There are currently hundreds of thousands of ocean life forms in the sea right now, yet scientists believe there can be millions of marine life forms that we have yet to discover.
Teach your kids about some of the sea animals we do know that exist in the different layers of the ocean.
FREE Animals of the Deep Ocean Printables
Ocean Animal FREE Printables – for Early Learners
FREE Sunlit Ocean (Euphotic) Zone Animal Printouts | Enchanted Learning
FREE videos to teach the ocean zones:
Let's Learn the Ocean Zones! | SciShow Kids
What Are Ocean Zones? | Pew
Creatures Within the Layers of the Ocean | bhalt1331
19 Ocean Videos for Kids that are Teacher Approved | Mrs. Will's Kindergarten
Jeannette is a wife, mother and homeschooling mom. She has been mightily, saved by grace and is grateful for God's sovereignty throughout her life's journey. She has a Bachelor in English Education and her MBA. Jeannette is bi-lingual and currently lives in the Tongan Islands of the South Pacific. She posts daily freebies for homeschoolers!