Color by code can be the beginning of many learning experiences for our little ones. Below you will find tons of free color by code printables to help your child on their learning journey.
Color by Code Worksheets
Honestly, color by code is the type of activity that children plainly enjoy. Parents love it because kids are engaged in troubleshooting for answers, for staying on task willingly, and for being a fun activity where students practice what they have learned.
If you stop to think of everything your child can practice while doing a color by code you probably would want to grab as many as you can. The amount of "thinking" involved goes way beyond knowing your colors or mere busywork.
Benefits of a Color By Code Worksheet
Here are some benefits that will come out of using color by code resources with your students at home.
1) Color by code worksheets help kids following directions.
How many of our children can use some help with following directions? I literally have to tell my son instructions about a good 3 – 4 times in order for him to remember, get, or listen to what I am saying.
That is I am not doing what I am supposed to do with him. I have learned that my son listens when I stop, take my time, get down to his level, and tell him instructions slowly. It is just how his brain and heart works.
He is so active and that is what has worked with us. However, I know he can't function as he grows older like that. He needs more practice with following instructions and color by code resources are perfect for doing just that.
2) A color by code worksheet teaches how to complete a task.
How quickly kids start something to never finish? They begin playing with LEGO®, then get distracted. A child will start writing, then their mind wanders. They are told to do their chores, but are found playing with that one ball that keeps rolling under the couch.
Color by code provides practice for a child to be in a task, think through it, focus on it, and then complete it successfully. Some of our children could use this practice often.
3) Coloring by code increases confidence.
By completing each color-by-code activity, children develop confidence that they are able to complete tasks on their own.
4) Color by code worksheets introduce art alongside learning.
Introducing children to coloring is the very basic concept of art and creating. Visually, kids can understand creating art visually.
Through art, kids develop their creativity. Something that wasn't there is now there visually. This is how art develops and how kids get a chance to express themselves – within boundaries and limits.
In addition to this, art and learning can go alongside each other and it can enhance learning as shown by the addition of the letter "A" to STEM (STEAM- Science, Technology, Engineering, ART, and Math).
5) Children learn the meaning of symbols when coloring by code.
With color by code resources, kids get the concept of symbols having meaning. Children improve color recognition but also learn that numbers can represent other things.
Children grasp that different objects can have other meanings creating a symbolic understanding that helps them understand their surroundings and other people better. It also can be a foundation for teaching American Sign Language or coding.
6) Introduce the basics of coding with color by code printables.
Coding is the method of communicating with a computer. However, obviously, we can't talk to a computer so we have to use code. If your child is interested in computers and you want to explore coding, then you can recall them to the times when they colored by code.
They used a code to represent something else. In essence, coding foundational basics is this very thing. It is incredible to think that creating computer software, websites, apps, and video games, has at its core a color by code concept.
7) Color by code is a fun and engaging way to review various topics.
Whether it be learning numbers, solving equations in math, or reviewing literacy concepts color by code resources has what you need for review.
Color by code isn't a regular worksheet. With color by code, children can gain knowledge of all of the above and a slew of benefits I am sure I missed. So, go ahead.
Color by Code Worksheets
Explore the tons of free color by code printables below to add to your lessons for fun and learning any child will enjoy.
Free Color by Number Printables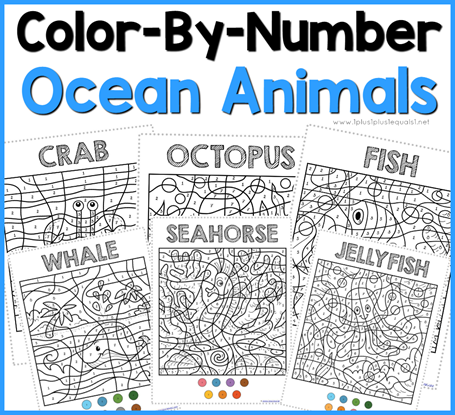 Color by Code
Math Color by Code Worksheets
Literacy Color by Code Free Printables
Themed Color by Code Free Printables
Color by Code Worksheets
More Color by Code Printables
In Conclusion
Resources to provide your kids color by code activities have many benefits that can contribute and even be the basis for new learning experiences in your homeschool.
As a homeschool parent, you can rest assured that tons of free color by code printables above are not just time fillers. You are actually improving your child's learning journey with no prep time at all. Win/Win.
Jeannette is a wife, mother and homeschooling mom. She has been mightily, saved by grace and is grateful for God's sovereignty throughout her life's journey. She has a Bachelor in English Education and her MBA. Jeannette is bi-lingual and currently lives in the Tongan Islands of the South Pacific. She posts daily freebies for homeschoolers!