When doing an artist study or picture study in your homeschool, you will most likely be covering famous painters. One type of artist that often gets overlooked in an artist study is that of the sculptor.
Some artists are known for their specific skill set, or style of art. Other artists are skilled in a multitude of styles and mediums. In this round-up, we are going to cover the most famous sculptors, as well as painters that are also famous for their sculptures. You can use these free resources about famous painters and sculptors to create your own artist study. These can even be paired up with the time period that you are learning about in History.
What is Sculpture?
Sculpture is a branch of the visual arts where artists create three dimensional art. This is done by the artist carving and modeling stone, wood, metal, plastic and ceramics materials to create a sculpture.
Sculptures are a large part of history dating back to Ancient times. In Ancient Greece and Rome, sculptures were made to honor different gods, or to show the greatness of kings. During the Renaissance, sculptures began to show likenesses to Bible characters and Christianity influences. Sculptures continue to be created even to this day. In modern times, newer sculptures are constructed with concrete, wire, shiny steel and even plastic. There are many famous sculptures that are known as landmarks, and tourist attractions.
Here are ten famous painters and sculptors that have made a huge impact in the history of art:
These artists are put in order from the earliest to one that is still living today! I have included detailed biographies and biographies for children that are easier to understand and leave out any "adult" information. I have also included a link to where you can view their complete works of art. With anything in the art world, please be mindful and preview before showing your children. Some of them contain nudity, and some odd, or even violent images that may be scary or weird to your children.
Donatello (1386 – 1466)
Donatello was an italian painter and sculptor. He was the leading sculptor of the early Renaissance. His techniques would go on to have a huge influence on generations of Renaissance artists. His famous masterpiece is the Bronze David.
Donatello biography from Biography.com
Artist Donatello Biography Paintings and Sculptures Lesson – Study.com
26 Fun and Interesting Facts About Donatello – Tons of Facts
Donatello.net has a full page of pictures of all of his sculptures. You can click through each one to view the sculpture and get information on it.
Michelangelo Buonarroti (1475-1564)
Michelangelo is one of the great masters of the High Renaissance era. He is one of those artists that excelled in many fields which included: painting, architecture, poetry and engineering. He is regarded as the greatest sculptor of all time. His masterpiece is The David.
Michelangelo biography from Biography.com
Michaelangelo Biography for Kids – Mr. Nussbaum
Michaelangelo Unit Study – Jennifer Lambert – with beautiful photos you may want to preview first.
Soap Sculpture Lesson for Studying Michaelangelo – Making Art Fun

Colouring the Sistine Chapel free activity with directions and Sistine Chapel coloring pages – Ideas for Kids
The Creation of Adam by Michaelangelo Lesson Plan – Making Art Fun
Michaelangelo: Sculptor, Painter, Architect and Poet Unit Study – Khan Academy
Michaelangelo.org has a panoramic view of the Sistine Chapel. There are also full galleries of his work with tons of facts, quotes and details on his works and life. (there is nudity)
Gian Lorenzo Bernini (1598 – 1680)
Bernini was a childhood genius that was recognized as a prodigy when he was eight years old. He is credited with creating the Baroque style of sculpture. Baroque art is known for its ornate and extravagant style. He was known as the Michelangelo of his century. His masterpiece is the Ecstasy of Saint Teresa.
Gian Lorenzo Bernini biography from Brittanica.com
Giovanni Lorenzo Bernini Facts for Kids – Kids Kiddle
Full works of art with details on each one – National Gallery of Art
Gian Lorenzo Bernini Official Website – this has a full page of all of his sculptures to view as well as facts about his life and his biography.
Auguste Rodin (1840 – 1917)
Rodin left the old traditions in sculpture and began to model the human body with so much realism that people didn't believe he wasn't using a mold of a real human! He is considered to be the father of modern sculpture. You may know him by the most famous sculpture ever created, his masterpiece: The Thinker.
Auguste Rodin biography from Biography.com
Meet August Rodin Biography – Making Art Fun
Goldfish Soap Sculpture – Making Art Fun
Rodin Works of Art Gallery and Information – National Gallery of Art
Auguste Rodin Sculptures -here you can view photos of all of his sculptures.
Pablo Picasso (1881 – 1973)
Picasso is considered one of the greatest painters of all time, and the most influential artist of the 20th century. He helped to pioneer the art movement of Cubism. Sculpting was experimental for him and used as a freedom of expression. He worked with many different mediums such as; wire structures, structures created with waste and debris that were cast in bronze. His masterpiece structure is the Chicago Picasso.
Picasso biography from Biography.com
Meet Pablo Picasso – Making Art Fun
Biography for Kids – Mr. Nussbaum
Pablo Picasso Biography for Kids – Duckster
Interactive Online Picasso Lesson Plan for Highschool from Jennifer Dupree
Pablo Picasso Website that has 150 paintings, biography and quotes from Picasso.
Constantin Brancusi (1876 – 1957)
Brancusi was born to poor Romanian peasants and started carving wood at a young age. He made his artistic career in Paris where he worked under Auguste Rodin. When he left from under his teaching, he developed his own style. He is known as a pioneer of modernism with an abstract art style. He is considered the patriarch of modern sculpture.
Constantin Brancusi biography from Brittanica.com
Constantin Brancusi biography and facts for kids – Academic Kids
Full list of Brancusi works of art with photos and information – National Gallery of Art
See a photo of The Bird in Space and read information about this work of art at the Philadelphia Museum of Art where it is a permanent collection.
Alexander Calder (1898 – 1976)
Calder was an acclaimed abstract sculptor. He is an american artist famous for his invention of the mobile, as well as static sculptures, wire sculptures, theater sets, and oil paintings. The monumental sculptures he created include: .125 for JFK Airport in New York City, Spirale for UNESCO in Paris and his largest sculpture El Sol Rojo outside the Aztec Stadium for the New Mexico Summer Olympic Games. He was awarded the Presidential Medal of Freedom two months after his death in 1976. His masterpiece is Calder's Circus.
Alexander Calder biography from Brittanica.com
Meet Alexander Calder – Making Art Fun
Wire Sculpture Horse Lesson Plan – Making Art Fun
Full List of Calder Works of Art with photos and information – National Gallery of Art
The Calder Foundation is a website devoted to collecting, exhibiting, preserving, and interpreting the art and archives of Alexander Calder. It has some amazing photos and information about his work. It's very fascinating!
Henry Moore (1898 – 1986)
Moore was a pioneer in the field of Modern sculpture. He is also considered one of the greatest sculptors of the 20th century. He is best is best known for his semi abstract monumental bronze sculptures. These are located around the world as public works of art. His masterpieces are The Reclining Figures.
Henry Moore biography from Bioglearn more and any printables
Henry Moore Facts for Kids – Kids Kiddle
Who is Henry Moore? Find out about his lumpy, bumpy, holey sculptures – Tate Kids
Henry Moore full list of Works of Art with photos and information – National Gallery of Art
Henry Moore Foundation has full collections of his art to view, with information about each piece. There are also archives, a library and an area to do research.
Alberto Giacometti (1901-1966)
Giacometti was a large contributor to Surrealist sculpture. His most popular works resemble that of games, and toys, and architectural models that encouraged interaction. He is one of the most important sculptors of the 20th century. His masterpiece is The Walking Man.
Alberto Giacometti biography from Brittanica.com
Albert Giacometti Facts and Information – Primary Facts
Giacometti Sculpture Art Lesson for Kids – Nurture Store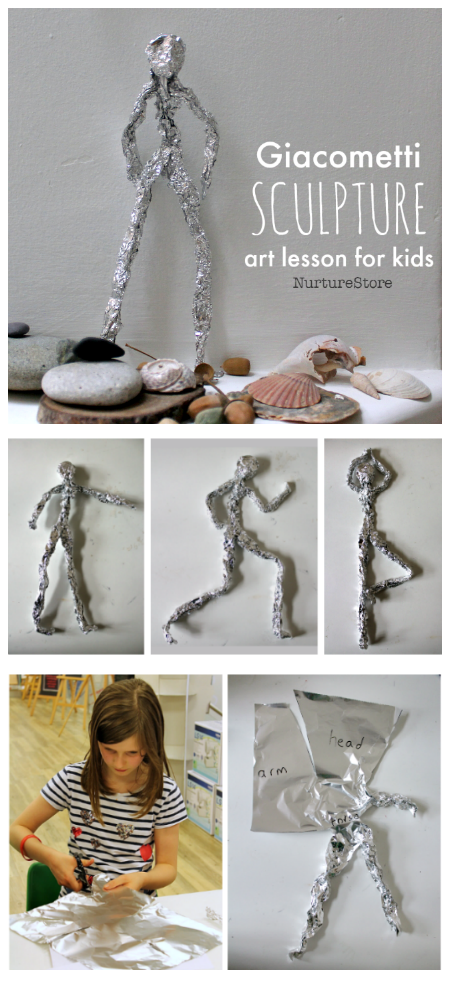 Alberto Giacometti Full Works of Art with photos and information – National Gallery of Art
The Giacometti Foundation has photos of his art work with important information about each piece. There is a biography, a timeline and a database for his work.
Fernando Botero (1932 – present)
Botero grew up attending a school for matadors. He created paintings of bulls. When one of his paintins sold, he realized he could be an artist. He became one of the most successful and richest contemporary artists. In the 1960s he began to create sculptures. He is known for the style of creating very large volume, round and chubby figures. He is the most influential Latin American artist and the best known living sculptor. His masterpiece is The Trojan Horse.
Fernando Botero biography from Biography.com
Fernando Botero Facts for Kids – Kids Kiddle
Fernando Botero Art Lesson for Kids – The Art Curator for Kids
The Art of Fernando Botero – The Culture Trip
Are your children are interested in learning even more about art and artists? You will love these FREE resources we have created just for you!
Picture Study Resources and Printables – Picture study can help our children learn to appreciate and enjoy the beauty of art. It can open up their minds to discussion and critical thinking. We have included lots of resources and tips to help you get started.
Famous Artists Notebooking Research Journal – Your children will get to research and learn about fifty famous artists as they work to complete their notebooking journal. They will research each artist and include their date and place of birth and death, their famous works and interesting facts about their life.
Famous Artists Cheat Sheets – These "cheat sheets" include the names of forty-five famous artists from around the world and in different periods of history. It includes the artist's name, home country, style or period they are known for, and at least one of their most famous works. These are great for a student binder, or to use to quiz your children.
Sarah is a wife, daughter of the King and Mama to 4 children (one who is a homeschool graduate)! She is a an eclectic, Charlotte Mason style homeschooler that has been homeschooling for almost 20 years.. She is still trying to find the balance between work and keeping a home and says she can only do it by the Grace of God, and Coffee!