Have you ever wanted to be a bird watcher or "birder"? The end of spring and the beginning of the summer season is the perfect time to begin bird watching. If you are wanting to learn how to get started watching birds, we have gathered up lots of free bird watching activities and resources so you can get started on this enjoyable nature activity with your family today!
Bird watching has always been a fun family event for us. We enjoy taking nature walks and listening for different birds and trying to find them and point them out. Our family enjoys camping and visiting different state parks so we are out in nature often, and outdoor bird activities are a favorite for our family.
One of our best memories is when we met up with some people from the Audubon society at a state park. They took us on a short bird hike to point out the popular birds in the area. We used a bird watching worksheet to keep track of what we saw and heard. They had very expensive scopes and binoculars and let our girls try them out at the end.
It was a memory they will never forget. Ass we were leaving and someone pointed out a great horned owl in a large nest above us. It was one of the neatest experiences, and ever since then my girls have been obsessed with watching birds. So much so that my 16 year old wants to work with birds as a career.
Bird watching activities can bring about some great opportunities for discussion with our children. Sitting quietly outside with nature and seeing these precious creatures that God provides for is fascinating to watch.
What are the two important things required for bird watching?
This should be a given, but patience and remaining quiet are the main things you will have to remember when you are on the lookout for birds. Sometimes when we are observing birds through a window, even a quiet noise will send them flying!
What kind of activity is bird watching?
Bird watching is a relaxing nature study activity that anyone can participate in – even little babies (although they might not be down with the quiet part)! There are many benefits to observing nature and it can be a great homeschool break idea. There are many ways to incorporate nature into your homeschool, and bird watching is just one of them!
Top Seasons for Bird Watching Activities
Spring and fall bird migration season is a great time to engage in bird watching.
Breeding season is a good time to observe these beautiful creatures.
You have to take into consideration things such as climate and physical geography, which can make bird watching popular during different times of the year for various locations.
We have lots of FREE Bird Watching Activities and Resources for you to turn it into a learning unit study as well!
You can start with bird watching in your very own backyard:
Backyard Birds 3 Part Cards plus bird watching chart – This printable bird watching chart includes 3 part cards and is perfect for the Montessori homeschooler.
Go Birdwatching! Printable Birdwatching Game with Identification Cards – Deceptively Educational
Printable Birdwatching Tally Sheet – Fantastic Fun and Learning
Birdwatching Coloring Pages and Bird Watching Journal – In All You Do
How to Study Birds with Free Notebooking Pages – The Joy Filled Mom
Birding with Kids Printable Bird Watching Book – Buggy and Buddy
Identify Migrating Birds with these Bird Migration Printables – Raising Up Wild Things
Beautiful Printable Bird Journal with different covers to choose from – Intentional Homeschooling
Backyard Birds Nomenclature Cards for 36 backyard birds – 1+1+1=1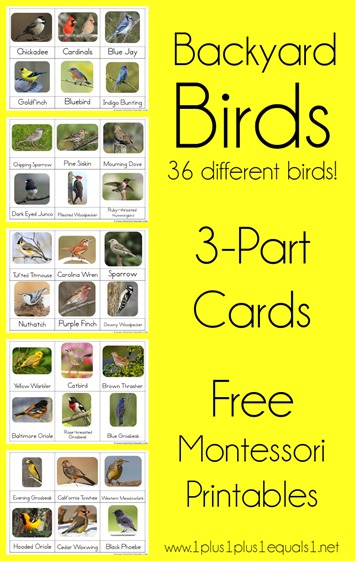 Nature Study with the Great Backyard Bird Count plus printables and preschool activities – Everyday Graces Homeschool
The best way to attract birds to your yard is by putting out feeders. Some of our favorite feeders have been handmade ones. Check out these DIY Birdfeeders Nature Crafts for Kids.
We have even more printables and units to help you enhance your study on birds:
Birds Around the World Guided Drawing Unit – a fun way to combine art, science and geography.
Bird Terminology – vocabulary words notebook and copywork book
FREE Bird Nature Study Fact Cards – these beautiful water color cards will help your children learn about 18 different birds with scientific facts.
Introduce your children to some of the many birds Audubon painted during his lifetime with this FREE Audubon Birds Notebooking Journal.
Using the Birding Notebook alongside Audubon Birding Adventures For Kids (sold separately) you will learn about 25 birds as well as their habitats, beaks, feathers, and much more. Document your birding activities for your notebook and portfolio and use the journal pages for a birdwalk.
Websites to help you learn more about bird identification for bird watching:
The Great Backyard Bird Count is a week every February where birders from all over the world come together in this global event to count and record the birds that they see. You can get information on how to get started with videos, and printables to help you tally the birds you find.
Project Feeder Watch – there are printable backyard bird posters to learn how to identify common feeder birds, data reports, bird watching activities and ways to participate in scientific research by counting birds.
Bird Sleuth K-12 is part of the Cornell Lab of Ornithology – free resources, kits and even lesson plans for Homeschoolers.
American Birding Association – This organization caters to recreational bird watchers. Their mission is to inspire people to enjoy and protect wild birds. They even have resources for Young Birders.
National Geographic Bird Pictures and Facts – If your children enjoy photographs of nature they will love this series of National Geographic photos of various birds. There are also scientific facts, and lots of information on each one.
Sarah is a wife, daughter of the King and Mama to 4 children (one who is a homeschool graduate)! She is a an eclectic, Charlotte Mason style homeschooler that has been homeschooling for over 16 years now. She is still trying to find the balance between work and keeping a home and says she can only do it by the Grace of God, and Coffee!