Studying topics about nature allow kids to appreciate the environment all around them. These nature study resources and free nature journals for kids will have kids observing in simple and creative ways.
No. Getting kids outside and letting them explore on their own isn't enough in and of itself.
Heading outside is a great thing for your homeschoolers. Being intentional about learning about God's creation is epic in homeschooling.
Teaching our students to appreciate nature is like opening up a door in a dark room. Once you appreciate it, your kids can never un-appreciate it.
I know it's not the way the saying goes, but really people can go through life and never really smell the roses.
That almost was me. I never really cared about nature much. Life revolved around life . . . and nature and the animals in it were just there.
Moving to a small island made me appreciate the atmosphere all around. I really wanted to research what nature meant according to God's Word.
After researching it with my homeschoolers, I wanted to share How to Teach Kids to Be Good Stewards of Nature because it's important.
Use nature journals to help your students learn, observe, and record information all about nature. They are great ways to get the most out of your nature study.
Nature journaling has many benefits and here are just a few:
1. Journaling about nature gets kids outdoors.
2. Your students will be able to learn and improve observation skills.
3. Journaling provides a means for kids to increase their vocabulary.
4. Students can draw and write to communicate what they've observed.
5. Nature journaling is simple, yet creative and engaging.
Recording observations in nature is all that nature journaling is, but what kids learn is so much more.
Explore these free resources and free nature journals for kids below:
Year-Round Nature Journaling Ideas + FREE Printable | Year Round Homeschooling
FREE Printable Nature Journal For Kids | Printables Fairy
Nature Journal – FREE Printable | Montessori Nature
FREE Nature Journal Printables | The Crafty Classroom
Why Study Nature? (FREE Printable For All Seasons) | Ben and Me
FREE Bird Journal – Hands-on Nature (Coloring & Identification Pages) | Tina's Dynamic Homeschool Plus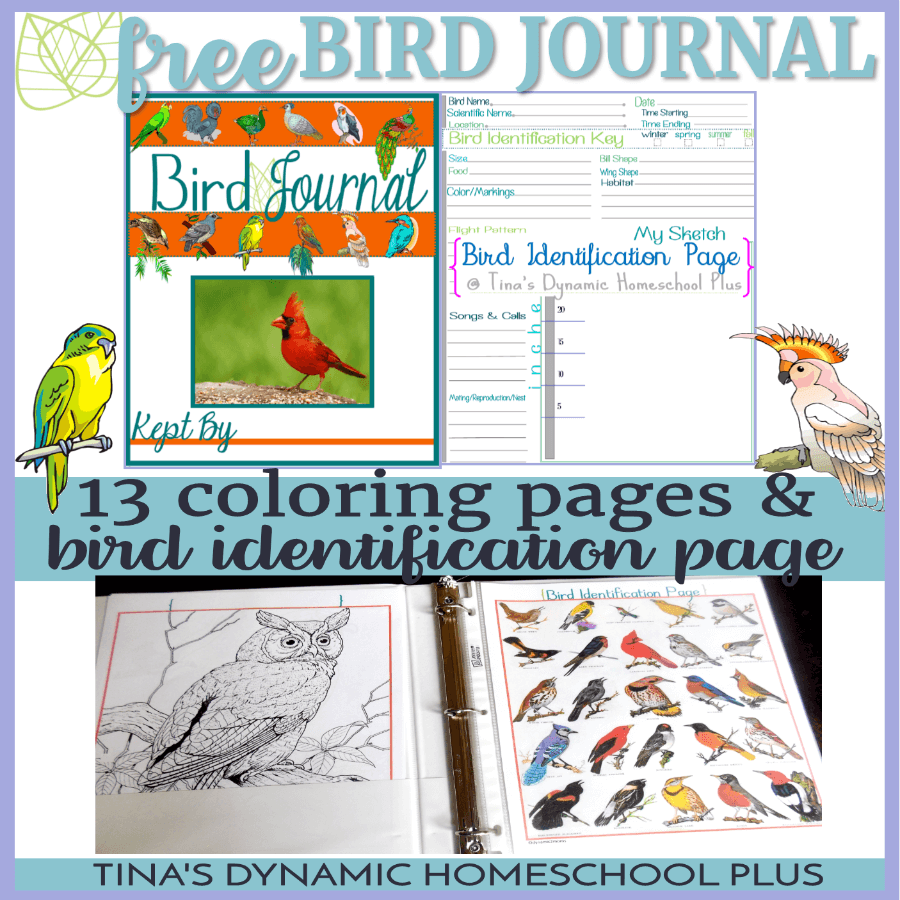 FREE Printable Kids Nature Journal | My Mountain Wild
Collecting Nature and Encountering Our Creator (GIANT FREEBIE) | Life Abundantly
Create Your Own Nature Journal for Kids (with FREE printable outdoor activities!) | KCEdventures
FREE Printable Nature Journal | Rebecca Grabill
Printable FREE Nature Journal with Creative Prompts for Kids | Adventure in a Box
FREE Nature Journal Printables | Encouraging Moms at Home
Nature Journaling for Kids: FREE Journal Page Printables for Kids | Scratch Made Journal
FREE Printable Nature Journal Pages for Kids | Nurture Store
Kid's Nature Journal FREE Printables | Scratch Made Journal
FREE Printable Nature Journal | Oh So Mummy
Hiking Adventures and a FREE Nature Journal Printable | That Mama Gretchen
FREE Nature Journal​ | Mama Teaches
Printable Garden Book for Kids a Nature Journal (FREE) | Sisters, What!
Nature Journal Writing Prompts (FREE Printable) | Peace but not Quiet
FREE Printable Winter Nature Journaling For Kids | The Keeper of the Memories
Are you ready to learn about birds? Using the Birding Notebook alongside Audubon Birding Adventures For Kids you will learn about 25 birds as well as their habitats, beaks, feathers, and much more. Document your birding activities for your notebook and portfolio and use the journal pages for a birdwalk.
These nature study tips and ideas will provide a jumpstart and guide for you to begin this engaging science unit.
Our Favorite Fun and Easy Fall Nature Study Ideas | Table Life Blog
A Guide to Observational Nature Journaling | Homeschool Families Network
How to Make and Keep a Nature Journal or Notebook | Rhythms of Play
FREE Printable With Tips on How To Press Flowers and Leaves | Artful Haven
How To Make Your Own Phenology Wheel For Your Nature Journal, Bullet Journal Or Art Journal | Lily and Thistle
40 Journal Entry Ideas for your Nature Notebooks FREE Printable | BJs Homeschool
The Ultimate Guide To Nature Journaling (List of Nature Journal Resources) | The Usual Mayhem
10 Minute Nature Studies and Ideas | Homeschool Network
How To Start A Nature Journal – A Beginners Guide | Lily & Thistle
Nature Journals – Ideas and Tips | HubPages
How To Make A Nature Journal For Kids (Writing Prompts Included) | Making Time for Mommy
How to Make a Nature Journal and What You Need | Dragon Fly Fun
Easy-to-Use Homeschool Resources – Just Open & Go, No Prep-Work!
Are you looking for resources that don't require planning or teacher's guides? Discover the ease of using curriculum that encourages independent study!
Grab these nature study printables and resources to go alongside your homeschool's nature journaling:
How to Use Nature Studies in Your Homeschool + Free Leaf Identification Nature Pack
Easy Nature Study Printables for Kids
Nature Study with Trees and Leaves
FREE Printables for a Nature Walk
Notebooking Ideas for Nature Study
FREE Cut and Paste Animals and Plants
FREE Nature Study Resource List | My Little Poppies
25 FREE Thornton Burgess Nature Books for Kindle | Ben and Me
FREE Printable Vintage Science And Nature Flash Cards | Our Handcrafted Life
Herb Nature Study FREE Printables | Holistic Homeschooler
FREE Forest School and Garden Classroom Resources | Nurture Store
Bird Migration FREE Printable | Raising Up Wild Things
FREE Trees Unit Study | The Crafty Classroom
Nature Study the Charlotte Mason Way with a FREE Printable | The Homeschool Scientist
Homeschool Nature Walks with FREE Printables | Blessed Beyond a Doubt
Nature Walk Observations & Scavenger Hunt FREE Printable | Learn Create Love
FREE Nature Study Printables | Living Life and Learning
Spring Nature Study FREE Printables | The Homeschool Compass
Tree FREE Journal Page – Observing & Writing About Trees | This Reading Mama
How to Go on a Nature Scavenger Hunt with Kids (FREE Printable!) | Craftivity Designs
FREE Nature Illustrations Printable | Artful Haven
Do not miss out on these Daily Skill Building resources to complete your nature lessons:
Drawing and Discovering Nature Notebook
Nature Study with Trees Leaves
Nature journals improve creativity and use sketches, pressed flowers, notes, copywork, nature-inspired poetry, pictures, and more.
Your kids will love that nature journaling has no rules, and you will love how much they are learning about nature.
Jeannette is a wife, mother and homeschooling mom. She has been mightily, saved by grace and is grateful for God's sovereignty throughout her life's journey. She has a Bachelor in English Education and her MBA. Jeannette is bi-lingual and currently lives in the Tongan Islands of the South Pacific. She posts daily freebies for homeschoolers!