Spring is here and with it comes new life. This is the perfect time of year to bird watch. You may even find some bird nests and eggs in your yard or neighborhood.
You can take this time to study and learn more with these fun and free ways to learn about bird nests.
This post is part of the
Learning About Birds
Series
Bird watching is an every day thing for our family of "birders". We have a large picture window at our dining room table where we happen to do school on most days. My girls can be found gazing out the window at the bird in our yard more often than they are doing their school work.
If you enjoy learning about birds your family will have a lot of fun learning about bird nests. Birds are interesting creatures and can build their nests in some odd locations. It is a lot of fun to learn about and to watch a bird nest being built, or to observe birds with their babies.
Bird nests are fascinating to research. God created these birds to be very clever designers and engineers. It is amazing to see all of the work that goes into building a safe nest.
Check out all these Fun and FREE Ways to Learn About Bird Nests:
Free Printables about bird nests:
Bird Nesting Habits Printables and Lesson Plans – Instructor Web
Montessori Nest Printables – Living Montessori Now
Teacher Pay Teachers has a lot of printables to learn about bird nests and for nest observation:
Amazing Bird Nests Amazing Words Activities
Nest Observation Science Sheet
FREE Eggs and Nests Preschool Pack
Bird nest crafts and hands-on activities:
Make a Paper Mache Bird Nest with Natural Materials – Things to Share and Remember
Build a Nest STEM Challenge for Kids – Views From a Step Stool
Dried Pasta Bird Nest Craft – Paper and Glue
Build a Bird Nest Playdough Activity – Messy Little Monster
STEM Engineering Bird Nests Activity – TPT
Make Like a Bird and Nest Activity – Education.com
Create Your Own Bird Nest Model with this video tutorial from Melinda Janice.
Make a Fun Bird Nesting Bag – Tina's Dynamic Homeschool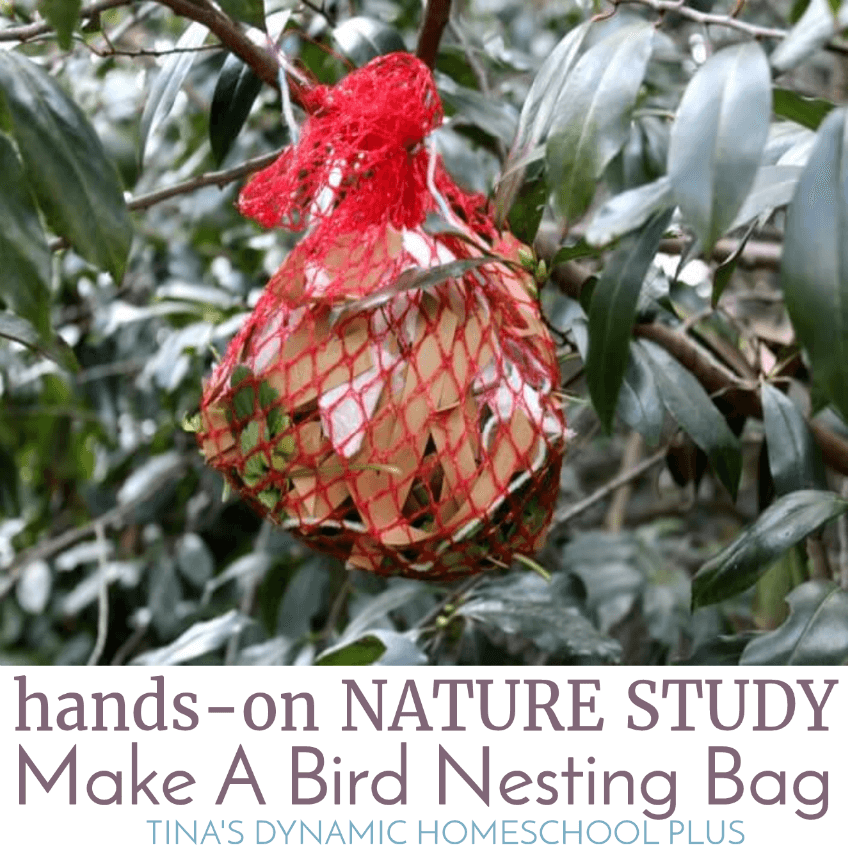 Bird nest articles, websites and bird nest cams:
Find out about birds that make nests in urban city environments in this article Fun Facts About Nests – Celebrate Urban Birds
Bird Nests 101: Identifying Different Types of Bird Nests – Earth Life
Interesting Facts About Peculiar Bird Nests – ABCs of Animal World
Bird Nest Identification – The Spruce
How to Nest Watch: Identifying Nests – Cornell Lab of Ornithology
Audubon Bird Cams has cameras of Puffin nests, dens, Osprey nests and more.
All About Birds Cornell Labs has many different cameras of of nests and chicks, from Barred Owls, Hawks, Ospreys and more.
The American Eagle Foundation has live HD cameras of Bald Eagle nests. This is one of our favorite ones to watch them take care of their young.
BirdCams Live has close to 600 different live bird cameras.
Check out all our other resources to learn even more about birds:
Birds Around the World Drawing Guide
FREE Bird Terminology Vocabulary Pack
Audubon Birds Notebooking Journal
DIY Birdfeeders Nature Crafts for Kids
If you want to dig even deeper into learning about birds, check out our Birding Notebook: A Companion to Audubon Birding Adventures for Kids. Your children will learn about 25 birds as well as their habitats, beaks, feathers, and much more. Document your birding activities for your notebook and portfolio and use the journal pages for a birdwalk.
These are some of our favorite books about Bird Nests:
Nests: Fifty Nests and the Birds that Built Them
Bird Nests: Amazingly Ingenious and Intricate
Peterson Field Guide: Eastern Birds' Nests
Birds, Nests & Eggs (Take Along Guides)
In My Nest
Bird Builds a Nest: A First Science Storybook
Bird, Egg, Feather, Nest

Sarah is a wife, daughter of the King and Mama to 4 children (one who is a homeschool graduate)! She is a an eclectic, Charlotte Mason style homeschooler that has been homeschooling for almost 20 years.. She is still trying to find the balance between work and keeping a home and says she can only do it by the Grace of God, and Coffee!
Series Navigation
Previous: FREE Bird Nature Study Crafts and Activities About Bird Anatomy
Next: Lots of FREE Bird Watching Activities and Resources