When I was in elementary school I remember that we used to do holiday parties, crafts and celebrations with almost every holiday. I always wanted to make sure that my kids never missed out on the holiday party fun just because we homeschool. St. Patrick's Day is a fun holiday to celebrate with your kids. We especially love making St. Partrick's Day Crafts together.
For many years we were involved with homeschool groups that had parties for every holiday just for fun. These were full of crafts, games and themed food treats. Now that I have teenagers we don't attend these much anymore. I still have an elementary aged child that loves crafts and holiday celebrations so I don't want her to miss out on those.
Maybe we will even take a day off of school to learn about that holiday and make some fun crafts to go along with it. We aren't fans of Irish food, but we will probably make some fun rainbow or pot of gold treats. We always try to wear something green, and she runs around pinching anyone that's not wearing green that day.
I will take the time to gather up some cute ideas, and supplies to make holiday themed crafts with her. Hopefully this list can help you too.
Check out these FREE St. Patrick's Day Craft Ideas to help you celebrate this fun holiday:
The most classic St. Patrick's Day crafts are those with leprechauns, shamrocks, and a pot of gold at the end of a rainbow. Some of these are so cute and look adorable hanging up in your home. Let's cover those first, then we will have some fun with Bible and Christian themed crafts for the holiday!
Classic St. Patrick's Day Crafts:
Hanging Rainbow and Pot of Gold Craft – 123 Homeschool 4 Me
Hand Print Clover Craft – 3 Dinosaurs
Leprechaun Hat Craft – Woo Jr.
Miter Sun Catcher – Sara J Creations
4 Leaf Clover Sun Catcher – Learn Create Love
Preschool Emotions and Feelings Leprechaun Craftivity – Natural Beach Living
Shamrock Wand Craft – Crafty Morning
Pot of Gold and Rainbow Printable Craft – Learn Create Love
Color by Number St. Patrick's Day Hats – 123 Homeschool 4 Me
Pot of Gold Paper Plate Craft – The Simple Parent
Tissue Paper Rainbow – 3 Dinosaurs
Lucky Friend Friendship Bracelet with Printable – Simple Everyday Mom
Shamrock Painting Craft with Printable Template – Fun Early Learning
Craft Sticks Leprechaun Hat – The Resourceful Mama
Leprechaun Craft with a Fork Print Beard – Crafty Morning
Bible Themed St. Patrick's Day Crafts:
Treasures in Heaven Pot of Gold Bible Craft – Bible Story Printables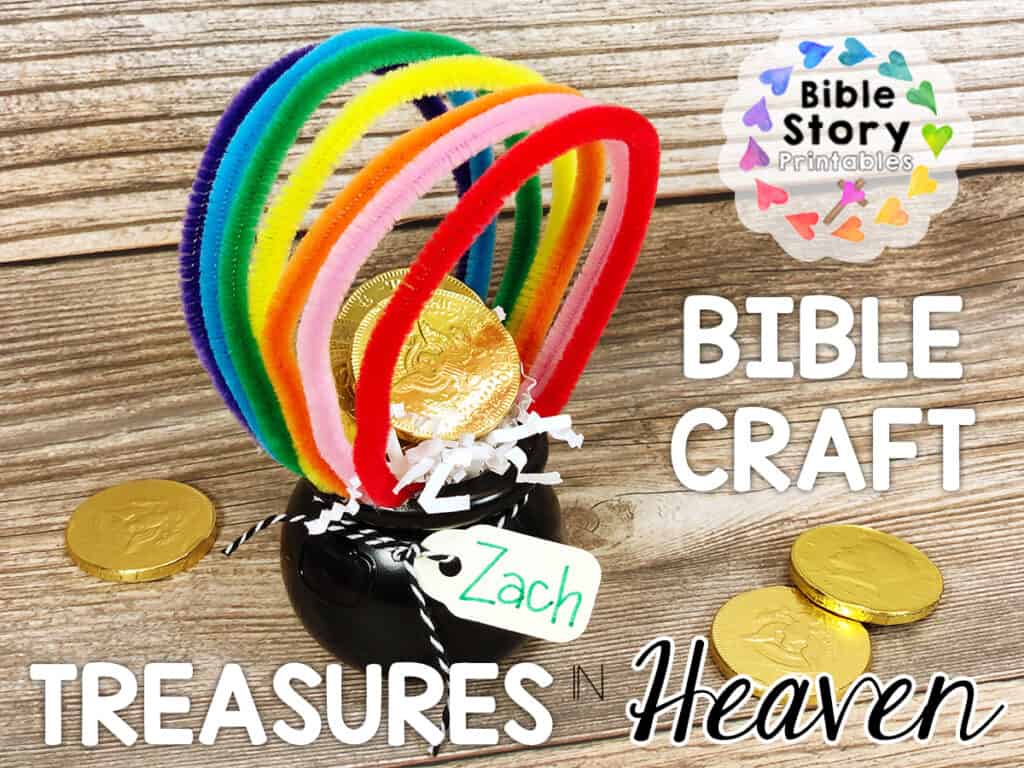 Trinity Shamrock Coloring Craft – Crafty Classroom
Learn about Saint Patrick with this printable coloring page coloring book – Sight and Sound Reading
Trinity Clover Bible Craft – Bible Story Printables
Lucky to have Jesus Craft – Early Learning Source
You may also be interested in these printables to use in your homeschool on St. Patrick's Day:
Irish Blessings Copywork with Irish Gaelic Pronunciation
FREE All About St. Patrick's Day Unit Study
Luck of the Irish FREE Movie Study
Notebook Pages and Facts About St. Patrick of Ireland
Explore Culture and Dance with Celtic Music for Kids