Crayons are great for coloring pages for little ones, but you can do so much more with them than just color! There are so many amazing crafts you can make with crayons.
This post is part of the
Preschool Art Projects
Series
During this series we will explore different art projects that can be done using different mediums.
This week we will be having fun with crayons! Here are some of my favorites:

Crayon Resistant Painting from Teaching 2&3 Year Olds – this is really cool and kids love seeing their drawings come through the paint!

Nature Leaf Rubbings from Hands On As We Grow – this is a classic favorite especially for nature lovers!

Baked Crayon Mess from Messy Preschoolers – This is a crazy, fun mess that kids love to play and create with!

Crayon Stained Glass from Activity Mama – add old crayons to waxed paper to create a stained glass masterpiece.

Crayons on Construction Cars from When You Never Expect Two – this is the cutest and most creative idea!

Abstract Art with Crayons – from Crafty Crafted – use old crayon shavings to create an abstract art masterpiece.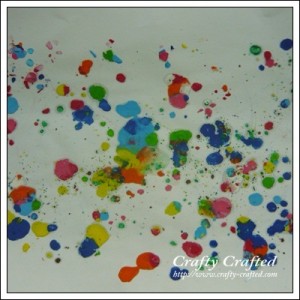 Melted Crayon Dot Art from Pieces by Polly – this is a great Pointillism art project using crayons. This is a great step-by-step tutorial.

Fun Crayon Wands from Kids Activities Blog – create these fun crayon "wands" by recycling old, broken crayons.
Crayon Painting with Preschoolers from Kids Activities Blog – these are bright and beautiful!
If your kids just want to color try these websites for fun coloring pages:
Coloring Book Fun – over 10,000 coloring pages
Crayola.com – lots of fun, themed and educational coloring pages
DTLK Coloring pages by theme and holidays
Colouring Pages – this website has tons of character and children's movie coloring pages. My kids love these!
Check out the first post in our series:

Preschool Art Projects Using Different Art Mediums: Markers


Sarah is a wife, daughter of the King and Mama to 4 children (one who is a homeschool graduate)! She is a an eclectic, Charlotte Mason style homeschooler that has been homeschooling for almost 20 years.. She is still trying to find the balance between work and keeping a home and says she can only do it by the Grace of God, and Coffee!
Series Navigation
Next: Preschool Art Projects Series Using Different Art Mediums: Markers!