Mr. Ed, Black Beauty, Secretariat, Seabiscuit, and the Trojan horse are all just a few of the famous horses of all time. These free printables and unit studies about horses will help your kids learn about horses and famous horses of history.
Horses are some of the most majestic animals on the planet. The way their coat shines, the way their mane flows as they run. The way no two horses are exactly the same.
If any of you have ever ridden a horse, you know just how special it is to do so. Of course, it may hurt to sit for a few days, but boy is it worth the ride.
Riding a horse takes you away from reality and brings about a peacefulness that is memorable for all of our days.
Learning about horses can give a child a glimpse into this beauty.
Horses aren't just amazingly beautiful, they also are interesting animals to study as well.
Here are some interesting facts that your homeschool kids are sure to enjoy:
-The last wild horse species on earth are named the Przewalski's Horses. These horses live in China and Mongolia. They are highly endangered.
-Horses are called many names depending on their age, characteristics, and gender. For example:
Male horses are called stallions.
Female horses are called mares.
BUT…
If the horses are younger than four years old, then the male is called a colt and the female horse is called a filly.
-There are four basic speeds that identify how a horse moves – walk, trot, canter, and gallop.
-It is said that humans first tamed horses around 4000 BC.
-Horses can sleep both laying down and standing up.
-I really wish there were more horses where I live (Tonga), although our people have been known to eat them on rare occasions. Don't judge me, I never and will never eat horse meat. After studying horses, that really bothers me.
-There are an estimated 60 million horses in the world today.
-Horses have amazing vision. Their eyes are bigger than any other land mammal. Oh, and since, their eyes are on the side of their head, they can also see 360 degrees.
-There are over 300 horse breeds in the world.
-This one is loco. Horses have actually been cloned before. In 2003, a horse was cloned for the first time in Italy.
Grab these free printables and unit studies about horses to enjoy learning about with your kids:
FREE horse unit studies
FREE Equine Science Unit Study Resources
Montessori-Inspired FREE Horse Unit | Living Montessori Now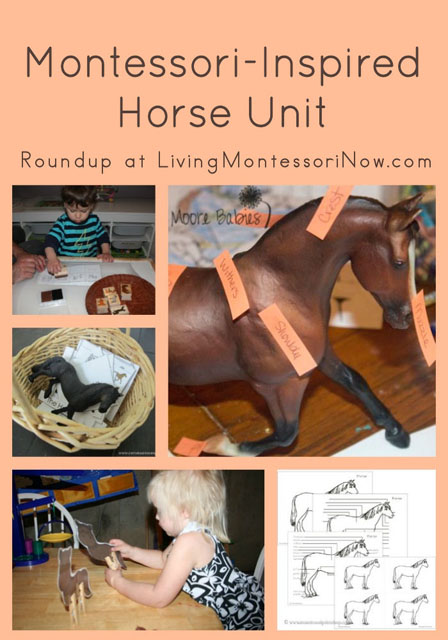 Using Horse Stories for a Horse Unit Study (FREE Printable Worksheets) | Starts at Eight
FREE Montessori Inspired Horse Unit | Mama's Happy Hive
FREE Horse Unit Study Resources | Something2Offer
The Horse: A Unit Study FREE | DIY Homeschooler
Horse Unit Study Resources | Horsing Around at Home
Unit Studies: Horses | Real Life at Home
All about horses – FREE printables and resources
FREE Breeds of Horses Guided Drawing
FREE Horses Themed Writing Prompts Packs 2
70 Resources for a Horse Science Study and Lessons | The Homeschool Scientist
All About Horses FREE Lapbook | Homeschooling in Heels
FREE Printable Horses Lapbook | How to Homeschool for FREE
Ultimate Homeschool List for Horse Lovers | Not Consumed
Horses FREE Lapbook | Homeschool Helper Online
Crazy About Horses and Ponies | Creekside Learning
Horse FREE Coloring Page | Education.com
Printable Horse FREEBIE | I Heart Curriculum
Horse Themed Stationary | The Multi Taskin Mom
FREE Printable Coloring Page: Horse Coloring Page | Easy Crafts 101
Horse Facts | Cool Kid Facts
15 Fascinating Facts About Horses | The Spruce Pets
Fun Horse Facts for Kids | Science Kids
Literature or stories about horses:
Unit Studies and FREE Printables for the Most Loved Books: Black Beauty
FREE Unit Study Based on The Girl Who Loved Wild Horses | Homeschool Helper Online
Literature FREE Unit Study Based on Misty Of Chincoteague | Homeschool Helper Online
Horse Copybook (24 short poems) | Homeschool Base
A Horse Book- with FREE copybook download! | Homeschool Base
Book List All About Horses | Fantastic Fun and Learning
FREE ebook! Rosie and Scamper | Sonrise Stable
Fritz and the Beautiful Horses FREE Unit Study | Homeschool Share
Horse Books for Kids | Affordable Homeschooling
The Horse and His Boy Story Study FREE Lapbook | Homeschool Share
FREE Horse Bingo Game | Horse Crazy Girls
Videos about horses:
Horses for Kids Video | Homeschool Pop
All About Horses for Kids – Horse Videos for Children |. Fun Clips for Kids
Horses! Learn about Horses for Children Video | Kids Learning Videos
Fun Facts about horses for Kids Video | Moogoopi
Horse Facts for Kids – Learn about horses for children (Video) | Kiddopedia
The lockdowns have really helped people realize something they want to do once life is back to normal – hopefully and prayerfully.
We can't wait to visit New York when the restrictions are better. I definitely will be taking my kids on a New York horse and carriage ride!
Jeannette is a wife, mother and homeschooling mom. She has been mightily, saved by grace and is grateful for God's sovereignty throughout her life's journey. She has a Bachelor in English Education and her MBA. Jeannette is bi-lingual and currently lives in the Tongan Islands of the South Pacific. She posts daily freebies for homeschoolers!