I love when holidays roll around, because it's a great excuse to incorporate some kind of theme into our school work. After the newness of the new year wears off, we are always looking to mix things up and make school a little different. After the winter break, we seem to fall into a slump in regards to our school work. The kids have the winter blues, and are ready to go outside and play. No one feels like doing school, especially this mama.
Spring is one of my favorite times of year. It brings forth such a newness, and the feelings of a fresh beginning. If you are a Christian, it brings your focus back to God and what He has done for us with the Resurrection. We love celebrating Easter and incorporating Bible and Easter themes into our homeschool. I can't think of a better way to celebrate Easter than by incorporating some FREE Writing Prompts for Lent and Easter into your homeschool.
Lent is a season of spiritual preparation before Easter. It is similar to advent when we prepare our hearts for the birth of Christ. Many Christians observe this Lenten time with a period of fasting, repentance, moderation and spiritual discipline. The purpose of this is to set aside deliberate time for reflecting on the death, burial and resurrection of Jesus.
Check out these FREE Writing Prompts for Lent and Easter:
Lent Writing Prompts:
40 Lent Writing Prompts – Beth Anne's Best
Lent Writing Journal Printable Pages – Twinkl
Lent Scripture Writing Plan – Sweet Blessings
Teachers Pay Teachers have some great Lent writing freebies:
March and Lent Season Journal Writing Prompts
Christian Lenten Journal for grades K-4
My Journey Through Lent Mini Booklet
If you are wanting to get some more ideas for Lent and how to incorporate them into your family you may enjoy this podcast:
5 Tips for Lent – this episode contains tips for Lent to develop a deeper prayer life and contemplate the meaning of the days leading up to this day of celebration when our Lord and Savior paid the ultimate price for our sins.
Easter Writing Prompts – none of these have anything to do with the Easter bunny and are Christ focused.
The Heart of Easter – 4 meaningful writing prompts about Easter – Write Shop
Resurrection Day Writing Prompt Packet – Mom of All Seasons
7 Easter Writing Prompts for Junior and Senior High School – Writing with Sharon Watson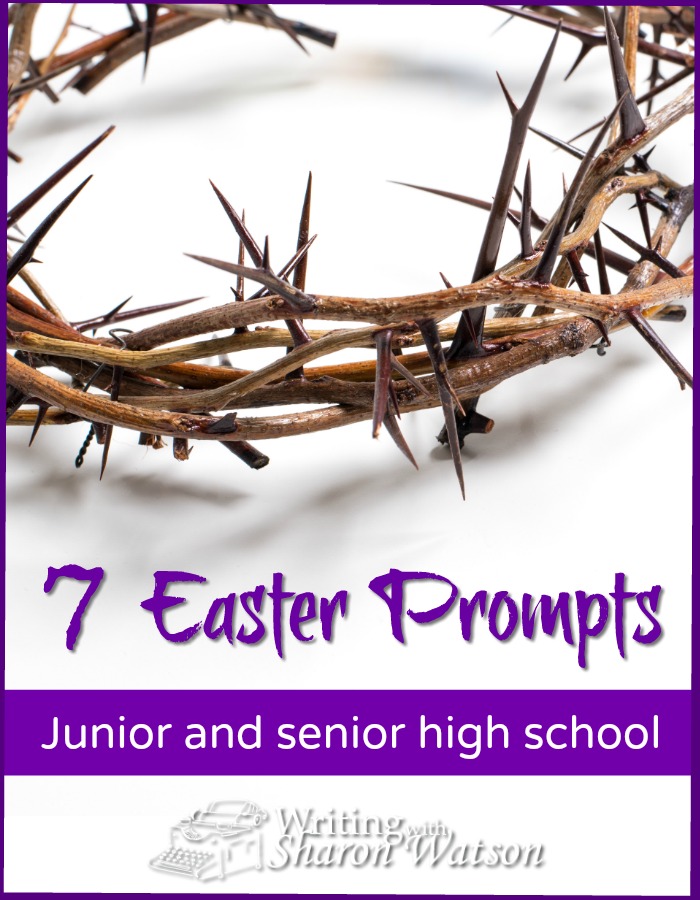 53 Easter Writing Prompts – most of these focus on Jesus and Easter, there are some prompts about eggs and Easter traditions too. Journal Buddies
Easter Writing Activities for Kids – Write Shop
Easter Story Writing Cards Printable – Growing Curious Minds
Resurrection Day Writing Prompts – In All You Do
Looking for more ways to incorporate Easter into your homeschool?
How to Celebrate a Christ Centered Easter as a Family
9 Ways to Include Easter in Your Homeschool
15 Minute Music Lesson for Good Friday and Easter Sunday
30 Day Easter Scripture Challenge
Here are some great devotions leading up to Easter that we enjoy reading together as a family:
Amon's Adventure: A Family Story for EasterThe Way to the Savior: A Family Easter DevotionalUncovering the Love of Jesus: A Lent DevotionalLooking Toward the Cross: A 40-day Easter Journey for FamiliesThe Jesus Tree – 48 Family Devotions for Lent Welcome Risen Jesus: Lent and Easter Reflections for Families
If you like to add writing prompts into your homeschool you may enjoy also our FREE Creative Writing Prompt Packs!
Sarah is a wife, daughter of the King and Mama to 4 children (one who is a homeschool graduate)! She is a an eclectic, Charlotte Mason style homeschooler that has been homeschooling for over 16 years now. She is still trying to find the balance between work and keeping a home and says she can only do it by the Grace of God, and Coffee!