Marie and Pierre Curie shared a love for science and research which blossomed into a love for each other. They spent their entire marriage working beside one another, creating ground breaking discoveries that went on to win them both the Nobel Prize. If you are learning about famous scientists in your homeschool, learning about this famous husband and wife team is a great start.
Pierre and Marie were awarded half of the Nobel Prize for Physics in 1903, for their study into the spontaneous radiation discovered by Becquerel, who was awarded the other half of the Prize. At first, Marie's name was not listed on the nomination and Pierre complained and was able to get her listed on the award. She was the first woman to be awarded the Nobel Prize. In 1911, Marie received a second Nobel Prize in Chemistry, in recognition of her work in radioactivity.
There are many more resources available for Marie Curie, than there are about her husband Pierre. This is because she was the first woman to win the Nobel prize, and she was able to continue her studies and research far longer than her husband as he died very early in an accident. I like to study them together, as they were a team, and her husband's research helped her to win the first Nobel Prize, and to continue on to win another.
Here are a few articles about this scientific team:
This Day in History: Marie and Pierre Curie isolate radium – History.com
Marie and Pierre Curie: A marriage of true minds – MarieCurie.org
Marie and Pierre Curie and the discovery of polonium and radium – Nobel Prize
Marie and Pierre Curie Scientist Facts – Science for Kids
FREE Printables and Resources About Marie and Pierre Curie:
Biographies:
Pierre Curie
Pierre Curie was born in Paris on May 15, 1859. He was a French physicist and winner of the 1903 Nobel Prize in Physics. He discovered piezoelectricity with his brother Jacques. That discovery enabled the development of the piezoelectrometer which was used for the early scientific measurements of radium preparations. Pierre even exposed himself to radiation as part of his experimentations! He married his wife Marie, on July 26. 1985 On April 19, 1906, on a rainy day, Curie slipped and fell under a heavy horse-drawn wagon. He was killed instantly.
Pierre Curie Facts for Kids – Kids Kiddle
Marie Curie
Marie Curie was born in Warsaw on November 7, 1867. She left Warsaw, Poland when it was dominated by Russia and she moved to France where she continued her scientific studies. She married her husband Pierre on July 26. 1985. She discovered two new chemical elements – radium and polonium. She carried out the first research into the treatment of tumors with radiation, and she was the founder of the Curie Institutes. She is the only person who has ever won Nobel Prizes in both the sciences of Physics and Chemistry. After her husband's death, Marie was offered his post as a professor at the Sorbonne following his death. She became the first female to hold a professorship in France. Marie Curie died twenty-eight years after her husband as a result of excessive exposure to radiation.
Biography of Marie Curie Biography
Marie Curie Biography for Kids – Ducksters
Marie Curie Facts for Kids – Kids Kiddle
Printables:
Madame Curie Biography Worksheet – Easy Science for Kids
Women in History: Marie Curie Worksheet – Education.com
All About Marie Curie Reading Worksheet – Education.com
Marie Curie and the Science of Radioactivity – Lesson Planet
Marie Curie and the Naming of a Unit – Lesson Planet
Marie Curie Unit Study Grades K-3 – Embark on the Journey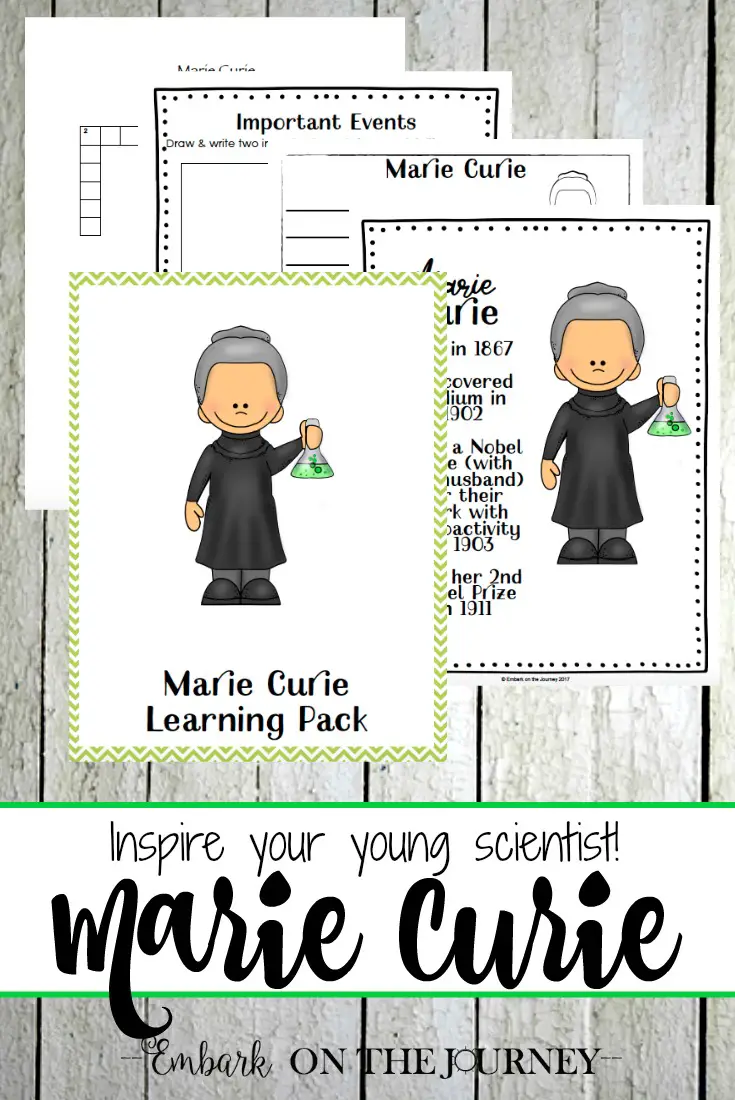 Marie Curie and the Science of Radioactivity Online History Exhibit
Educator Resources for Marie Curie – Brain Pop
Books about Marie and Pierre Curie:
Radioactive: Marie & Pierre Curie: A Tale of Love and FalloutPierre Curie: With Autobiographical Notes by Marie CurieI am Marie Curie (Ordinary People Change the World)World History Biographies: Marie Curie: The Woman Who Changed the Course of Science Marie Curie for Kids: Her Life and Scientific Discoveries, with 21 Activities and Experiments (For Kids series)Marie Curie (Little People, BIG Dream)Who Was Marie Curie?DK Biography: Marie Curie: A Photographic Story of a LifeMarie Curie (Giants of Science)Marie Curie (Genius Series)
Sarah is a wife, daughter of the King and Mama to 4 children (one who is a homeschool graduate)! She is a an eclectic, Charlotte Mason style homeschooler that has been homeschooling for over 16 years now. She is still trying to find the balance between work and keeping a home and says she can only do it by the Grace of God, and Coffee!