You don't have to teach the alphabet in the same old way it was always taught. No more teaching the alphabet with only worksheets. Why? It is because you are a homeschool family, and you can find all kinds of ways to practice alphabetizing in your homeschool.
Traditional school is not the enemy. Traditional school just does its own thing and follows its own curriculum. As homeschooling families, we can do our own thing, just the same.
We can develop a learning environment catered to our children's strengths, abilities, interests, and the available resources we have at home. Our teaching is customized and designed to fit our kids instead of our kids trying to adjust to a set curriculum. Pretty cool isn't it?!
This customization can begin as early as the beginning of learning the alphabet. Practicing the alphabet in your homeschool can be totally fun, and your young learner can have an easier time learning because of the different ways you can teach them.
I remember teaching my students the alphabet as an early learning teacher. It is the very first thing I would teach in the school year. The city where I began my teaching career experimented in an early learning program where I worked. We were a early learning training center, where teachers needing assistance with teaching techniques or interacting with kids, could observe us behind a two-way mirror.
We also had a schedule to evaluate early learning centers around the city to make recommendations for how to improve their processes. It was one of my favorite roles in my teaching career.
If you can believe it, we started teaching our students the alphabet (like really understanding what they were doing) at the age of two.
There are so many activities we used to practice alphabetizing, that to list them all will be way too much for you to read in one blog post. So, I have narrowed my list down to 10 ways to practice alphabetizing, based on what my students most enjoyed.
Place a long alphabet banner at their eye level on the wall. Write the alphabet letters individually on a sticky note pad. (Check out some other cool activities you can do with Post-It notes in your homeschool.) Give your child a sticky note letter at a time and have them match the sticky note letter to the letter on the alphabet banner.
2.) Alphabet Pool Noodle Stack
Kids find this super fun because it is like a game. You will need a few supplies with this one, but you can use it for many other activities like learning the books of the Bible, multiplication tables, etc. You will need a 3/4′ PVC pipe (to make the stand & tower – ours was 48″ tall), 1 Pool Noodle, Scissors, and a Sharpie.
The pool noodle is cut and labeled with a letter of the alphabet on each piece. Kids must stack the alphabet letters, in order, on the PVC pipe. Your kids will enjoy this Pool Noodle ABC activity, and you will too.
3.) Practice the ABCs with FOOD
There is nothing like cooking or baking to get kids motivated to learn. When I was teaching my early learners, we could not bake too much, so I would bring in fruits or goodies for the alphabet we were studying or even veggies (Apples for A, Celery for C, etc.).
As a homeschooler, the sky's the limit with what our kids can help make at home that can be used to to practice alphabetizing. Check out these 50+ simple and fun recipes you can do with your kids to teach the alphabet. My favorite is G for homemade guacamole! (Have the kids alphabetize the ingredients before starting.)
4.) Simple Letter Magnets
This one is super simple, and most of us had even bought these magnetic letters for our refrigerator when we had little ones. We buy these rainbow-colored magnets just because we have kids, but if we are intentional about teaching our children the alphabet, we really can put them to good use. Use the time making snacks or lunch, jumble the magnetic letters on a metal surface, and task your early learner to put the letters in alphabetical order.
ABC Magnets for Kids Gift Set – 142 Magnetic Letters for Fridge, Dry Erase Magnetic Board and FREE e-Book with 40+ Learning & Spelling GamesMelissa & Doug Disney Wooden Letter Alphabet Magnets – 52 Pieces, Great Gift for Girls and Boys – Best for 2, 3, and 4 Year Olds)Magnetic Objects and Letters Sorting Tiles with Magnet Board – Foam Tile for Beginning Sounds Phonics Learning (104 pcs in Storage Case)Magnetic Letters and Numbers for Toddlers – Premium Set of 127 Alphabet Magnets – Extra Large
5.) Alphabet Sand Writing
One of my students' favorite activities was using fingers, sticks, popsicle sticks, or anything else to make letters in colored sand. What is great about this activity is that you can do it outdoors. I would take my students outside and give them an "exam."
Each of them had a page-sized box that I would put their colored sand in. They would sit in a line, and I would call out a letter, and they have to write in their individualize sandbox. I walk down the line to see if they wrote the correct letter.
The best thing to do with this activity? Take pictures for amazing memories. My students' parents loved the picture of them looking up to the camera with their colored sand and self-made traced letter in it. These make adorable pictures for grandma and grandpa.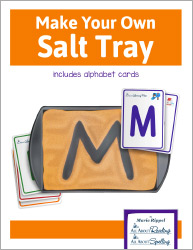 Primary Concepts PC-2012 Letter Formation Sand Tray, 8Montessori Letter Formation Sand Tray with Wooden Pen Montessori Educational Toys for Kids Alphabet and Number Learning Toy Writing Exercises ToolCoolSand Portable Inflatable Sand Box, Moldable Play Sand TraySkola Toys – Sand Art – Create Patterns with Magnetic Tip Pen – Develop Pre-Writing Skills – Wooden Educational Learning Toy for 2 to 4 Year Old
6.) Letter Decorations with Manipulatives
Yes, this is using a worksheet, but kids love it. Use all types of crafty and colorful decorations to glue to a letter worksheet. You can find a FREE letter tracing printable here.
Once decorated and the glue is dry, your child has to find something around the home that starts with the letter and tape it on the wall/shelf next to that item (display it for as long as they are learning their alphabet). Visitors won't mind, I promise.
7.) Alphabetize Your Bookshelves
Why not kill two birds with one stone. Does your bookshelf need some organization? Let your young learner help you to place those book titles in alphabetical order. Getting new books? Have your child find the right place on the shelf for it
8.) Alphabetize Your Canned Goods
If you are a doomsday prepper, then this alphabet practice activity is for you. Have your child alphabetize your canned goods or items in your pantry or cupboards. These may not be organized the way you prefer, but it is excellent hands-on practice for your kids as they feel they are helping you out in the home.
9.) Alphabetize Your DVDs
Who doesn't have a row full of DVDs lying around in the closet, shelf, or put away in the garage? Put those DVD's to good use since Netflix and online movie access has retired them. Dust those bad boys off and spread them on the floor to have your child put them in alphabetical order for you.
10.) Alphabetize Your Home
Sticky notes are like gold. Write the letters A – Z on sticky notes. Task your child to look for items around your home that start with the letter on the sticky note then place the sticky note on the item. Afterwards, your student can take you around the house to check if they labeled the item correctly (with the correct alphabet letter). This is also an excellent task to help siblings work together while practicing their alphabet.
I miss my little early learners. They absorbed everything they could in our loving and nurturing environment. Our training early learning center was in an inner-city. I loved teaching them and praying over them.
I am not being stereotypical when I say this, not many of the kids received this at home. I am just stating a fact. We had all types of students.
I had this one male student I will never forget. Boy, did I love him. See, I knew he had it rough at home. For nap time, he didn't nap at all. I had to move his cot away from the other kids because he would do somersaults the whole nap time – literally. I just let him as long as he was quiet. He loved it so much – I didn't judge, get mad, or even bat an eye. I just gave him an occasional smile or wink and let him be him.
He didn't stay still at nap time, but he surely sat down on the carpet as we learned, practiced, and sang about the alphabet. I pray he is doing well somewhere today.
Teaching the alphabet to my students (I keep wanting to call them my babies) brings back some fun and heartwarming memories. I pray that this early learning journey for your homeschool will bring back fantastic family homeschool memories of your own.
Jeannette is a wife, mother and homeschooling mom. She has been mightily, saved by grace and is grateful for God's sovereignty throughout her life's journey. She has a Bachelor in English Education and her MBA. Jeannette is bi-lingual and currently lives in the Tongan Islands of the South Pacific. She posts daily freebies for homeschoolers!