Do you have a young learner at home who needs something to occupy their time with while you work with your other children?
For us, that is really important because we have a large age gap (eight years) and I prefer to have our young one engaged in a learning activity instead of a video game (toys do not work with her!)  She gets really fidgety and often her attention is not captured for long enough periods of time for me to really dig in with my high schooler. 
Enter ABCmouse.com. This was a sanity saver for me! You can try it for FREE and I will give you a special gift (see below!)

In the past we used ABCmouse.com as a fun learning supplement, but it stopped at 7 years old. When they contacted us that it was extended to included materials for 8 year olds too, she was delighted and we signed back up. I love that she has fun while really learning new things.
She pointed out a shape to me one day and explained it was called a Rhombus. Knowing we hadn't covered that, I asked her how she knew and she went on to tell me she had learned it on ABCmouse. That is just one example of something she has grasped while using it.
The step-by-step learning path presents the full ABCmouse.com curriculum in a carefully designed program of more than 850 lessons in ten levels. As your child completes each lesson, he or she is guided to the next one and is motivated to continue learning by ABCmouse.com's tickets and rewards system. She LOVES that!
The following subjects are covered:
Reading and Language Arts
Math
Science
Social Studies
Art & Colors
Also includes animations, games, books, songs, puzzles, and more! I like the progress tracking section: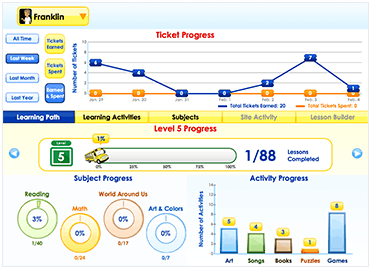 My daughter loves the customizable avatar (of course, what kid doesn't love that?) and she has fun with the interactive zoo and aquarium. There is just so much content for her to learn, it never gets boring!
If you have a toddler – 2nd grader I invite you to try ABCmouse.com for FREE! AND…when you sign up now I will give you Daily Skill Building: Vocabulary Volume I for FREE ($19.95 value!)
Vocabulary is one area that often times gets skipped over. We searched and searched for an easy, open-and-go curriculum that wouldn't require a script or teacher's guide, and could not find one for my elementary aged daughter. She enjoys Daily Skill Building: Vocabulary because it is predictable and is straight to the point. She doesn't like busywork like crossword puzzles or word scrambles (I cannot blame her as I hate that stuff too.) You can learn more about it and see samples here. 
Daily Skill Building: Vocabulary is priced at $19.95, but we will give you volume I for FREE just for signing up for a free trial over at ABCmouse.com!
How to claim this free curriculum offer:
Click here to sign up for a FREE ABCmouse.com account (you must use this link for the free offer.)
Come back to this page and fill out the form below with your information. 
We will send Daily Skill Building: Vocabulary Volume I to your email address after we verify submission.
NOTE: This offer expires 1/31/18 and is valid for NEW ABCmouse.com account only. You do not have to renew your account to a paid subscription to get this free offer, but I am confident you will find it a great value. If it doesn't work for your family, just cancel before the 30 days is up. 
I really hope your young learner loves ABCmouse.com as much as my daughter does and that is gives you some time to devote to teaching your older students. Did you know that many families use ABCmouse.com as a full curriculum for preschool and kindergarten?
This free offer has ended!
Carrie is the owner & operator of Homeschool Giveaways. She has been homeschooling for over a decade and has successfully graduated her first homeschooler. She has two girls and works side by side at home with her awesome husband. She has been saved by grace, fails daily, but continues to strive toward the prize of the high calling of being a daughter of the Most High God.