We love Star Wars, I have a lot of friends that love Star Wars as well. We love it so much that on May 4th we made an entire homeschool day just for Star Wars. We wore Star Wars t-shirts and made Millenium Falcon and Tie Fighter shaped pancakes for breakfast. I printed a ton of Star Wars themed worksheets for our school work for the day and then we met friends at the library to meet Storm Troopers and Darth Vader!
Our entire family is just a bunch of Star Wars nerds. My little girls LOVE anything Star Wars and prefer to play with their brother's old toys than Barbie dolls. My oldest wants to join the 501st Legion and be a Storm Trooper when he turns 18! We have had a lot of fun searching for freebies to share with you. I am excited to share with you this MEGA LIST of Star Wars FREEBIES! There are lots of just for fun printables and coloring pages, as well as educational printables. I will also be sharing some of our favorite Star Wars books that we love to read together.
FREE Star Wars coloring pages and just for fun printables:

Coloring Book Info has 147 Star Wars Coloring Pages!
Customizable Printable Tags and Stickers
Printable Star Wars Party Pack
Printable Posters, Baseplates and Wallpapers from Lego Star Wars
Star Wars Villian Printable Masks
Birthday Party Printables: cupcake toppers, candy bar wrappers, invitations and more

19 Star Wars Inspired Coloring Pages
FREE Star Wars Rebels Coloring and Activity Sheets
Star Wars Lunch with Free lunchbox cards

Star Wars Printable Activity Pack

Star Wars Printable Valentine Cards

Printable Star Wars Stationary

Star Wars Printables for Pretend Play – these would be great with a sensory bin or playdough!
Star Wars Lego Challenge Cards These are a lot of fun!



Star Wars Educational Printables:

Star Wars Spelling Test Printables from Blessed Beyond a Doubt

Star Wars Handwriting Practice Idea from What We Do All Day

Star Wars Preschool Pack from Homeschool Creations

Star Wars Inspired Notebooking Pages from Homeschool Encouragement

Star Wars Alphabet and Number Flash Cards from To The Moon and Back

Star Wars Printable Pack by Royal Baloo ~ This pack is for K – 2nd grade and includes Math and Language Arts
65 Page Star Wars Pack from 3 Dinosaurs ~ Ages 2-7
Star Wars Word Cloud Printables from Lalymom

Star Wars Themed Pattern Printable Pack from The Wise Owl Factory

Star Wars 3 Part Nomenclature Cards from Carrots are Orange

Star Wars Multiplication Pack WITH Flashcards from Royal Baloo

Star Wars Sight Word Printable Cards from Learning 4 Kids

Exploring the Music of Star Wars Interest Led Music Study Notebooking Download from Homegrown Learners
Updated Star Wars Pack with Math and Language Arts from 3 Dinosaurs ~ Ages 5-8
"Go Darth!" Equivalent Fractions Go Fish Card Game by Fern Smith's Classroom Ideas
"Go Yoda!" Harder Equivalent Fractions Go Fish Game by Fern Smith's Classroom Ideas

Printable Reading Activity Language Arts Sheets from The Review Wire

Star Wars Inspired Writing Activity Printables from In All You Do

Star Wars Inspired Emergent Readers – 4 Levels from In All You Do

Star Wars Math Game from Carrots are Orange

FREE Star Wars Teacher Planner and Schedule Printables from Sugar Stick Parties

I love all these printables from Year Round Homeschooling: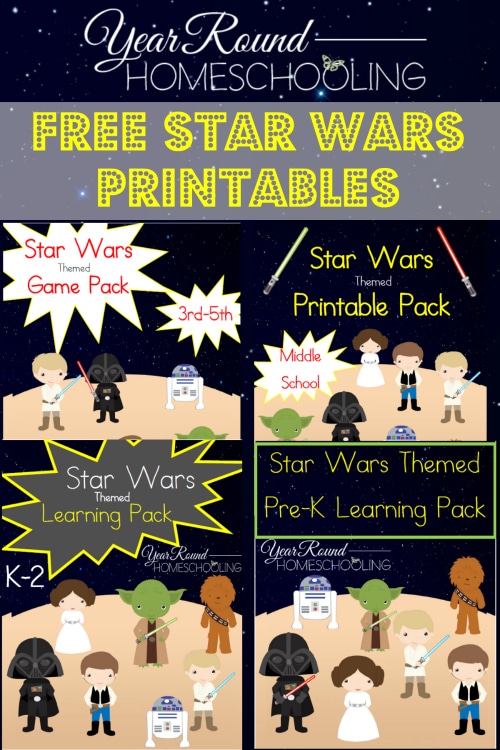 Star Wars Unit Study and Printables for Middle School
Star Wars Themed Game Pack for Grades 3-5

Star Wars Themed Learning Pack K-2

Star Wars Themed Pre-K Learning Pack
Star Wars Crafts:

Felt Chewbaca Bookmark Template

Star Wars Toilet Roll Characters

Star Wars Pumpkin Carving Stencils

DIY Lego Star Wars Tee FREE Printable

Star Wars Paper Snowflakes with instructions
Repurposed Storm Trooper Milk Carton Craft
Perler Bead Pattern R2-D2 Craft

Star Wars Popsicle Stick Character Ornaments

Star Wars Folding Paper Crafts

How to Make a Storm Trooper Pumpkin

Yoda Shape Craft for Preschool

Star Wars Cubee by Deviant Art -There are 186 Star Wars printable templates to make 3D cube characters, ships and more! This would be a great craft and activity for an older child.
Star Wars Embroidery Handicraft FREE Pattern

Star Wars Sensory Play and Science Fun:

Rescue Han Solo Star Wars Lego Science

Glow in the Dark Light Saber Lego Star Wars Slime

Lego Putty – Star Wars Edition

Light Saber Fine Motor Skills Activity

Building Droids – Lego Star Wars Activity

Make Your Own Star Wars Landscape

Star Wars Space Slime


Star Wars Tatooine Desert Sensory Bin



Star Wars Printable Signs and Home Decor Freebies:

Keep Calm and Use the Force printable sign

Star Wars Clock Makeover with FREE Printables

The Force is Strong With This One Nursery Printable

Star Wars Terrarium Ideas – these are not free, but I love how you can use the ideas to make your own!
Wash Your Hans Bathroom Printable

DIY Children's Lightsaber Nightlight

Star Wars Light Switch Silhouette – this is so cool!

WOW! That is a HUGE list! Now my kids are dying for me to print more worksheets for them and give them new crafts and projects to make!
Here are some of our FAVORITE Star Wars books! My teen LOVED the Shakespeare books, they are really cool. My girls love to read the Darth Vader books, they are so sweet and funny. As of right now all of these books are 30-43% OFF!
Fun Workbooks and Craft Activities:
Sarah is a wife, daughter of the King and Mama to 4 children (one who is a homeschool graduate)! She is a an eclectic, Charlotte Mason style homeschooler that has been homeschooling for over 16 years now. She is still trying to find the balance between work and keeping a home and says she can only do it by the Grace of God, and Coffee!