Find an updated list of Star Wars FREE Printables & Resources here!
Printable Star Wars Crafts
We love Star Wars, I have a lot of friends that love Star Wars as well. We love it so much that on May 4th we made an entire homeschool day just for Star Wars. We wore Star Wars t-shirts and made Millenium Falcon and Tie Fighter shaped pancakes for breakfast. I printed a ton of Star Wars themed worksheets for our school work for the day and then we met friends at the library to meet Storm Troopers and Darth Vader!
Our entire family is just a bunch of Star Wars nerds. My little girls LOVE anything Star Wars and prefer to play with their brother's old toys than Barbie dolls. My oldest wants to join the 501st Legion and be a Storm Trooper when he turns 18!
We have had a lot of fun searching for freebies to share with you. I am excited to share with you this MEGA LIST of Star Wars FREEBIES! There are lots of just for fun printables and coloring pages, as well as educational printables. I will also be sharing some of our favorite Star Wars books that we love to read together.
Star Wars Printable Crafts
Check out these free Star Wars coloring pages and just for fun printables.

Star Wars Printables
Star Wars Coloring Pages
If you are looking for Star Wars coloring pages, we've got a list for you!
Printable Star Wars Activities
Free Star Wars Printables
Star Wars Activities
I love all these printables from Year Round Homeschooling.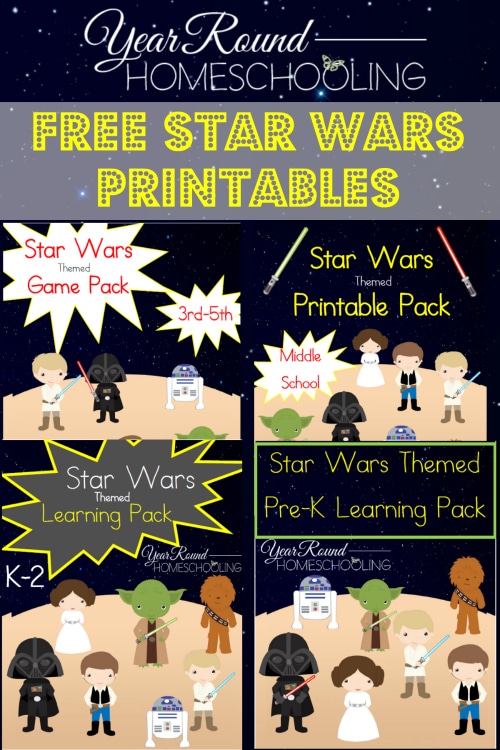 Star Wars Activity Packs
Star Wars Crafts

Star Wars Paper Crafts Printables
Star Wars Printable Crafts
Star Wars Sensory Play

Star Wars Printable Signs & Decor

WOW! That is a HUGE list! Now my kids are dying for me to print more worksheets for them and give them new crafts and projects to make!
Sarah is a wife, daughter of the King and Mama to 4 children (one who is a homeschool graduate)! She is a an eclectic, Charlotte Mason style homeschooler that has been homeschooling for almost 20 years.. She is still trying to find the balance between work and keeping a home and says she can only do it by the Grace of God, and Coffee!