Brazil is a fascinating country to learn about. If you want to provide a fun country study in your homeschool, then use these resources to learn about Brazil.
This post is part of the
Ways to Help Kids Learn About the Nations
Series
I am partial to the country of Brazil. My view is totally biased. See, my family loves Brazilian Jiu-Jitsu (BJJ) and well, it began in Brazil. Our love for this martial art has put a love for the country in our hearts.
Whenever we put on our gi (BJJ uniform), it dons a Brazilian flag even though we have never been there. We are nowhere good at it, but that is neither here nor there. We love the world's #1 martial art for defense (jiu-jitsu means "gentle art or gentle skill").
Brazil just also happens to be one of the most fun countries to learn about. Their culture is rich, vibrant, lively, musical, and intriguing.
Studying Brazil with your kids makes for a lot of cool, colorful crafts, music, dancing, and maybe binge-watch the movie series Rio, as they are all set in Brazil's country.
Make watching Rio a learning opportunity for your kids with the following resources:
Rio Movie Questions/Worksheet | Movie Guide
Movie "Rio" FREE Video Guide | Brooke Dannar – Intention edu
Río the Movie Film Study | Placido Language Resources
The movie, Rio surely isn't the most interesting thing Brazil-related out there. Although they are really great animated flicks for the family.
Check out some pretty interesting facts about Brazil you and your kids will enjoy:
– Although Spanish speaking countries surround Brazil, Brazilians speak Portuguese (the only country in South America that speaks Portuguese). It's actually the largest Portuguese-speaking nation in the world – yes, even larger than Portugal.
– 60% of the world's rainforest (Amazon Rainforest) is located in the country of Brazil. Learn more about the Rainforest with the resources below:
The Amazon Rainforest for Kids with FREE Printable Mini-Book | Multicultural Blogs
FREE Animals of the Amazon Rain Forest Printables
Rainforest FREE Mini Puzzle Unit | In All You Do
– Brazil is the 5th largest country in the globe and has over 200 million people.
– After the Nile River, Brazil is home to the second-longest river in the world – the Amazon River.
– Brazil had emperors until it became a Republic in 1889.
– Many times, I think of Brazil, according to what Hollywood shows us (i.e., the poverty-stricken areas only). However, Brazil has one of the largest economies in the world. Rubber is the resource that made Brazil wealthy in the 18th century.
– Brazil shares a border with every single country in South America except two – Ecuador and Chile.
– The country has more monkey species than any other place in the world.
OK, this one is hard to believe but true.
– Brazil has impressive biodiversity, with between 15 to 20% of the entire world's biological diversity. Here it is. Brazil's animal diversity is so still growing; it has an average of 700 new species being discovered there every year – every year.
This fact really caught my kids' attention. Brazil alone has over 600 mammals, 1,500 species of fish, and 100,000 different types of insects.
– Brazil is home to the world's largest wetland named Pantanal. There you can find a fair share of fascinating animals like the giant anaconda and a huge guinea pig (capybaras).
– The largest population of Japanese people outside of Japan live in Brazil.
– In Brazil, you will find the "world's largest party" in the Carnival in Rio de Janeiro.
– In 2016, Brazil became the first South American country to host the Olympics.
– Brazil, of course, home to that amazing looking Christ the Redeemer statue at the top of a mountain which has been known as a key landmark in Brazil. It's listed as one of the New Seven Wonders of the World.
Your family will enjoy learning all about Brazil with the resources below, including printables to crafts and videos.
Resources for learning about Brazil:
Brazil Booklet (A Country Study!) | Emily Bynum
Montessori-Inspired Little Passports Activities – BRAZIL | Living Montessori Now
Booklet Brazil Country Study Project Unit Español (Spanish) Edition | Beyond Imagination
Brazil Country Study: A Mini-Unit & Brazil Flip Book | Heart to Heart Teaching
Lesson Plans – Brazil and Rain Forests | Homeschool Creations
Brazil Symbols Resource | Easy Peasy Teaching
Teach kids about Brazil: best picture books & activities | Rebekah Gienapp
Brazil Research Project Distance Learning | Globe Trottin' Kids
Complete Brazil Country Study | Simple Living Creative Living
Unit Plan – Brazil for Kids | Primary Learning
Brazil Classroom Center Activity Bundle | ESL Kidz
FREE printables and downloads all about Brazil:
Brazil Challenge FREE PDF | Globe Trottin' Kids
FREE Brazil Lesson Plans (3 Complete Lessons!) | Free Homeschool Deals
Questions FREE Brazil Download | All Things Topics
FREE 15-Minute Music Lesson: Brazilian Composer Heitor Villa-Lobos | Music in Our Homeschool
Brazil Bingo Game for Learning Fun FREE Printable | Books and Giggles
FREE Printable Brazil Cards | Research Planet
Brazil Maze (FREE) | Muse Printables
Facts About Brazil Geography FREE Worksheet | Worksheets to Print
FREE Downloadable Brazil Lapbook | Homeschool Share
Brazil Geography Printables – FREE Printable Download | Homeschool Creations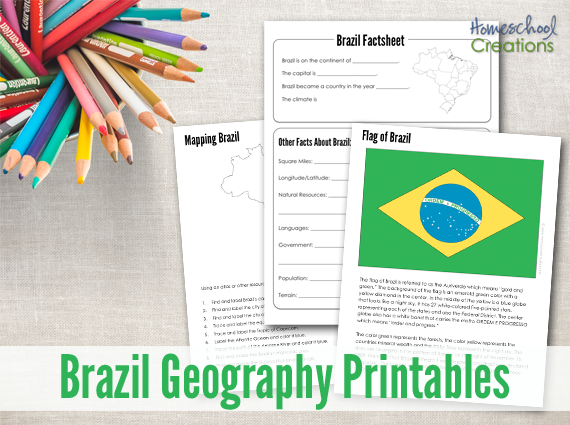 FREE Brazil Map Worksheet | Student Handouts
Brazil – Vocabulary Pack (FREE) | A Teachable Year
Crafts to go alongside your Brazil country study:
25 Beautiful Brazil-Inspired Crafts for Kids | Play Ideas
(Video) Brazilian Kids Craft | Louis Houng
Exciting Brazil! Art and Crafts and Music | Little Aboudi
Useful resources and tools for learning about Brazil in your homeschool:
Country FREE Fact Sheet | Layers of Learning
FREE "Less Mess" Explore the World: Research a Country or City | The Peanut Gallery
Explore Geography with Five Country Unit Studies…and a FREE My Country Study Packet | As We Walk Along the Road
Jeannette is a wife, mother and homeschooling mom. She has been mightily, saved by grace and is grateful for God's sovereignty throughout her life's journey. She has a Bachelor in English Education and her MBA. Jeannette is bi-lingual and currently lives in the Tongan Islands of the South Pacific. She posts daily freebies for homeschoolers!
Series Navigation
Previous: Resources to Teach Kids About Oceania
Next: Resources for Learning About Canada