There is a controversy behind police officers today, and chances are that your children are aware of this as well. That is why learning about police officers is extremely essential to teach our kids and these free ways to learn about police officers can help.
This post is part of the
Getting to Know Community Helpers
Series
I think we have all had our own experiences with the police in some way or the other. Whether the experience is good or bad, it is a fact that police officers are a huge help to our communities.
If you have ever tried to call for them in your time of need, then you would know this to be true.
The first community helper to respond to my past domestic abuse call was a police officer, the first to respond when my vehicle flipped three times from the median of a road was a police officer, and this can go on and on.
One time as a single mom I walked into a police station because I was at my wit's end with my eldest daughter. I told them about her bad choices and that I didn't know what else to do.
A police officer told me not to worry and continued to lecture my daughter about what could happen if she continued down the wrong path. I will be forever grateful for these things.
There are many police officers in New York and Florida that I know. These men and women care for their community, care about the people they protect and serve, and risk their lives daily so that we don't have to.
I feel it is necessary to show this truth to our children. There are police officers out there, doing what lost people do in a lost world. The media will tell your kids all about that side.
Until then, I feel it is important we share with them how we can help – how we can do our part.
Teach them perspective for the blue:
Respecting Police Officers – Family Night Lesson | One She Two She
Community Helpers – Fostering Positive Relationships with Police FREE Download | Teacher's Brain – Cindy Martin
There is no need to get too deep with our kids before time. You will know when it is time to tackle this very difficult subject with your children. Until then, add police officers to your community helper unit to learn more about these essential workers trying to keep our communities safe.
We can teach our children about a police officer's role (i.e. protect the public, ensure people obey the law, and to help make people feel safe.)
Explore these FREE ways to learn about community helpers – police officers – in your homeschool:
Check out these free resources and unit studies about police officers:
FREE Police Coloring Pages | Education.com
Police Office Preschool and Kindergarten Unit (FREE) | Homeschool Creations
FREE Police Printables And Montessori-Inspired Police Activities | Living Montessori Now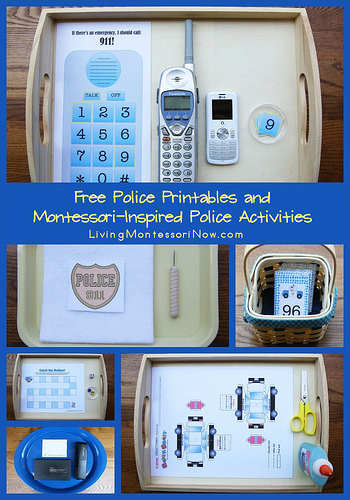 Kindergarten Police Officer Printables | Confession of a Homeschooler
Preschool Helpers: Police Officers (Simple & Fun Ideas and Activities) | Simple Home Blessings
Police Officer! A Community Helpers Preschool / Kindergarten Series | The Disguised Supermom
Community Helpers: Police Officer FREEBIE | KaytieCasKinder
Police officer Facts for Kids | Kids.Kiddle
Community Police Officer Info FREE Printable | Education.com
Police Dogs | Ducksters
Community Helpers Police Theme for Preschool | Preschool-Plan-It
Teach your kids with police officer–themed printables:
Alphabet Letter P Police Officer Preschool Lesson Plan Printable Activities and Worksheets | First-School.WS
Community Helpers Week Theme Pre-K FREE Printable (Police Officer) | Domestic Mommyhood
FREE Community Helpers Puzzles | Totschooling
Help! What's Missing? Help the Community Helper Find the Missing Number/Letter | Markers and Mascara
Sight Word Books Set 4: Community Helpers FREE Emergent Readers | The Measured Mom
Police Counting Activity (FREE) | Barbara Dorsey
Head to the library to check out some books about police officers:
Books About Police Officers And Other Safety Helpers | Pre-K Pages
20 Police Officer Themed Books (and more Community Helper books) | The Measured Mom
Community Helpers: Books We Love | Turner Tots
Create a police station dramatic/pretend play area:
(Video) Kids Pretend Play Police Cop Stories for Kids | Braxton and Ryder Show
Alex and Eric Pretend Play Police Stories | Toys and Colors
Let's Pretend: Police Station | Creative Family Fun
Dramatic Play Police Department | Fun365
Police Station Sample FREEBIE-Black & White Version | For a Rainy Day
Enjoy some hands-on activities, crafts, and games all about police officers:
Police Officer Activities for Kids | Fantastic Fun and Learning
Police Officer Crafts for Kids (National Police Week) | Coolest Family on the Block
FREE Community Helpers Bag Puppet – Police Officer | Carrie Lutz
Printable Police Officer Craft (FREE Printable) | Learn, Create, Love
Make Your Own Police Badge FREE Download | Education.com
Craft Preschool Community Helpers Police Officer 48+ Ideas | Share Video Trends
Policeman Toilet Paper Tube Puppet | Making Learning Fun
How To Draw A Police Officer (Video) | Art for Kids Hub
Paper Police Hat Craft | A Dab of Glue will Do
Watch videos about police officers and what they do:
Policeman Keep Us Safe | Little World
Ultimate Police Videos for Kids | Braxton and Ryder Show
Police Officer Hero – Real Rescue Heroes | Fisher-Price
I Want to Be a Police Officer | Little Princess
Preschool Learn to Dance: I'm a Police Officer (Video) | Dance 'n Beats Lab
Show some appreciation to police officers in your neighborhood:
7 Easy and Inexpensive Appreciation Gifts for Police Officers | Love and Blues
24 Open When Letter Ideas for Police Officers | Love and Blues
Police Officer Appreciation Bags with FREE Printable | Smashed Peas and Carrots
Thank a Police Officer- FREE Police Week/Police Appreciation Printables for Kids | Proud Police Wife
Police Appreciation Bags + FREE PRINTABLE | Laguna Lane
Thank A Police Officer Day 2020-Easy Ideas + FREE Printables | Ammo + Grace
Police Officer FREE Printable Survival Kit – Appreciation Week Goodie Bags | Mommy Octopus
Pray for them:
Law Enforcement Appreciation Day (A Simple Printable Prayer) | Ammo + Grace
FREE Police Week Printables | Ammo + Grace
Bible Verse FREE Printables For Police Officers | Staying Home Sawyer
Don't miss out on our other resources for studying more community helpers with your students:
Printables About Community Helpers
Free Community Helpers Printables
Free Community Helpers Handwriting Practice
I know your children will enjoy learning about community helpers! I hope these free community helper printables are helpful for you as you plan your unit study.
Jeannette is a wife, mother and homeschooling mom. She has been mightily, saved by grace and is grateful for God's sovereignty throughout her life's journey. She has a Bachelor in English Education and her MBA. Jeannette is bi-lingual and currently lives in the Tongan Islands of the South Pacific. She posts daily freebies for homeschoolers!
Series Navigation
Previous: Free Ways to Learn About Community Helpers – Veterinarians
Next: Free Ways to Learn About Hairstylists