Spring is right around the corner. This is the perfect time not only to start working on planting a garden, but how about a Fairy Garden?

My kids love playing outdoors especially in springtime when it's not too hot, and not too cold. They especially love playing in the dirt, and playing with natural materials. Fairy gardens are the perfect outdoor nature activity that you can get your whole family involved in!
I saw fairy gardens years ago and fell in love with them. Now they have gotten so popular that you can find fairy garden accessories everywhere. I have seen them at garden stores, craft stores, even Big Lots and Toys R Us! Some of the accessories can be pretty pricey, but there are many DIY ways to make your own for a lot less.
If you are looking for a fun outdoor activity for all ages, you must check out these awesome fairy garden ideas!
How to Make a Fairy Garden for indoor and outdoor from My Frugal Adventures

How to Build a Dollar Tree Fairy Garden from Little Blog in the Country

How to Make a Fairy Garden from Echoes of Laughter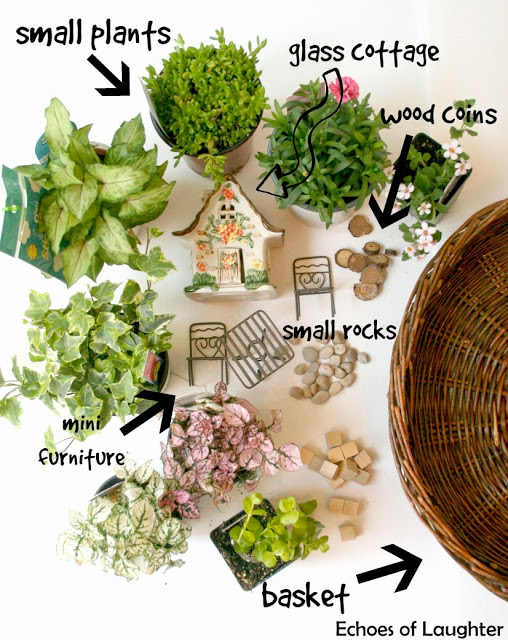 Pete's Dragon Fairy Garden Scene from Simple Practical Beautiful – I love this idea to recreate a scene from a movie! There also lots of fun DIY ideas in this post.

Tea Cup Fairy Garden from Life is a Party

Wooden Fairy House Tutorial from Juise
How to Make a Stone Fairy House from The Fairy Garden
DIY Fairy Garden from Kara's Classroom
Fairy Garden in a Stump from The Magic Onions
Bird Bath Fairy Garden from Curly Crafty Mom
Jurassic Park Fairy Garden from Sixty Fifth Avenue
How to Make a Fairy garden on a Budget from Mommy Moment
DIY Fairy Garden Kit Favors from Evermine
Fairy Garden Furniture and Accessories:
Make Mini Toadstools for your Fairy Garden from The Magic Onions

Fairy Garden Furniture Stone Table and Chair Tutorial from Fairy Gardens.com

Glitter Painted Rocks for your fairy garden from Made It Mommy


Acorn Tea Set for Fairies from Twigs and Toadstools 


Salt Dough Fairy Garden Accessories from Mommy Moments
Fairy Garden Pergola from Life is a Party
DIY Fairy Garden Picnic Food from Life is a Party
Here are some cute Fairy Garden Kits and Accessories if you don't have time to make your own:

Sarah is a wife, daughter of the King and Mama to 4 children (one who is a homeschool graduate)! She is a an eclectic, Charlotte Mason style homeschooler that has been homeschooling for almost 20 years.. She is still trying to find the balance between work and keeping a home and says she can only do it by the Grace of God, and Coffee!