Have you ever considered how important the job of a postman is? We rely on the mail for so many things. Help your kids learn about and appreciate the role of mail carriers with these FREE Postman Printables and Crafts.

This post is part of the Community Helpers Series


It is so much fun to teach our little ones about the people around us that have interesting and important jobs to do in our community. In this series we will be covering some of the most well known community helpers with free printables and crafts for each one.
Today we are learning about Postmen with these free printables and crafts:
Postman Printables:
FREE Kindergarten Mail Carrier Unit Study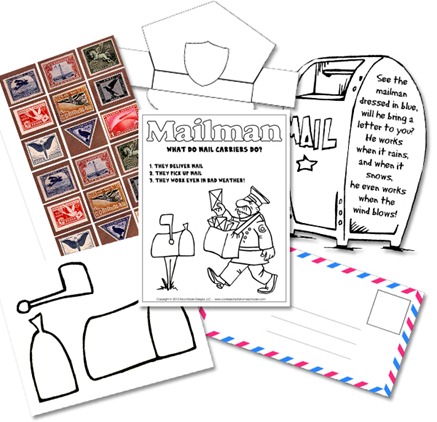 Mailman Unit Study with Printables
Post Office Play FREE Printable Play Set


Post Office Dramatic Play Time Printables and Ideas
Mailman Paper Doll
P is for Post Office Imaginative Play Printables
Bingo Marker Mail Carrier Pages
Mailbox Alphabet Game with FREE Printables



Postman Crafts:
Mail Carrier Toilet Paper Tube Craft
Create a Mailbox from a Cardboard Box
Directional Art Mail Truck
Printable Mail Carrier Craft


Postman Books:
Sarah is a wife, daughter of the King and Mama to 4 children (one who is a homeschool graduate)! She is a an eclectic, Charlotte Mason style homeschooler that has been homeschooling for almost 20 years.. She is still trying to find the balance between work and keeping a home and says she can only do it by the Grace of God, and Coffee!
Series Navigation
Previous: Community Helpers Series: Doctors