Some states require homeschool reporting, and some don't. Even if they aren't required by your state, these free report cards and progress charts/reports can help you record your student's performance and provide benefits for your homeschool journey.
I understand that we shouldn't add one more thing to our requirements. In "requirements" I mean as a mom, as a house manager, wife, coordinator, nurse, coach, and homeschool teacher.
We can easily tell ourselves that recording our student's grades is not important. If we have no choice but to record our requirements for our state, we may see it as a burden.
If our state requires nothing, then we can see them as useless.
However, besides adding work to our already busy schedules, just stop for a moment to think about the benefits of report cards and progress reports.
Here are a few reasons why report cards and progress reports are a benefit to your homeschool:
(Note: These are not in order of importance because we all may find a benefit that means more to our specific homeschool.)
Kids want to know their grades.
My kids enjoy seeing how they are doing compared to previous years and even compared to each other. They have a competitive streak like their dad.
It is a huge confidence booster when they see their grades improve. A decrease in grade helps motivate them for next time.
I can track their progress for me.
Tracking my kid's progress is like crossing off a huge item off my to-do list. Once it is done, I can evaluate what to do next.
Tracking progress provides me with the information I need to gauge my homeschool's progress. Do I need to slow down? Do I need to review or provide more challenging tasks? These reports provide important information I can't just pass up.
They result in incentive and reward time!
I am all about rewarding good work. I don't give my kids anything they want. I warn them every time we leave the house to not ask for a thing.
However, when they have been working hard, I love to reward them with little things or even big things. Since I don't get them gifts often, they appreciate everything they get.
So, having a report card and progress report to celebrate by rewarding my kids when they do well is a win/win for the whole family.
They build important memories and confidence.
Reports showing a child's efforts are something to be cherished. When my daughter understands that her progress is important, it builds her confidence, and she wants to work harder.
She is confident in her work and believes in herself when she can track that her efforts paid off.
Kids can take constructive criticism.
Gut-wrenching true report cards and progress reports build your child's ability to take constructive criticism.
They are able to see their grades or your comments and use them to improve for the next report.
They highlight strengths.
When you can track what your child might be good at, you can sculpt future lessons towards their interests. Students can also figure out their future interests by some of the subjects they enjoy.
Are they good at math? Maybe becoming an accountant is an option. Are they good at writing? They might enjoy writing for a living. STEM lovers may build on their interests as a doctor or engineer.
When it comes to report cards and progress reports, it's a "yes" for me and my kids.
Explore these free report card and progress charts to use in your homeschool:
Check out these free report card printables:
FREE Report Cards and Progress Report Templates
Homeschool FREE Report Cards | A2Z Homeschooling
FREE Homeschool Report Card | Flanders Family
Printable Homeschool Grade Record FREE | Paradise Praises
FREE Printable Homeschool Report Card | 123 Homeschool 4 Me
Homeschool Transcripts and Report Card Templates for FREE | Homeschool Curriculum
5 Reasons Homeschoolers Should Use Report Cards (Plus FREE Printables) | Intoxicated on Life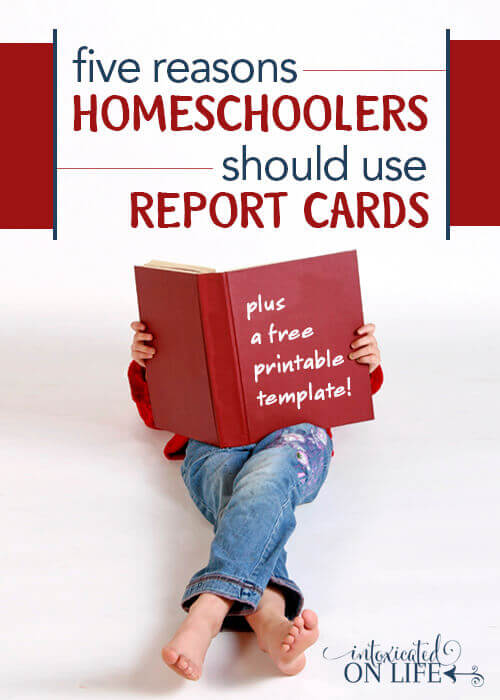 FREE Narrative Report Card Template for Your Homeschool | Gifted at Home
How to Make a Homeschool Report Card (FREE Printable) | Paradise Praises
FREE Homeschool Report Card | Blessed Beyond a Doubt
Assessments and Report Cards (FREE) | Mrs. Wills Kindergarten
FREE Printable: Homeschool End of Year Form | Little Crunchy
Report Card and Grade Records for Homeschoolers (FREE) | Donna Young
Reading and Writing Report Card Comments (FREE) | Timesavers for Teachers
Kindergarten Goal Chart – FREEBIE | Keeping My Kiddo Busy
Homeschool FREE Grade Book and Report Card Template | Homeschool.com
End of the Year Homeschool FREE Evaluation Form | Mommy Octopus
Homeschool FREEBIES: Report Cards and Progress Reports | Kay for Kids
How To Track Grades and Transcripts for High School Homeschool | Layers of Learning
Kindergarten Report Card and Assessment Kit – FREEBIE | Keeping My Kiddo Busy
FREE Printable Kindergarten Report Card Templates | Love to Know
Kindergarten Report Card Assessments | Apples and ABCs
FREE Weekly Editable Report Card | Mrs. Jones Creation Station
Student Report Card Writing Tips and Sampled FREE | Nyla's Crafty Teaching
Check out these free progress report printables and downloads:
FREE – Download Editable Progress Report Card | Tina's Dynamic Homeschool Plus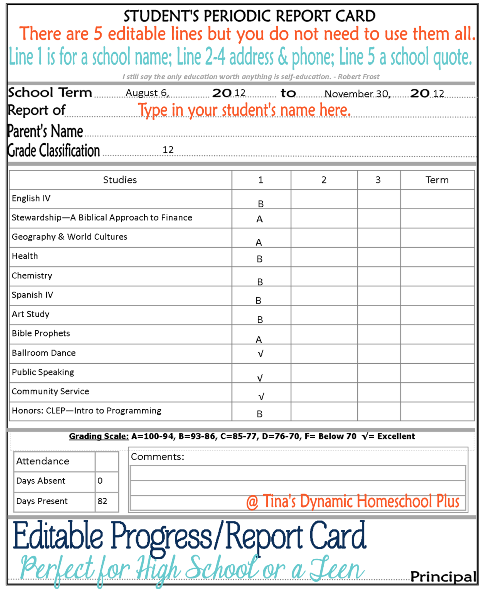 Preschool Progress Report – FREE | Caylee Amott
Homeschool Progress Report With Example: What Parents Need to Know | Bright Hub Education
Progress Reports – Quick and Easy and FREE | Engaging Teaching
How to Write a Homeschool Progress Report | Thought Co.
FREE Printable Preschool Progress Reports | Love to Know
25+ Progress Report Comments For SLPs | Super Power Speech
FREE Preschool Progress Reports | Preschool Plan It
Student Progress Report (FREE) | Teacher Printables
FREEBIE Progress Report Templates | School House Talk
5 Tips to Write Detailed Homeschool Progress Report | KidsKonnect
FREE Progress Report Downloads | Abeka
Yearly Progress Report Word Doc (FREE) | Mama of Letters
FREE Rewards Chart for Progress | Kid Pointz
Progress Behavior Charts FREE and General Progress Charts | Kid Pointz
FREE Printable Goal Charts for Kids | Mom 4 Real
Printable Robot Progress Chart (FREE) | Create in the Chaos
FREE Progress and Reward Chart Printables | Dri-Sleeper
Printable FREE Progress Chart | Create in the Chaos
FREE Progress Chart | Classroom Freebies Too!
Weekly Progress Chart (FREEBIE) | AshesMarTEACH
Student Progress Chart (FREE) | Sage on the Stage
FREE Progress Chart: Sweet Progress | Schoolhouse Treasures
Jeannette is a wife, mother and homeschooling mom. She has been mightily, saved by grace and is grateful for God's sovereignty throughout her life's journey. She has a Bachelor in English Education and her MBA. Jeannette is bi-lingual and currently lives in the Tongan Islands of the South Pacific. She posts daily freebies for homeschoolers!