These free Montessori math resources & printables will help you teach math with Dr. Maria Montessori's approach through observation and experimentation.
When homeschool families gravitate to a particular method of learning, it can be challenging to learn how to adjust mathematics.
A family that follows a Montessori style would most commonly find that it works well with early childhood and primary school education.
How is Montessori math different?
The Five Principles of the Montessori Method:
Principle 1: Respect for the Child.
The Montessori method favors kids making choices, doing things independently, and learning for themselves.
Principle 2: The Absorbent Mind.
This means that clearly, children are constantly learning from the world around them.
Principle 3: Sensitive Periods.
This is a view that there are certain periods when children are "ready" to learn certain skills.
Principle 4: The Prepared Environment.
The Montessori method suggests that there should be a child-centered learning environment that promotes the freedom to explore materials of their choice, for example.
Principle 5: Auto Education.
This is an important view of the Montessori method that children when provided the environment, inspiration, guidance, and encouragement children can educate themselves.
I say all that to share a bit about this type of approach for teaching in your homeschool. Of these principles, mathematics fits well into the absorbent mind category.
Due to this, from what I have read, the biggest difference between Montessori math and "regular" math is this:
Regular math is taught from abstract to concrete. Montessori math is the opposite. Montessori math teaches from concrete to abstract.
For example:
Usually, kids are told that 2 + 2 is 4 or memorize math facts, then are given examples to help them fully understand concepts.
Montessori approaches give kids the materials first, then guides them through getting the answer 4 or understanding the concepts.
The Purpose of Mathematics in Montessori:
Mathematics in Montessori is essential as math is literally all around children from the moment they come into the world. Their age, what day they are born, how they get older – it all circles around numbers and math.
Since math is all around and children take in information from the environment around them, building mathematical knowledge is a natural progression of a child's growth.
Mathematics provides a way for our children to understand the common language of quantifying, measuring, and making sense of the world around us.
Is Montessori Math Effective?
Because Montessori math is a hands-on way kids can learn concepts, then move towards the abstract ideas of 4 X 4 =16, kids more easily understand the concepts.
They aren't being told a fact and then forced to understand, they understand and then can easily state the abstract.
Learning the hard "stuff" first makes kids more confident in their math skills because they comprehend what quantities really mean.
They are also allowed to experiment and make mistakes as part of the process of learning. This is how we learn in real-life situations.
Montessori math at home for early education and primary ages can train your child's brain to think critically and to learn by experience.
I really wish I had had more of an opportunity to teach my kids this way of learning and use this with my students as an early educator.
If you are looking to use Montessori mathematics at home, then explore these free Montessori math resources & printables:
Montessori math worksheets and printables
FREE Math Printables | Montessori Nature
Easy Montessori at Home Math FREE Printable Homeschool Curriculum | The Natural Homeschool
FREE Montessori Inspired Printables | Montessori Nature
Montessori Four Operations: Subtraction FREE Printable | Hip Homeschool Moms
Montessori Math Lessons for Addition FREE Printables | The Natural Homeschool
FREE Math Printables From KHT Montessori | Living Montessori Now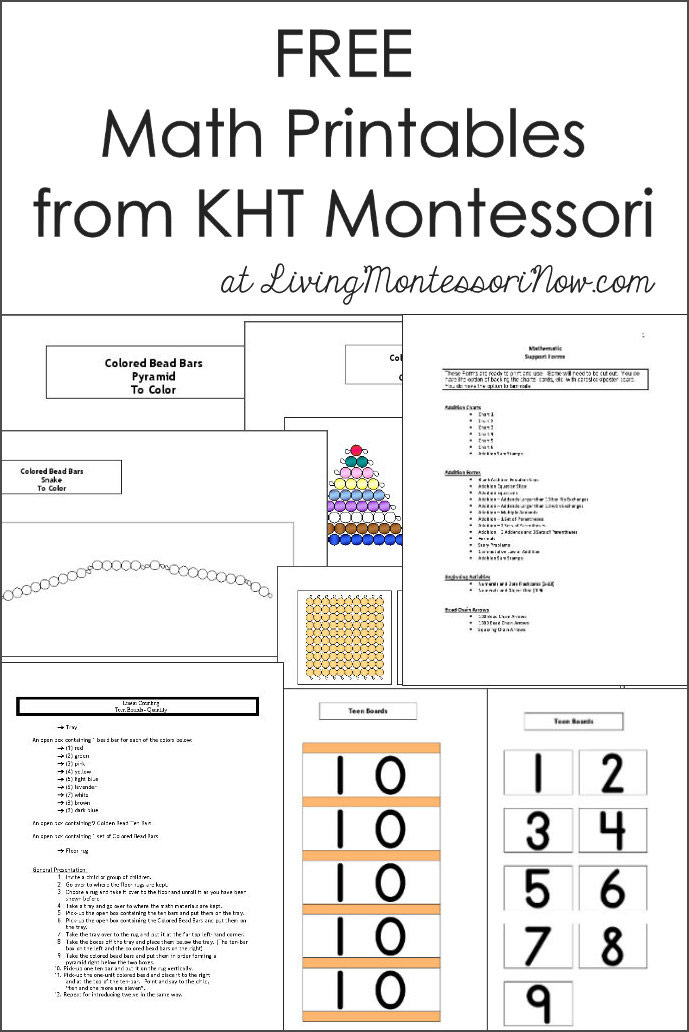 Montessori Addition, Subtraction, and Multiplication Booklets (FREE) | Pinay Homeschooler
Create a "Geometry Star" | Virtually Montessori
FREE Shape Matching Printable Montessori Inspired Cards | Montessori Nature
Addition Boxes – 2 Digit, 3 Digit and 4 Digit Numbers FREE | Montessori Printables
Odd and Even Numerals and Counters FREE | Montessori Printables
Prek/Kinder Number Puzzles (FREE) | Jady Alvarez
FREE Montessori Place Value with Hundreds | Montessorikiwi
FREE More Than & Less Than Cards | Montessori Print Shop
(FREEBIE) 0-10 Counting Cards – Pumpkin Theme | Jessica Michele
Price List for Problem-solving / Word Problem (FREEBIE) | Creativity Booster
Multiplication Charts – Practice for Multiplication Tables 1 – 10 (FREE) | Virtually Montessori
100 Chart Tracing (FREE) | Teacher sammy
FREE Printable Math Worksheets for Kids- Counting Bees | Jdaniel4's Mom
Must-Have FREE Maths Printables For Teachers | A Plus Teaching Resources
Kindergarten Geometry Unit – FREEBIES | Keeping My Kiddo Busy
Telling Time with FREE Printables | Montessori Nature
Apple Counting 1-10 FREE Printables | Green Tree Montessori Materials
School Math Symbols FREE Flashcards With Cool Hats | Happy Art Education
FREE Problem Solving Mats | Patricia Meza
Introducing Multiplication with Groups and Arrays FREE Worksheets | Lindsey Larkin
Place Value FREE Matching Cards | Tools For Tomorrow
FREE Montessori Multiplication Booklets | Pinay Homeschooler Shop
Montessori Three-Digit Dynamic Subtraction Cards FREE | Engaging Education Materials
Telling Time FREE 3-part Cards with Lessons | Blessedly Busy
Advanced Place Value Task Cards FREEBIE | Montessorikiwi
Hero Girl Themed Math FREE Worksheets | The Multi-Taskin' Mom
Critical Thinking Math FREE Flashcards- 8 | A Friend in First
FREE Montessori Division Printable Pack | Every Star is DIfferent
Measurement and Data Kindergarten Math Unit – FREEBIES | Keeping My Kiddo Busy
FREE Gumball Math Mats | The Measured Mom
Montessori FREE Math Downloads | Montessori Math Cards
More FREE Printable Montessori Math Worksheets for Subtraction | The Natural Homeschool
Math & Geometry Materials FREE Downloads | Montessori for Everyone
Find a gazillion more FREE Montessori math printables for your kiddos HERE.
Montessori math activities and resources
FREE 30+ Hands-on Montessori Math Activities
DIY Montessori Math Beads | Imagine Our Life
Montessori-Inspired Math Activities Using Bead Bars w/ FREE Printables | Every Star is Different
Math Activities Using Cubes and FREE Printables | Living Montessori Now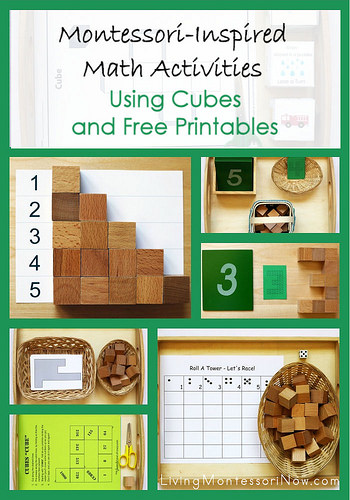 30+ Montessori Math Activities for Preschool and Kindergarten | Natural Beach Living
50 Montessori Math Activities at Home for 2-10-Year-Olds | Natural Beach Living
FREE Flower Printables and Montessori-Inspired Flower Math Activities | Living Montessori Now
FREE Skip Counting Animal Puzzles, Count by 2, 3, 4, 5, 6, 7, 8, 9, and 10 | Wise Owl Factory
Math Half Sheets to Practice Addition Subtraction & Multiplication (FREE) | Montessori Printables
Summer Count and Clip FREE 1-12 | PlayLearnTeach
FREE Money Worksheets Identifying Coins Value Special Education Math Life Skills | smalltowngiggles
Playdough Mats 1-10 FREE | PlayLearnTeach
Number Rods – Montessori FREE Printable | Montessori Printables
DIY and FREE Printable Montessori Math Materials | The Little List
Montessori Number Symbol Cards FREE Downloads | Research Planet
DIY Fall Montessori Math Activities (FREE Printables) | Natural Beach Living
Montessori Paper Seguin Boards (FREE Download) | Research Planet
Ladybug Math for Preschoolers (FREE Printables Count & Clip) | Natural Beach Living
Share a Picnic Fraction Activity (FREE Subscriber Download) | Mrs Jones' Creation Station
FREE Printable Domino Addition | Simply Kinder
25 Fun Awesome Addition Activities | We Are Teachers
Acorn Addition with Hundreds Chart (Subscriber FREEBIE) | Life Over Cs
FREE Fish One More One Less Activity | Fantastic Fun and Learning
Stamp Game FREE Printable Montessori Addition Multiplication Subtraction Division | Minkybubs Montessori
Montessori Math Activities | Living Montessori Now
FREE Quarters, Half Dollars, Dollars Cut and Paste Worksheets | smalltowngiggles
Montessori Style Decimal Board- FREE Printable | The Modern Montessori Guide
FREE Multiples Tables & Hundred Board Printable | Cosmic Montessori School
Montessori Math Trays | Racheous
FREE (APP) Montessori Math Games for Preschoolers | iGameMom
(FREE) Printable Place Value Game | KidsActivitiesBlog
Learn to Count to 100: Place the Ones FREE Printable Math Activity | A Little Pinch of Perfect
Telling Time Matching Sensory Bin FREE Printable Activity | Life Over Cs
Working with Montessori math materials supports a child's ability to absorb math concepts at an early age using their environment and experiences.
My favorite part of Montessori math is the hands-on physical and visual use for comprehending concepts. My kids learn most when they are in the thick of "doing" math rather than being taught math.
Jeannette is a wife, mother and homeschooling mom. She has been mightily, saved by grace and is grateful for God's sovereignty throughout her life's journey. She has a Bachelor in English Education and her MBA. Jeannette is bi-lingual and currently lives in the Tongan Islands of the South Pacific. She posts daily freebies for homeschoolers!