Your kids don't need goggles, beakers, pocket protectors, or lab coats to enjoy chemistry in homeschool. These free resources to help kids learn chemistry will make science fun and engaging for your homeschool lessons.
Chemistry was once a word that brought anxiety to some students. Now that we are homeschooling, the opportunity to make learning fun is a win/win for both students and parents.
That periodic table can get quite scary to look at. When kids understand they need to memorize elements, it can get quite intimidating. They need as much practice as they can. Granted, chemistry isn't easy.
Check out these free resources to help kids learn chemistry and to help you teach it:
FREE Printables to Use with Apologia's Elementary Chemistry and Physics
Chemistry Laboratory: FREE Notebooking Pages | Notebooking Fairy
FREE Printable worksheet – Physical vs. Chemical Change | Help Teaching
Scavenger Hunt FREE Worksheet – Chemistry Food Elements Part 2 | Scavenger-Hunt.org
FREE Chemistry PowerPoint Presentations (Read-Only format) | Middle School Science
Chemistry FREE Task Cards with or without QR Codes! | JFlowers
Fun FREE Chemistry Word Search | Monster Word Search
Chemistry Puzzle-FREE: Color by Ion Charge | Science with Mrs Lau
FREE Science Curriculum: Elementary & Middle School Chemistry
Chlorofluorocarbons: Chemistry for Preschool FREE Printables | HappilyEverReading
FREE Chemistry for Kids Printables and Activities | Happy Homeschool Nest
Elementary Chemistry Unit | Adventures in Mommydom
Printable FREE Chemistry Tests, Worksheets, and Activities | Help Teaching
Parts of An Atom for Hands-On Building (FREEBIE) | Peanut Butter Fish Lessons
FREE Structure of an Atom Color Doodle Sheet Middle School Chemistry Science | STEMthinking Science Resources
Chemistry FREE Word Search | Puzzles-to-Print
FREE Printable Periodic Table: Legal Size and 2-page Landscape Size | Science with Mrs Lau
Chemistry Notebooking FREE Printable Pack | Homeschool Helper Online
FREE Chemistry Lessons for Middle School Students | How to Homeschool for Free
FREE Chemistry Survival Guide | Melissa Maribel
Printable Chemistry FREE Worksheets | ThoughtCo.
FREE Chemistry Basics Series: Atomic Sort | Serina Gay
A-LEVEL Chemistry FREE Workbooks for Self-Study | Gemma Shearer
FREE Resources for Chemistry 101| Amy's Wandering
Our Periodic Table of Elements Printable Pack offers a compact way to help students memorize key information without the need to flip through textbooks to find it all.
Grab these free resources about the Periodic Table to help your kiddos memorize and learn all about the elements:
FREE Periodic Table of the Elements Cheat Sheets
Make the Period Table of Elements Fun! – Sketch Note Activity (FREE) | Samsons Shoppe
FREE Hands-On Chemistry Lesson Downloads | The Homeschool Scientist
Printable Periodic Table of Elements FREE Notecards
FREE Periodic Table Printables for The Nerd in Your Life | A Crafty Mix
Learn the Periodic Table of the Elements with Fun Resources (FREE Printable Table) | Encouraging Moms at Home
FREE: Periodic Table of Elements Color by Category | ChemKate
Activities & FREE Resources For Learning About The Periodic Table | My Joy-Filled Life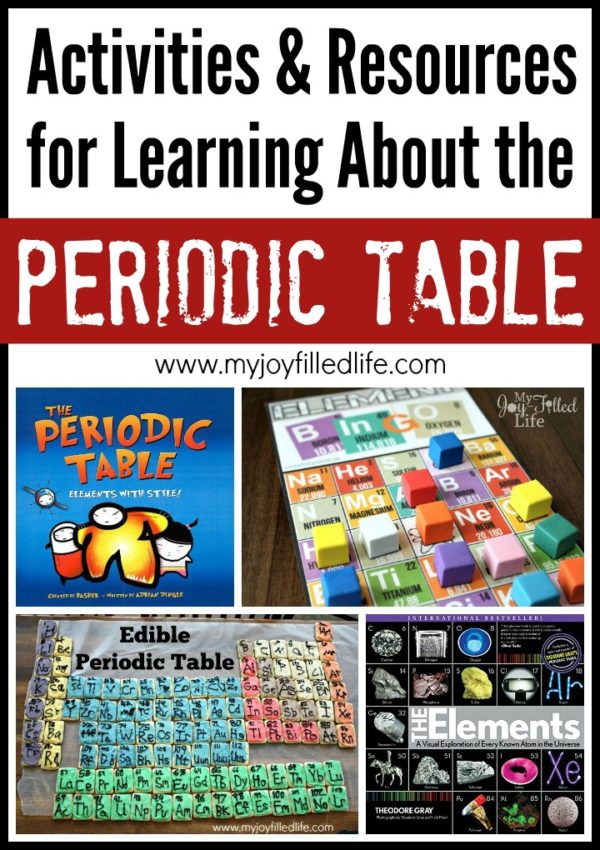 FREE Periodic Table with updated names! | Science with Mrs Lau
Chemistry Basics Series (FREE Resource): The Periodic Table of the Elements | Serina Gay
Help make chemistry FUN.
When we are intentional about helping our kids learn, we can use resources that likewise make chemistry fun, engaging, and understandable to them.
Chemistry is one of those science topics that lend themselves well to hands-on and inevitably exciting activities.
Chemistry is the study of matter and the changes that happen with that matter. When kids understand that everything on Earth is made of matter, they are curious about the idea.
Allowing kids to mix up various concoctions and exploring chemical reactions will make learning fun for them, especially in this hard topic of chemistry.
Kids need to know the facts and details about atoms, matter, and the dreaded periodic table. However, experiments and activities can make a world of difference in getting them to comprehend the content.
Your kids will enjoy these FREE chemistry games and activities:
Chemical Reactions: Make a Penny Turn Green (with FREE Printable) | Buggy and Buddy
Science and Chemistry Apps for Teachers and Students | Educational Technology and Mobile learning
Atomidoodle Periodic Table Fun Games for All Ages | Everyday Graces
Atoms & Isotopes FREE Chemistry Game | Elemental Science
FREE Chemistry Lesson Plans Using Legos | Freely Homeschool
FREE Build an Atom Activity with a Hole Punch and Glue | Science With Mrs Lau
Chemical Symbols FREE Game-Based Learning Resource | STEM Sheets
Periodic People – Intro to the Periodic Table FREE Activity | Sunrise Science
FREE Chemistry Bingo Cards and Games | My FREE Bingo Cards
Abundant Atoms Game – Chemistry FREE Cards | Teaching Without Chairs
Experiments and hands-on learning will make your chemistry lessons come alive. Check them out below:
FREE Chemistry Experiment Packet for Kids | Homeschool Den
Chemistry for Kids: Fun Experiments and Ideas! | Teach Beside Me
35+ Chemistry Experiments For Kids | Little Bins Little Hands
50 Chemistry Projects That Will Amaze Kids! | Babble Dabble Do
Don't forget to keep safety first when exploring experiments with your kids.
Jeannette is a wife, mother and homeschooling mom. She has been mightily, saved by grace and is grateful for God's sovereignty throughout her life's journey. She has a Bachelor in English Education and her MBA. Jeannette is bi-lingual and currently lives in the Tongan Islands of the South Pacific. She posts daily freebies for homeschoolers!