Do you remember studying Shakespeare when you were in school? I wasn't into it so much when I was younger, but now that I am a homeschool mom, I have been excited to find some really neat and free resources to learn about Shakespeare.
Shakespeare for a Charlotte Mason Education:
I always thought that Shakespeare was something you only learned about in highschool. That's because there are many adult themes, specifically with the tragedies. I had no idea that Shakespeare could be learned and enjoyed with elementary aged children. That is until I began to research more about the Charlotte Mason method of homeschooling. I was intrigued that included Shakespeare studies in her education back in the 1900's.
Ambleside Online is a free Charlotte Mason curriculum that schedules a Shakespeare play to learn about every term. There are many different Charlotte Mason style programs that include learning about a few different plays a year. Charlotte Mason herself suggested reading Shakespeare often, starting at 10 years old.
Free Resources to Learn About Shakespeare:
I wish these resources were around when I was in school. Shakespeare doesn't have to be dry and boring. Some of the plays are really humorous, and a lot of fun to learn about together. They work great in a family setting where you can read the plays out loud, or listen to audio book readings. Another favorite way to study Shakespeare is in a small group setting with multiple children reading the different characters out loud.
Free Printables:
Shakespeare Printable Biography – Education.com
Romeo and Juliet Character Study Worksheet – Education.com
Shakespeare Writing Journal Prompts – Write Shop
21 FREE Shakespeare Coloring Pages & Audiobooks for All Ages
How to Teach Sonnets to your Middle School Students – Just Add Students
Let's Learn About Shakespeare Activity Pack – Embark on the Journey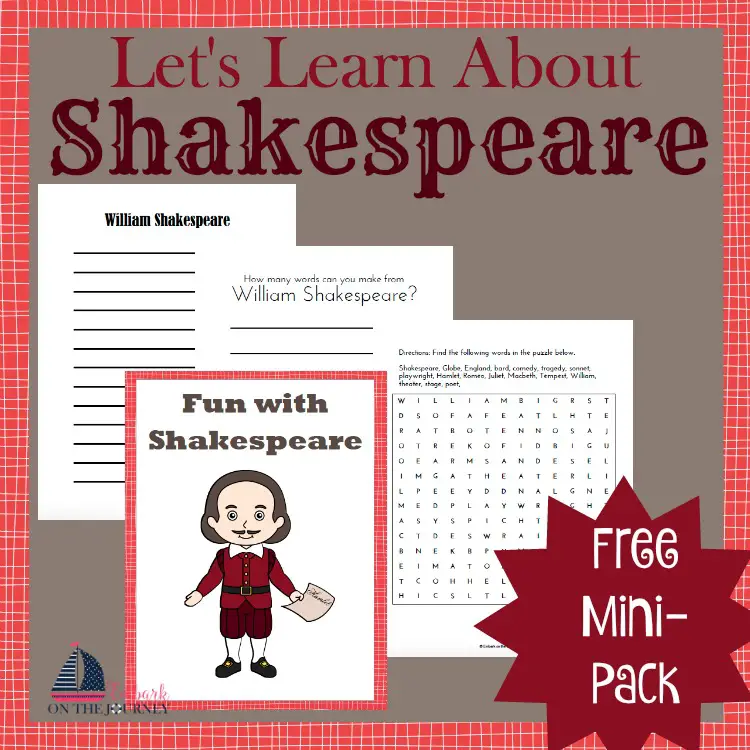 Simply Convivial has lots of free lesson plans and printable memory sheets for popular Shakespeare plays. You can find links to all of them here: 5 Easy Steps to Teach Any Shakespeare Play
Shakespeare Iambic Pentameter Lesson and Activity – TPT
In All You Do has some great resources, printables and unit studies for studying Shakespeare:
How to Study Romeo and Juliet with FREE Printable Pack
Shakespeare Notebooking and Copywork Unit
Shakespeare Sonnet Study Printable Pack
Websites for Shakespeare Research and Studies:
Absolute Shakespeare is a website full of resources for Shakespeare's plays, sonnets, poems and quotes. There is also information on the Globe Theater. You can find study guides for many of his plays.
Spark Notes Shakespeare is home to No Fear Shakespeare. You can read the complete text of his plays and sonnets with side by side English translations. These are free to read online.
Play Shakespeare is an ultimate online Shakespeare resource. There are individual synopsis breakdowns for the plays. There are character lists, scenes, and reviews for each play. You will find detailed study guides and lots of extra resources and articles for anyone interested in Shakespeare old and modern versions.
Shakespeare's Globe takes you directly inside this famous theater with an amazing virtual tour. This is a great addition to any Shakespeare study!
Shakespeare Online – has lots of information on the Globe Theater, the themes of his plays , imagery, daily facts, and much more.
Shakespeare's Globe is streaming FREE Shakespeare Plays for a limited time only! Check out the full line up and scheduled dates HERE.
6 Free Ways To Have Fun Studying Shakespeare In Your Homeschool
FREE Shakespeare Books:
These books are wonderful for teaching Shakespeare to younger children. The stories are enjoyable, and written in a living book style which a favorite among Charlotte Mason homeschoolers. I like that these are recommended resources in many different curricula. You can find both of these to read online for free at the Baldwin Project – Gateway to the Classics.
Tales from Shakespeare by Charles and Mary Lamb – Free at the Baldwin Project
Tales from Shakespeare FREE for Kindle
Beautiful Stories from Shakespeare by Edith Nesbit – Free at the Baldwin Project
Beautiful Stories FREE for Kindle
FREE and Cheap Kindle Books for Shakespeare
Sarah is a wife, daughter of the King and Mama to 4 children (one who is a homeschool graduate)! She is a an eclectic, Charlotte Mason style homeschooler that has been homeschooling for almost 20 years.. She is still trying to find the balance between work and keeping a home and says she can only do it by the Grace of God, and Coffee!