Humility must have a root in which it develops. That root in developing humility must begin with bringing glory to God. In a world of stiff competition and children that brag about everything they have, how can our children grow to be humble servants of the most high God and others? We can encourage our children to be humble despite what is going on around them.
This post is part of the
Building Virtues in Your Children
Series
Encouraging our kids to be humble begins with us. It's hard to teach your child humility if you are not humble. It is like teaching your child to control his anger when you display angry outbursts time and time again. How do we teach our children not to fight, when we fight with our spouses all the time?
When we try to teach our children not to do something that we do ourselves, we are being hypocrites. Sounds bad. Doesn't it?
Instructions to our kids will go in one ear and out the other of we are not good examples. If we are honest with ourselves, we can say that there are some areas in life where we do not behave with a humble attitude, and we would be lying to ourselves if we think our children do not see it.
I don't mean to bring doom-and-gloom. I do, however, want to be able to point to myself if I am not living in a manner that is honoring to the Lord.
See, I will be the first to tell you that when I feel like my husband has wronged me, I immediately go back to that place where I feel as if he owes me for all I have done for him.
I think about all the things I have sacrificed, yet quickly after that I remember that there is no humility in bitterness, and there is no humility in pride.
To be a parent who leads children with humility, in hopes to encourage humility, seek the Lord to help in every step of the way.
We all know kids can be little prideful things. Just the other day, my son's friend told him how many companies their grandfather owned. Our son, sadly, began to brag about his grandpa.
When my husband and I found out that our son took the bait and bragged about his grandpa, we were pretty disappointed.
We, of course, lectured and told him it was wrong to brag about anything in life. I knew just scolding him wasn't enough. We have to be intentional about training our children in the way they should go, and we really don't have the option to give up on them.
Encouraging our kids to be humble should be intentional, and here is how we can start:
1. Encourage humility with God's Word.
We can tell our kids not to brag and to "be humble" about how they react, yet not telling them why humility is essential is an error that many of us make. We can start by telling our children that salvation has nothing to do with us and everything to do with Him. Matthew 5:3 tells us that the poor in spirit will inherit the kingdom of heaven, which means that without humility, how can we make it to heaven?
Teaching our children God's Word and helping them memorize scripture, which explains why and how we should show humbleness, is the first step.
Another scripture to teach our children is Philippians 2:3 to help us consider other people's interests above our own. Jesus Himself came as a servant, the ultimate depiction of humility, pleading for those who were about to murder Him. Our kids need to know this.
2. Being a good example can encourage humility in kids.
Looking to ourselves for change to bring about change in our kids is difficult. We have years and years of behavior to submit to God's will. Pride rears its ugly head in us many times, and when our kids see it, they glean from it. We want our children to learn from our training and behaviors, but not this.
Take care of yourself, but don't take too much pride in your outward appearance. Don't put extreme value on material things, be grateful for what the Lord has provided you thus far, and pray your children will learn to do the same.
3. Teaching your children to serve can show humility.
Where we live now on an island that has a king, the cast system is really very much alive. Everyone knows who your family is and who your family is not. How do our kids stay humble or be confident when this is all around them?
Serving is an excellent way to help our children "get" that they can make a difference by serving those around them. Let your children help you cook for a widow or clean up someone's yard. Volunteer with your kids, talk with the people you serve, and listen to them.
4. Teach children to do their very best, even if they win or lose.
The key to teaching this can be found in 1 Corinthians 10:31 which says, whether you eat or drink, or whatever you do, do it all for the glory of God. We should teach our children that whatever we do, we do it for His glory. It puts winning and losing in its place and from a different perspective.
Failure can be an excellent teacher; let your kids go through it sometimes. It will help build a humble character in them.
5. Pray for humility and memorize scriptures about humility with your kids.
These two things will not come up void in the hearts of your children. Here are some scriptures to start with.
Philippians 2: 3-11: Do nothing from rivalry or conceit, but in humility, count others more significant than yourselves. Let each of you look not only to his interests but also to the interests of others.
Luke 14: 11: For everyone who exalts himself will be humbled, and he who humbles himself will be exalted.
Proverbs 22:4 – The reward for humility and fear of the Lord is riches and honor and life.
1 Peter 5:6 – Humble yourselves, therefore, under the mighty hand of God so that at the proper time, he may exalt you…
Romans 12:3 – For by the grace given to me I say to everyone among you not to think of himself more highly than he ought to believe, but to think with sober judgment, each according to the measure of faith that God has assigned.
Proverbs 11:12 – When pride comes, then comes disgrace, but with the humble is wisdom.
1 Peter 5:5 – Likewise, you who are younger, be subject to the elders. Clothe yourselves, all of you, with humility toward one another, for "God opposes the proud but gives grace to the humble."
James 4:6 – But he gives more grace. Therefore it says, "God opposes the proud, but gives grace to the humble."
The resources below can help you learn how to encourage your child to be humble and build character in your kids.
The Heart of Humility: Teaching Your Kids to Put other's First | Intoxicated on Life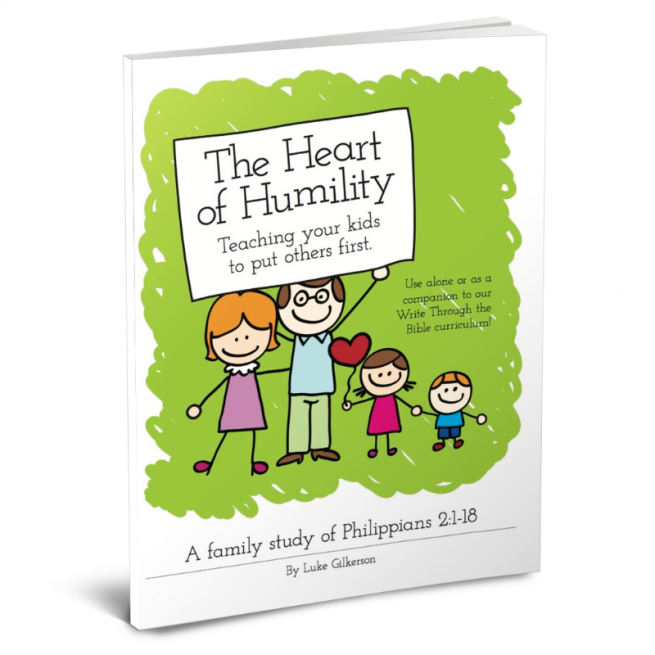 Help Develop New Habits and Build Character in Kids
Character Curriculum for Elementary Students (FREE)
Virtue Spotlight FREE Worksheet | Teaching Expeditions
FREE Printable Character Charts for Your Home
God promises to give grace to the humble but opposes the proud (Proverbs 3 and 1 Peter 5). It is important to Him, and it is essential for us.
The Bible describes humility as meekness, lowliness, and absence of self. The word literally translated from the Greek means lowliness of mind. Being humble, like many other characteristics the Lord tells us we should have, boils down to a heart issue.
Remember that our children see us day in and day out. They know if we are showing humility as an outward appearance or if we really mean it. It is scary, yet I believe children in many ways are our mirror in our walk with Christ.
We reap what we sow. When we see our children acting a certain way, we should be looking to ourselves to ensure we are the example we want our children to follow. Ouch! I think I need to go back to the drawing board myself.
Pitchin' A Fit!: Overcoming Angry and Stressed-Out ParentingShepherding a Child's HeartThe 5 Love Languages of Children: The Secret to Loving Children EffectivelyTriggers: Exchanging Parents' Angry Reactions for Gentle Biblical ResponsesThe Mean Mom's Guide to Raising Great KidsGrace Based Parenting: Set Your Family Free
Jeannette is a wife, mother and homeschooling mom. She has been mightily, saved by grace and is grateful for God's sovereignty throughout her life's journey. She has a Bachelor in English Education and her MBA. Jeannette is bi-lingual and currently lives in the Tongan Islands of the South Pacific. She posts daily freebies for homeschoolers!