Are you a homeschooling work-at-home mom? I am.
And while I'm blessed to be able to provide for my family while homeschooling my two youngest children, it can be challenging. Some days it's downright tough.
Getting Organized When You Homeschool and Work From Home
Now I've tried many different homeschool planners over the years, and some of them were lovely and useful. Yet none of them met all my needs for tracking my own work, plus the homemaking and homeschooling projects, tasks, and deadlines that are part and parcel of my life.
So I decided to create my own weekly schedule, daily routine, and various planning worksheets. You'll find a link at the bottom of this post.
In the meantime, as we gear up for our seventh year of homeschooling and my ninth year of working from home, I'd like to share some of the tips and tricks I've learned as a homeschooling work-at-home mom.
33 Hacks for the Homeschooling Work At Home Mom
Use a full boxed curriculum, like Sonlight to save time selecting courses annually.
Replace some read-aloud books with audiobooks your kids can listen to during quiet time.
Get up before everyone and work for 3 hours each morning.
Include a 1 – 2 hour "afternoon quiet time" for kids and work-time for you.
Use a meal plan to set up month's menu to save time figuring out what to eat daily.
Schedule "Freezer Cooking Fridays". Alternate freezer cooking and freezer baking to coordinate with your meal plan.
Grocery shop twice a month instead of weekly.
Teach your children life skills early on so they can take on chores, cooking, and housework.
Teach reading early on so your older kids can learn more independently.
Consider replacing parent-intensive subjects with an online course. We did Teaching Textbooks for Grade 3 as a change from Singapore Math.
Split up the homeschool day. For example, save Bible readings or read alouds for bedtime when your brain is too tired for work!
Combine teaching your kids as much as you can. Teach individually for Language Arts and math. Combine social sciences, sciences, and electives.
Teach kids keyboarding, online graphics, or other skills needed in your business. Then they can help you, and also gain practical work experience. You may even want to pay them!
Get older kids to cook once or twice a week.
Work at night after kids have gone to sleep (but NOT if you're getting up at 4:45am to work each day. It's a recipe for burnout. Ask me how I know.)
Silence your phone and schedule five minutes every couple of hours to check for work messages.
Try a four-day homeschool week. Use the fifth day for catching up.
Schedule any extra-curricular activities all on one day.
Limit extra-curricular activities to one per child until you have another driver in the family.
Automate as much of your own work as possible – ie. social media posting, email communications, etc.
Get a virtual assistant.
Set up a weekly master schedule for work-at-home, homeschool and homemaking.
Homeschool year-round using Sabbath Schooling, ie. 6 weeks on, one off. Use the week off for your heavy work or home-making projects.
Schedule actual schoolwork week-to-week instead of monthly.
Schedule a "money day" for all invoicing, bill payments, etc. I do "Money Mondays."
Grow an emergency fund – reduces financial stress if you have to take off time for sickness, when work is slow or if you must down work to play "homeschool catch-up."
Schedule your work activities as much as possible. As a writer, I spend early mornings doing client writing, pitching, and revision requests. Noon – quick email responses. Afternoon/quiet-time is 2 hours of blogging activities. I know exactly what to do each day during that time.
Hire a cleaning lady!
Get your groceries delivered!
Spread your own work over six days, instead of traditional Monday to Friday work week.
Homeschool over six days (do the "fun" stuff on the weekend, like Science Saturdays for experiments, Hands-On History, Timelines, Extra Art, and Outdoor Skills).
Take at least one full (24-hours) day off homeschooling and paid work each week.
Schedule "me" time for devotions and pursuing a favorite hobby that has nothing to do with children or work.
I hope you found at least one or two of these tips helpful!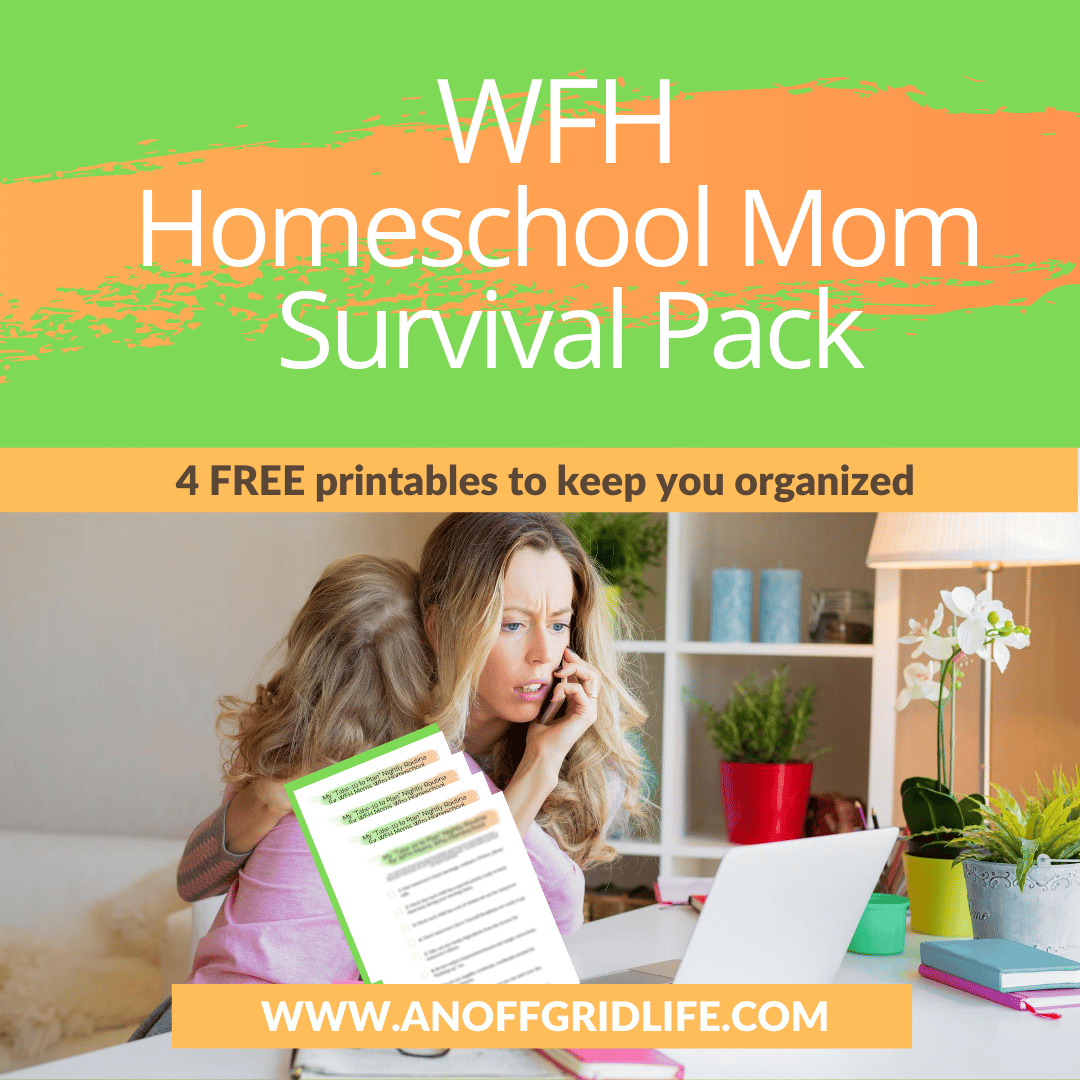 Sarita Harbour is a busy mom/step-mom, and grandmother blessed with seven kids ranging from age 32 down to seven. She lives off the grid with her family in a lakefront chalet in the beautiful wilderness of Canada's far north. She spends her days teaching, writing, and learning the ropes of homesteading off the grid. Visit her site, Off Grid Life, for free printables and resources on homesteading, homeschooling, and self-reliance for the whole family.