If you are lucky enough to live near an ocean you may have seen a sea turtle or more importantly, sea turtle nests that are protected on the beach. Sea Turtles are so fascinating and a lot of fun to learn about.



Are you planning a beach getaway or vacation this summer? If so,  you may want to start learning about the different ocean animals that you may see. Sea Turtles are one of our favorite ocean animals!
Here are some free unit studies and printables to help you learn more about this amazing sea creature:
Sea Turtle Lesson Plans from Modern Homeschool Family
Fun Facts About Sea Turtles and Free Printable from Awe Filled Homemaker
Sea Turtle Mini Unit from Carrots are Orange
Sea Turtle Life Cycle Printable Unit Study from Homeschool Preschool 
Turtle Unit Study and Printable Learning Pack from Look We're Learning
Sea Turtles Animal Study and Lapbook from Homeschool Share
Ultimate Sea Turtle Guide from Active Wild
Sea Turtle Coloring Pages and Life Cycle Printable from Adventure Homeschool
Free Sea Turtle Science Guide from Oklahoma Aquarium
Sea Turtle Educator's Guide from Sea Turtle.org
Sea Turtle Tracking Maps from Sea Turtle.org
Sea Turtle Lapbook from Iman's Homeschool

Free posters from The Florida Sea Turtle Life History Posters Project and the Sea Turtle Conservancy



Teacher Lesson Plans from Sea Turtle Inc.
FREE Sea Turtle Unit Study and Lapbook Printables from Tina's Dynamic Homeschool Plus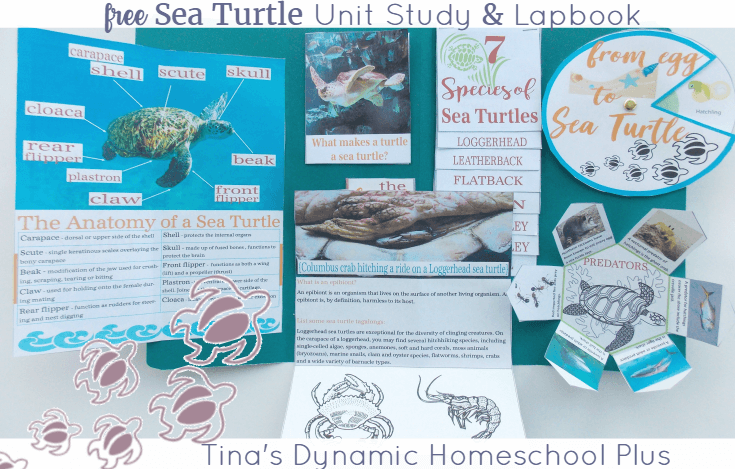 In All You Do has some awesome sea turtle printables:
Sea Turtle Notebooking Pages 
Sea Turtle Play Dough Mats
Sea Turtle Coloring Pages
Sea Turtles Tot and Pre K Pack


Here is a great list of online links to study sea turtles from The Homeschool Scientist.
Free Online Teacher Lesson Plans from Sea Turtle Exploration
Homeschool Lesson Plans for specific turtle breeds from The Homeschool Mom.
Here are some awesome books to go along with a sea turtle unit study:
Sea Turtle (A Day in the Life: Sea Animals)
National Geographic Kids Mission: Sea Turtle Rescue: All About Sea Turtles and How to Save Them (NG Kids Mission: Animal Rescue)
Sea Turtles: A Complete Guide to Their Biology, Behavior, and Conservation
Sea Turtles
I'll Follow the Moon — 10th Anniversary Collector's Edition
Sea Turtles: An Ecological Guide
Tammy Turtle: A Tale of Saving Sea Turtles (No. 11 in Suzanne Tate's Nature Series)
From Egg to Sea Turtle (Start to Finish, Second Series)