My girls love nature, and they love bird watching, especially watching the birds in our own backyard and neighborhood.
Nature Study is very easy to do when you start in your own backyard. If you are wanting to incorporate more nature study into your homeschool days, bird watching is a simple way to get started. 
Here are some great nature and unit studies on backyard birds:
Backyard Birds Lap -N- Note from Homeschool Share


Backyard Birds Early Learning Unit Study from Homeschool Preschool


Bird Nature Study Printables from Homeschool Creations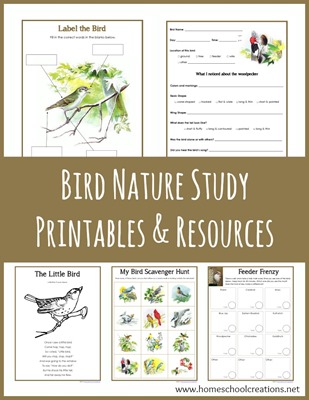 FREE Backyard Bird Unit Study for Grades K-2 from The Relaxed Homeschool
FREE Backyard Bird Checklist from National Wildlife Federation
Backyard Bird Notebooking Pages and Scavenger Hunt from Living Life and Learning
Printable Pages for Bird Observation from Walking by the Way
Homeschooler's Guide to Project Feeder Watch from Bird Sleuth K-12

Here are some of our favorite backyard birds:
North American Robin:
North American Robin Unit Study and Lapbook from Tina's Dynamic Homeschool Plus
American Robin Study from Handbook of Nature Study
Robin Lapbook and Unit Study from Homeschool Creations
American Robin Bird Sounds from The Old Farmer's Almanac

Mourning Dove:
Backyard Nature Study: Mourning Dove Free Printable Notebooking Sheets from Little Learning Lovies
Mourning Dove Identification Guide from All About Birds
Mourning Dove Bird Sounds from The Old Farmer's Almanac
Blue Jay:
Blue Jay Coloring Fact Sheet from Tree Valley Academy
Blue Jay Unit Study from Salty Tribe Company
Blue Jay Identification Guide from All About Birds
Blue Jay Bird Sounds from The Old Farmer's Almanac
Blue Jay Notebooking Pages from The Notebooking Fairy
Northern Cardinal:
Cardinal Bird Sounds from The Old Farmer's Almanac
Cardinal Identification Guide from All About Birds
The more we learn and study about birds, the more excited we all get to see birds in our yard. If you become a "birder"here are some must have books that we absolutely love and use all the time. My girls like to circle the birds that they find and date when they see new ones appear in our yard!

Sarah is a wife, daughter of the King and Mama to 4 children (one who is a homeschool graduate)! She is a an eclectic, Charlotte Mason style homeschooler that has been homeschooling for almost 20 years.. She is still trying to find the balance between work and keeping a home and says she can only do it by the Grace of God, and Coffee!