Mason jars are super practical, trendy and fun. Consider using them to make some one of a kind, creative kit gifts for your family and friends!
We are trying to keep Christmas sweet and simple this year. I am lucky to have some awesome family and friends that really appreciate DIY heartfelt, handmade gifts. We love to get creative with our gift giving and come up with some fun and unique gift ideas that you won't find at just any store!
I keep seeing these amazing DIY Gift Kits in Mason jars and I thought it would be fun to do a round-up of some cute ones for holiday gift giving, and instructions to make your own Mason Jar Gifts!
How to make your own Mason Jar Kit Gifts:
Grab a Mason Jar:
You can grab one out of your stash if you are a Mason Jar hoarder like I am, or you can buy a pack of jars if you are going to make multiple gifts.
I really like these wide mouth jars because you can stuff them a lot easier than the regular mouth jars.
Ball Quart Size Jars Pack of 12


If you want to be festive, there are also these pretty, green wide mouth jars:
Ball Heritage Collection Wide Mouth Quart Jars with Lids and Bands, Green, Set of 6


Handled Jars are really nice, and make great drinking jars later on! This set of two is a little bit bigger at 38 oz. and will hold a lot more items:
Set of Two Classic Country Mammoth Mug Mason Jar Drinking Glasses


Pick a Theme:
There are so many different themes to choose from! Here are some of my favorites:
Keep Warm Kit Gift in a Jar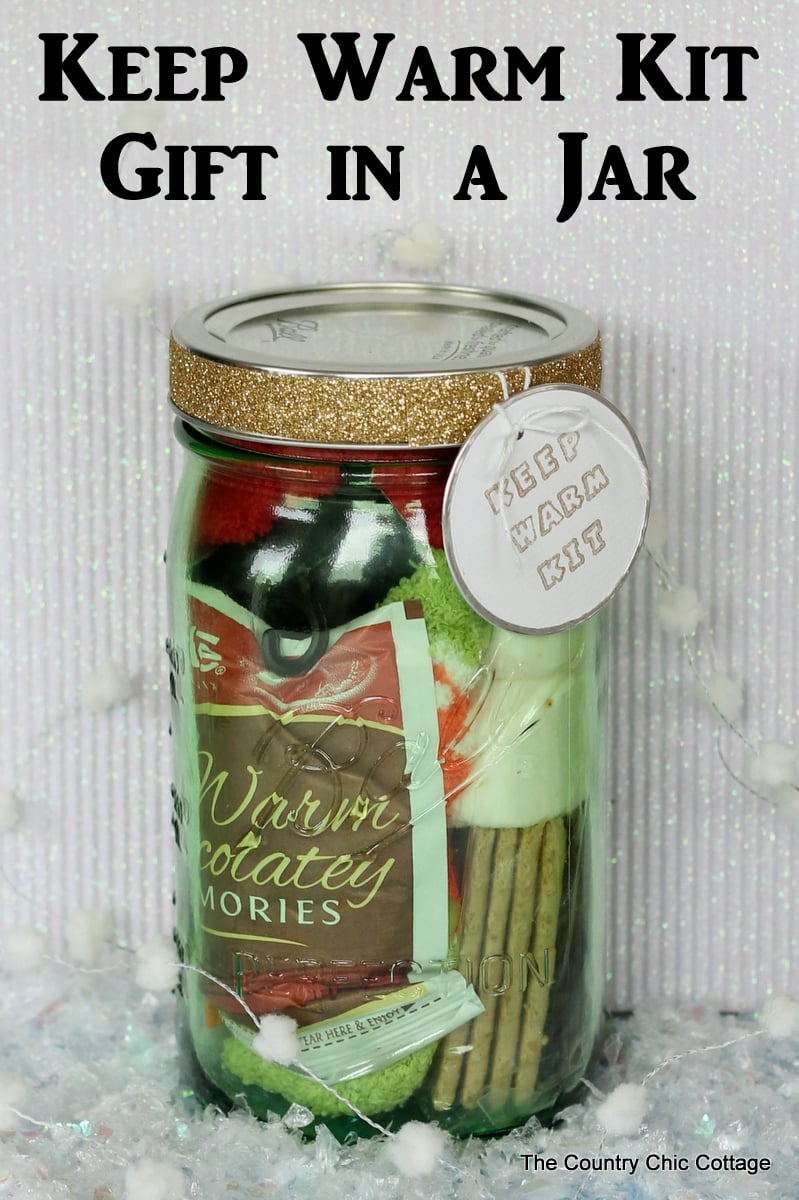 Anthropologie Mason Jar Sewing Kit Knock-Off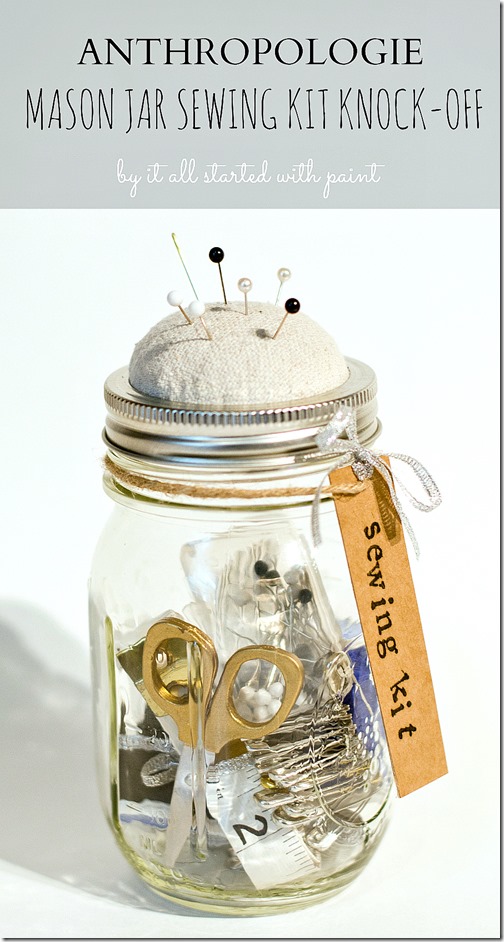 Gingerbread Playdough Kit Gift

DIY Fire Starter Kit for your camping friends and family!

Winter Survival Kit – this is perfect for my family in Colorado.

DIY Mason Jar Monster Kit  – this gift is perfect for little kids that love to make crafts!

I LOVE these ideas from The Gunny Sack:
Loves to Bake Kit – perfect for friends and family that love to bake

Loves to Craft Kit – this is perfect for your favorite crafter

Loves to Draw  – I have a little artist that would LOVE something like this!

Cleans Up Well – perfect for the man in your life!



Add a Decorative Lid:
There are so many different types of Mason Jar lids that you can use to finish off your kits. You can use the standard mason jar lid that comes with the jar and decorate it with stickers or labels. You can even add fabric like this:
Pretty Fabric Lid Tutorial

You can also purchase reusable lids like these:

Here are 15 FREE Mason Jar Printable Gift Tags from Crafts With Jars, perfect for your homemade jar gifts!

Have fun creating these creative, one of a kind gift for your friends and family!
Sarah is a wife, daughter of the King and Mama to 4 children (one who is a homeschool graduate)! She is a an eclectic, Charlotte Mason style homeschooler that has been homeschooling for almost 20 years.. She is still trying to find the balance between work and keeping a home and says she can only do it by the Grace of God, and Coffee!