Reformation Day is a holiday I want my kids to know all about. It's a pivotal point in church history that shaped the beliefs and freedoms we have today. So this year, we will be doing some fun printables and hands-on activities to learn more and celebrate this event that happened so many years ago on October 31st.
Printables:
Intoxicated on Life has several great Reformation Day printables as well as ideas on celebrating this holiday.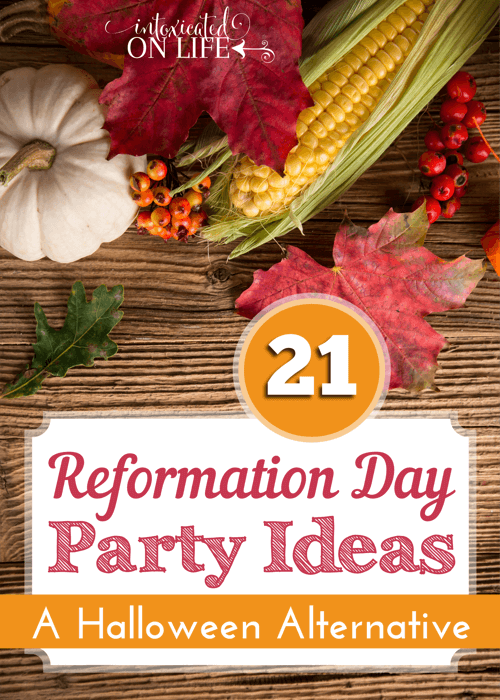 Reformation Day Notebooking Pages from The Notebooking Fairy
Martin Luther and the 95 Theses
Check out these great Reformation Day printables from The Holiday Zone.
You can use these printables from Teacher Help to create a Reformation Day Lapbook.
Books and Videos:

Martin Luther: A Man Who Changed the World

Works of Martin Luther with Introduction and Notes (Volume 1)

Ten Boys Who Made a Difference (Lightkeepers)

The Martin Luther Collection: 15 Classic Works

Martin Luther's Ninety-Five Theses and Selected Sermons

Here I Stand: A Life of Martin Luther
The Church History ABC's: Augustine and 25 Other Heroes of Faith

John Calvin: After Darkness Light (Trailblazers)
God's Outlaw: The Story of William Tyndale (NR)

John Wycliffe – The Morning Star (NR)

Crafts & Activities

This post from In All You Do, has a great idea for Teaching Toddlers about Martin Luther and the Reformation.

Mustard Seeds has some wonderful costumes and Reformation Day ideas on their site!
Meghan Carver has 10 great ideas for celebrating Reformation Day this year.
Check out these costumes and fun games from Living and Learning at Home.
If you need more inspiration, don't forget to follow my Homeschool Freebies board on Pinterest.

Annette has been married to her husband and best friend since 2003. Together they are raising their six children to follow the Lord's will, no matter what. Annette longs for the day when she will meet her angel babies who have entered heaven before her. She enjoys creating UNIT STUDIES and FREE PRINTABLES for homeschool families. You can follow her crazy life at In All You Do where she blogs about homeschooling, homemaking and marriage while trying to maintain her sanity. She is also the owner of Thrifty Homeschoolers where she shares her tips on homeschooling without breaking the bank.