Learning about different countries is a great way to explore unit studies in your homeschool. Grab these resources for learning about Argentina to add to your homeschool's country study.
This post is part of the
Ways to Help Kids Learn About the Nations
Series
I learned more about Argentina when I first started watching Rugby years ago. When I moved to a small country with a HUGELY famous rugby team – Mate Ma'a Tonga. That is when I learned about the Argentina team, which is an amazing team as well.
Argentina is ranked 11th in the world for the International Rugby Union and in like true fashion of a girl, there is also something else that is cool about their rugby team. I happen to like the colors of their uniform – light blue, and yellow like their flag.
The color of the Argentinian flag isn't the only cool thing about Argentina. It's a beautiful country with lots of things for kids to learn about.
Here are a few interesting facts that you can share with your kiddos:
Argentina is South America's second-largest nation after Brazil. Its capital is Buenos Aires, a city with some of the most historical places to check out when visiting South America.
Obviously, Argentina's native language is Spanish but since 200 it has been compulsory to learn English in school as a foreign language.
Argentina beef is one of the most sought after beef in the world because of its flavor and natural properties. All cows are range-fed, have a strict diet, and have no added preservatives after they are butchered. AMAZING.
The name "Argentina" is derived from the Latin word for silver, argentum.
Argentina has 23 provinces and one autonomous city, governs itself independently from the nation. The autonomous city is Buenos Aires, the capital.
Buenos Aires is pretty interesting. It is also the birthplace of the infamous Latin dance, the Tango.
Argentina has had two female presidents, Cristina Fernández de Kirchner and Isabél Perón.
Weird tradition? The president is considered the godparent of each "7th" child in families.
Argentina is the first country to use fingerprints as identification and created the first animated feature film.
And, the best part of Argentina: better than their flag colors, better than their rugby team… Argentinian Empanadas (FREE recipe below). You're welcome!
These resources for learning about Argentina will help you teach your kids all about this beautiful country:
Geography MEGA Activity Pack – Explore Every Country in the World
FREE Unit Studies About Other Countries
Argentina Facts and More | National Geographic Kids
20 Fun & Interesting Facts about Argentina | HubPages
Expedition Earth Argentina World Geography Unit Study | Confessions of a Homeschooler
Learning About Argentina ~ FREE Lesson Plans & Links | Homeschool Creations
Argentina Facts & FREE Worksheets | KidsKonnect
Kids Argentina Booklet (A Country Study!) | Emily Bynum
Argentina Country Study: Reading & Writing + PowerPoint Distance Learning | Yvonne Crawford
Cool Argentina Booklet Country Study Project Unit | Beyond Imagination
Let's get to know Argentina! Worksheets | Thematic Worksheets
Argentina Fact File Worksheet | Classroom Kitty
Country Study Unit Argentina | Tied 2 Teaching
Argentina Country Study for Google Slides Distance Learning | Beyond Imagination
Interesting Facts About Argentina | Kids World Travel Guide
Montessori-Inspired Little Passports Activities: Argentina | Living Montessori Now
Exploring Argentina – Global Learning for Kids and the Tango | Crafty Moms Share
Argentina Country Study Mini Book, Coloring Pages, Activities, and Posters Set | Project Based Learning with Elle Madison
FREE Argentina Maze Download | Muse Printables
Argentina Geography Printables – FREE Printable Download | Homeschool Creations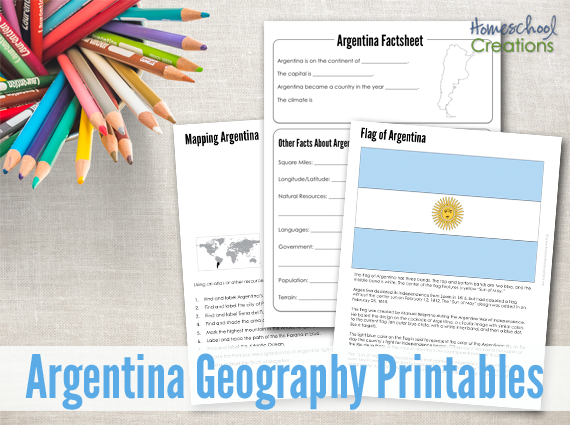 Geography -Argentina- Worksheets and Maps for Distance Learning | Everyday Adventures
Country Study Research Argentina Mini Book | The Colorado Classroom
Argentina Flag FREE Printable | Crayola.com
Argentina Simplified Reader (Español) & BOOM with audio- Distance Learning | Speak Up Language Learners
Cultural Mini-Books: Argentina | Fun for Spanish Teachers
Explore these activities for fun engaging learning about Argentina.
Explore Argentina- Challenge, Videos, and more | Globe Trottin' Kids
Things to Know and Facts – Argentina | A to Z Kids Stuff
Handprint Art: Exploring Argentina Through Art | Creative Family Fun
Colorful Buildings Paper Collages: Exploring Argentina Through Art | Creative Family Fun
Crafts for Kids From Argentina | eHow
Argentina themed Memory Matching preschool learning game | Teach At Daycare
Exploring Argentina and Empanadas Recipe | Multicultural Kids Blogs
Your kids will enjoy these videos to go alongside your resources for learning about Argentina.
Learn About Argentina for Elementary Age Kids | earlyknowledgekids
ARGENTINA! – Mini Fantastic Facts | JrMojo
Enjoy your homeschool studies of beautiful and historically rich Argentina!
Jeannette is a wife, mother and homeschooling mom. She has been mightily, saved by grace and is grateful for God's sovereignty throughout her life's journey. She has a Bachelor in English Education and her MBA. Jeannette is bi-lingual and currently lives in the Tongan Islands of the South Pacific. She posts daily freebies for homeschoolers!
Series Navigation
Previous: Resources for Learning About China
Next: Resources for Learning About Indonesia