Shape matching is such a fun activity to do with your preschoolers and is great for math and geometry skills.
Shape matching is a great way to teach shapes. Preschoolers learn so much while playing! If you are teaching your little ones about shapes or working on a shape unit in your homeschool, these free printables and puzzles will be a great help!
FREE Shape Matching Printables:
Shape Matching File Folder Game – They Call Me Granola
Shape Matching and Size Sorting Activity – Powerful Mothering
Preschool Shape Matching Worksheets and Activities – Little Dots Education
Matching Shapes Worksheet – Education.com
Shape Matching Clip Cards for Toddlers – Simple Fun for Kids
Printable Shape and Recognition Matching Game – M is for Monster
Smiley Shape Match Clip Cards – Modern Preschool


Shape Matching Game with Popsicle Sticks – One She Two She


FREE Shape Matching Puzzles:
Shape Puzzles – Playdough to Plato
DIY Wooden Shape Puzzles – Munchkins and Moms
Shape Tracing Puzzles – Tot Schooling
Robot Shape Matching Puzzle – Tot Schooling
Shape Matching with Blocks – Clare's Little Tots
Shape Puzzle with Foam Stickers – Mom Inspired Life
2 Part Shape Puzzles for Teaching Shapes – Moms Have Questions Too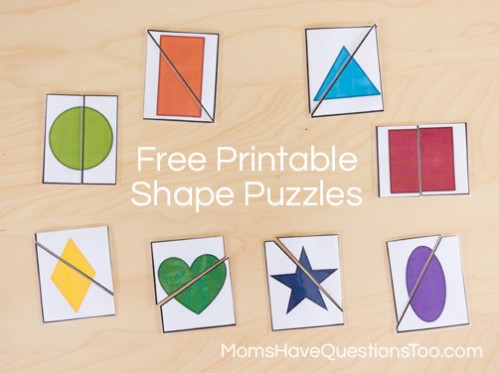 Shape Puzzles Busy Bag  – Teach Me Mommy


Here are some great shape puzzles and toys that are perfect for a home preschool:
Sarah is a wife, daughter of the King and Mama to 4 children (one who is a homeschool graduate)! She is a an eclectic, Charlotte Mason style homeschooler that has been homeschooling for almost 20 years.. She is still trying to find the balance between work and keeping a home and says she can only do it by the Grace of God, and Coffee!