Summer time is a great time to have some mermaid fun!
We love doing fun themed units during the hot summer months. Summer is a great time to do a unit on Mermaids. I have found lots of cute mermaid themed printables and fun crafts to keep your little ones busy this summer.
FREE Printables:
M is for Mermaid Customizable Handwriting Worksheet 
Mermaid Theme Packet for Preschool
Printable Under the Sea Mermaid Clip Counting Cards
Under the Sea Mermaid Basic Concepts Printable Pack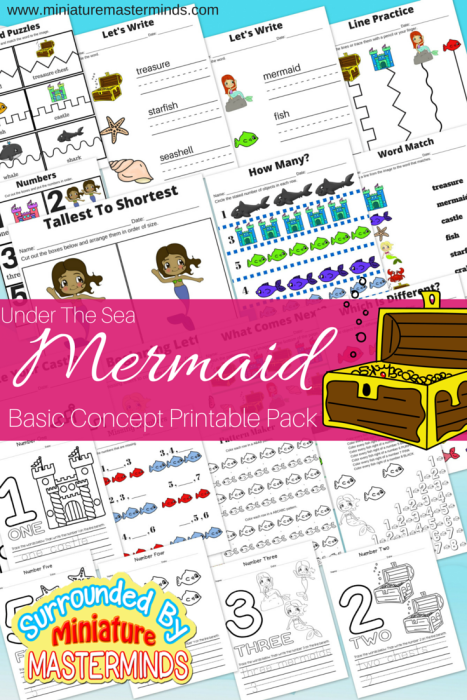 Mermaid and Ocean Dot Marker Printables

FREE Printable Mermaid Unit Study from Every Star is Different – there are 3 free Mermaid printable packs here. There is Math, Language and Mermaid Science and Culture!

Mermaid Crafts:

Decorate your own mermaid craft with this mermaid template

Printable Mermaid Craft 

Twirling Mermaid Simple Craft and Song for Preschoolers

This is the neatest craft ever from Hattifant.
Make a Mermaid Tail out of a sock
 and decorate it with these awesome
paper fancy flippers
!
Mermaid Sensory Fun:

Mermaid's Lagoon Sensory Bin

Mermaid Jewel Hunt Sensory Play Sorting Game
We love these mermaid books and games:
Sarah is a wife, daughter of the King and Mama to 4 children (one who is a homeschool graduate)! She is a an eclectic, Charlotte Mason style homeschooler that has been homeschooling for almost 20 years.. She is still trying to find the balance between work and keeping a home and says she can only do it by the Grace of God, and Coffee!