Digging into history doesn't have to equate to expensive textbooks and reading long chapters or passages. These budget-friendly ways to dig into history will barely cost you a thing yet be exactly what you need for fun and thrifty history lessons from home.
Totally free printables can make any parent excited about budget-friendly history options.
Let's face it; we love, love, love freebies. When it comes to history we can use as much help as possible. I know I need extra special help in history as I am not very knowledgeable about it. I learn right along with my kids!
Freebies and printables just help me to teach when I feel as if I can't; they give me tools to teach a lesson that I am not confident in.
So here are some history freebies that will help you as you teach:
United States History FREE Handouts | Student Handouts
Homeschool World History Plan (Teach all ages at once!) | Field of Daisies
Top 10 Free Popular Homeschool History Printables | Tinaʻs Dynamic Homeschool Plus
FREE History Lessons for Your Homeschool | Simply Wild and Free
World History FREE Worksheets | Students of History
FREE History learning apps and sites with a history section
Big List of Free History & Geography Learning Sites & Apps
Discover History at NatGeo | National Geographic Kids
History for Kids | BBC
You can use the curriculum, it just doesn't have to cost you anything.
This is a literature-based flexible curriculum source with complete lesson plans, online resources, videos, book lists, and more for Ancient and American History.
This site holds several grade levels of history of solid education with proven vintage textbooks.
Ancient History / Early American History / Modern History | Easy Peasy All-in-One Homeschool
All three of these curriculum resources comes with 180 daily lessons on two levels using free online books, videos, interactive games, printables, timelines, and more.
Ambleside uses the Charlotte Mason method of educating for subjects including full history curriculum.
Largely this site holds books and publications free to read and print. However, you can also choose the full curriculum option, the grade, and a 40-week printable schedule.
US History Curriculum / World History Curriculum | Khan Academy
Khan Academy holds in-depth and thorough historical information including source documents, texts, videos, demonstrations, and so much more.
Middle School World Studies & Ancient Civilizations
Here you will find two complete textbooks and a variety of free supplemental reading materials and books.
This site is suitable for middle school to high school students and allows you to focus on specific eras or topics for you to study.
Isn't it a tough decision, whether to choose American History or World history lessons? This curriculum takes that out of your hands, thankfully. It covers American History half the year, and World History for the other half.
Great History movies for kids you can find online
Who likes memorizing dates and names or who did what and when? Movies are great to go alongside your lessons, for reports, and more.
Ultimate List of Timeline Printables and Resources
45 Movies & Shows for Kids Based on History
The Best History Movies for Kids | KCEdventures
Historical Movies for kids, ages 6-12 | Learn in Color
Re-enact historical events and activities
Hands-On History Activities to Bring Early American History to Life | Education Possible
Worldschooling with The Wild Bradburys: Bringing History to Life | Military Daily Mom
Jamestown Activites for Students – FREE Lesson Plan | Bless My Budget
Grab free printable timelines to track historical events.
Blank World History Timeline | Research Planet
Timeline Creator: World History Timeline for Kids | Thinking Kids Blog
FREE State History Timeline Resource Plus Cheat Sheets
After your lessons, play a game of trivia and other free history games.
13 Free and Fun BEST Printable History Board Game | Tinaʻs Dynamic Homeschool Plus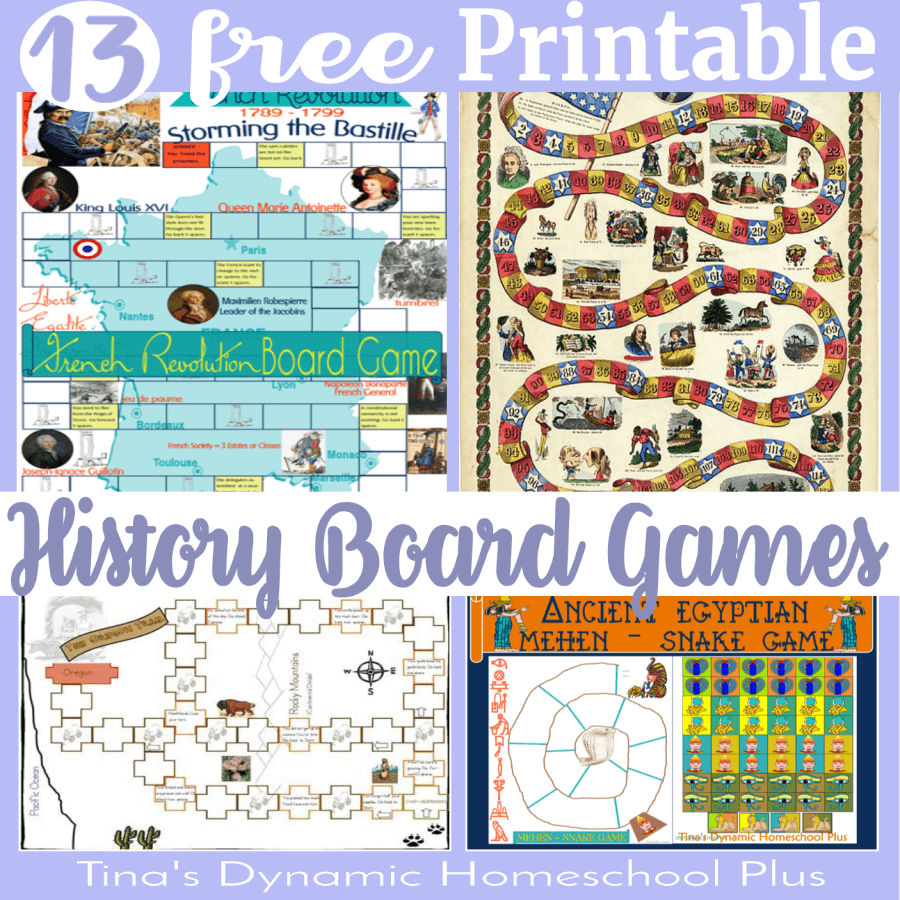 US History for Kids Trivia and Quizzes | FunTrivia.com
Jeannette is a wife, mother and homeschooling mom. She has been mightily, saved by grace and is grateful for God's sovereignty throughout her life's journey. She has a Bachelor in English Education and her MBA. Jeannette is bi-lingual and currently lives in the Tongan Islands of the South Pacific. She posts daily freebies for homeschoolers!