Have you been wanting to use a timeline in your history studies?
Timelines are a great way to record what you are learning in your history studies. They can help history to sink in, and to remember what you have learned and where important people and events tie into history. They are also a great keepsake and portfolio of what your children have studied. There are many different ways that you can keep a timeline. You can have a timeline in a notebook like a Book of Centuries, or you can even have a large one that fills an entire school room!
If you are wanting to incorporate a timeline in your history studies you will love this Ultimate List of Printables and Resources:
Historical Timelines:
Blank Timeline Pages with printable covers and spines – Guest Hollow
Accordian Timeline Notebook Pages – Half a Hundred Acre Wood
Printable Dated Timeline Notebook Pages Lined and Unlined – Contented at Home
Ancient World Timeline – Homeschooling Hearts and Minds
Timeline of the Middle Ages – Homeschooling Hearts and Minds
Blank Timeline Templates – Squarehead Teachers
Timeline Worksheet for Lower Elementary – Student Handouts
Printable Timeline Template and Montessori Inspired Activity – The Classroom Creative
Timeline Notebooking Pages – Blessed Learners
Printable History Timeline for Use with Any Curriculum – Raising a Self Reliant Child
Blank Timelines – High Hill Homeschool
130 Page World History Timeline Notebook – Sisters With a System
Easy Accordion Timeline Tutorial and Printables – The Homeschool Resource Room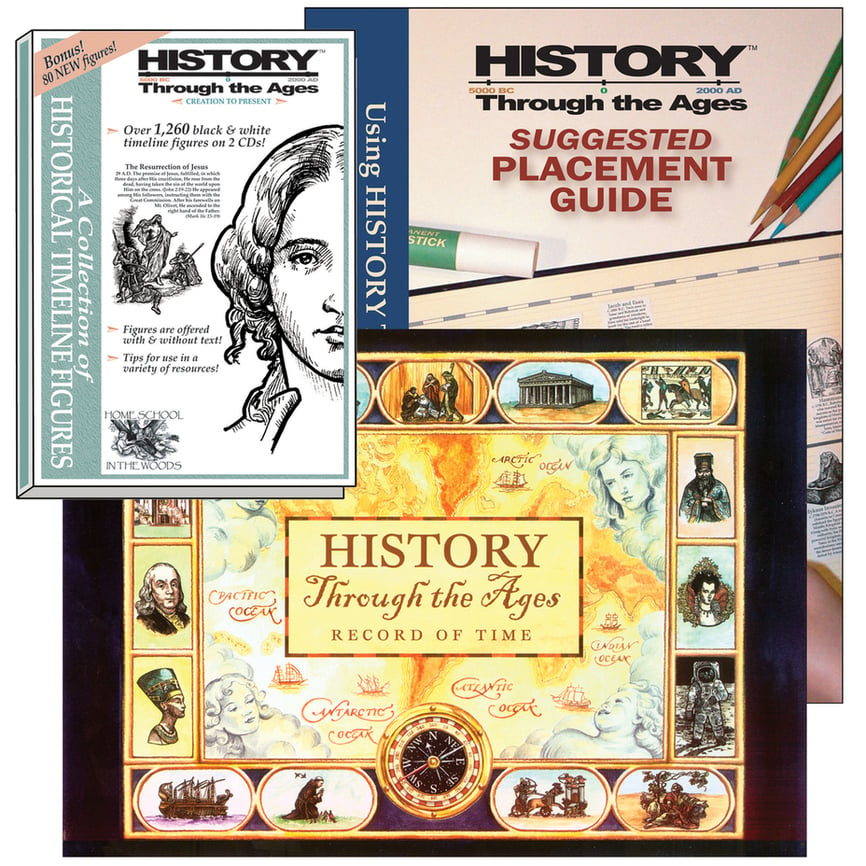 Timeline Figures:
Ancient Greek and Ancient China Printable Timeline Figures – High Hill Homeschool
Timeline Figures that Match Story of the World – Raising a Self Reliant Child
American Timeline Figures – High Hill Homeschool
Timeline Figures for K-6 – Pre-History to Modern History – Homeschooling 2 E
Ancient Greece Timeline Figure Cards – Research Parent
Ancient History Timeline Figures – Rebeca Grabill
Christian Astronomers Timeline Figures – Bright Ideas Press
Christian Biologists Timeline Figures – Bright Ideas Press
A Book of Centuries:
Charlotte Mason had her students create a Book of  Centuries. It is basically a timeline that can be kept in a notebook, but each two page spread is devoted to one century. Each child can make their book their very own. They can paste photos, write down movies, songs, and plays that were popular during that century. It is a very nice way to personalize your timeline and it can be kept throughout all their school years. This would be a great addition to an end of they year portfolio of work.
Printable Book of Centuries and How to Make and Use It – Catholic Icing
Peek inside the Book of Centuries with Free Printable Clip Art – Adventures in Mama Land
Free, Basic Book of Centuries to download with detailed instructions for how to put it all together. – Simply Charlotte Mason
Book of Centuries Cover Pages and Editable Two Page Spread – After Thoughts Blog
Biblical Timelines:
Bible Timeline Printables and Sequencing Cards – Bible Story Printables
Drawing a Bible Timeline: Engaging kids in the Scriptures – Joy at Home Hub Pages
Bible Timeline Card Game – Living Water Bible Games
Printable Bible Timeline Cards – Bible Journaling Digitally
Print and Color Bible Timeline – Teach Sunday School
We love these Bible Timeline Materials:
Adams Synchronological Chart or Map of History – Historical Timeline Wall PanelThe Bible Timeline ChartThe Big Picture Bible Timeline (Big Books)Bible Timeline: From Creation to the Death of John 100 ADKings & Prophets Timeline PamphletBible Time Lines and Overview Bible Insert (Ultra-Slim Bible Tools)
Sarah is a wife, daughter of the King and Mama to 4 children (one who is a homeschool graduate)! She is a an eclectic, Charlotte Mason style homeschooler that has been homeschooling for almost 20 years.. She is still trying to find the balance between work and keeping a home and says she can only do it by the Grace of God, and Coffee!