When I first moved to an island in the South Pacific, I didn't know the close ties they had to Australia. Shortly after coming here, I started some contractual work for Australia on the island. I learned so much and have grown to appreciate the beautiful (and yes, sometimes dangerous) country. Australia is an enjoyable country to study in your homeschool, and these resources for learning about Australia can help.
This post is part of the
Exploring the Continents
Series
Living Near Australia
Growing up in the Bronx, I never thought I would leave the state, much less the country. God has been overwhelmingly gracious to me and has allowed me to visit some of the most amazing countries on the map, and Australia is one.
I was able to work with the Australia High Commission (like an Embassy) contractually for some time. While with them, I was sent to Australia on business about five times!
In Australia, staying away from nature may not be such a bad idea some of the time. Yes, you could see a kangaroo or a few, but apparently they aren't the nicest of fellas that we normally see on the cartoons.
I was so excited about seeing kangaroos, but the Australians I talked to couldn't understand why. They are more like pests there. Kangaroos are still super cool to me. What else was cool about Australia? – the dialect/lingo.
I have grown to love the Australian accent/dialect.
Sometimes the Aussies would say things, and I had no idea what they were referring to. I am sure they were perplexed by me as well with the "yo" and "homie" that I couldn't help but slip out now and again.
I quickly learned the Aussie lingo and learned a lot from working with Australians. It made me love the country. It holds a special place in my heart because of the lovely Aussies I worked with. I am grateful for serving my little island with them for a time.
So what is so different about it? There is a lot!
I would never forget how Americans could say something, and it "sounds" like another word in the Australian (Aussie) accent. Let me share some with you, and hopefully, you can have a little chuckle.
Your kids will love trying this, by the way. Here goes. Say the American version out loud quickly/fast, then see what it means with an Aussie accent (I love this):
American words: Sounds like in Australian:
Rise up lights Razor blades
Good eye might Good day, mate.
Emma Chizit? (Say it fast) How much is it?
Many of you have heard that a barbeque grill is called a barbie in Australia. However, actually hearing people say it is funny because you realize Crocodile Dundy is not a fake. They really throw the shrimp on the "bobbie." To me, it sounds more like bobbie than barbie.
Mostly all the "r" sounds are nonexistent if the "r" does not begin a word; runner turns into runna, river is riva, letter is a letta, and of course, the barbie sounds like bobbie.
If the Aussie was from the deep country, then all bets were off. You probably would just be learning a whole new language.
Slang and common words are actually hilarious and different from ours. They use the word heaps for "a lot" or "very much." The band ACDC is Accadacca there, really. An ankle biter is a child, brekky is breakfast, the bush is like the countryside, coppers are policemen, and flat out means you are really busy.
Check out some more Aussiness here (not all kid-friendly). Take a little Aussie lingo quiz here. I can go on for days, but I suppose you would like to hear more about Australia for the kiddos. I got a little carried away, sorry.
Learning About Australia
Here are some cool facts and things to know about Australia that your kids will enjoy or find interesting.
Australia has animals living there that can't be found living freely anywhere else in the world like the koala, kangaroo, he duck-billed platypus, the dingo the emu, and the cassowary.
It is the only country that is also an entire continent by itself. It can be called a country, a continent, and an island continent.
The outback is the Australian desert, which covers most of the continent. (I REALLY miss the Blooming Onion from The Outback restaurant in the U.S. by the way.)
Remember, I mentioned that Australia was dangerous. Here is one of the reasons why. They have 750 reptile species, including crocodiles, the tiger snake, taipan, and brown snake, all of which are pretty dangerous.
They actually have a lot of dangerous things on it besides the reptiles. Some can even kill you like box jellyfish, sharks, funnel spiders, death adders, and more.
Australia has a lot of strange animals. As a matter of fact, there are only two egg-laying mammals in the world, and they are both from Australia; the platypus, and the spiny anteater echidna.
Fun Facts About Australia
Australia is home to the world's very biggest reef system called the Great Barrier Reef, which runs 134,634 square miles – a little smaller than the whole state of Montana! It has over 1,500 fish species in it, and yes, this reef is the one in Finding Nemo.
They have the largest cattle ranches in the whole world. The largest is 9,000 square miles, which is about the size of Vermont and Israel. Crazy, right?
Like Native Americans were in America before Europeans, Aboriginal people were in Australia before the Europeans arrived.
There are over 10,000 beaches in Australia. It has the largest sand island in the world, stretching 75 miles long. This country is HUGE!
Australia was found by, guess what type of English settlers? Prisoners, yes, inmates.
They have the tallest birds in the world standing well over 6 feet tall, the red-eyed emu, and the blue feathered cassowary.
Western Australia has pink lakes.
Kangaroo is as common a spork. You can even have it in a burger or pizza.
Think it is only hot in Australia? Nope. Australian Alps get even more snow than Switzerland Alps.
We usually attribute camels to the Middle East, but there are so many camels in Australia that the Middle East camels are mainly exported there from Australia.
Australia is actually a very safe country. It is pretty impressive – so much so that about 70 people overstay their Visas every WEEK.
The only thing I will NOT miss about Australia is something Aussies have very, very wrong. That is vegemite – I hate that stuff, but they absolutely LOVE it. We are all flawed I guess ;-).
Now that I have either scared you to NEVER want to go to Australia or I have intrigued the adventurer in you, there is no doubt Australia is an amazing place to study with your kids.
Australia Worksheets
Grab these resources for learning about Australia for your homeschool.
Australia Printables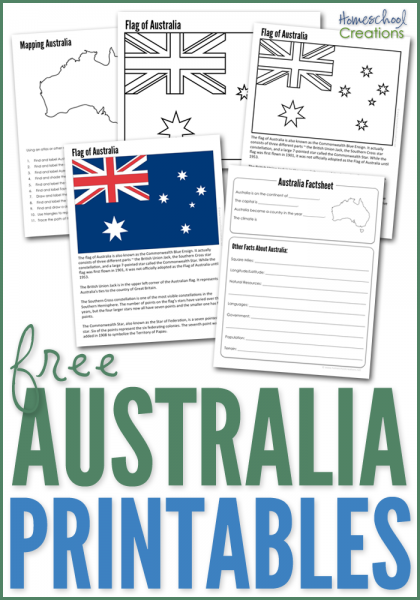 Free Australia Worksheets
Printables on Australia
Australia Resources
Jeannette is a wife, mother and homeschooling mom. She has been mightily, saved by grace and is grateful for God's sovereignty throughout her life's journey. She has a Bachelor in English Education and her MBA. Jeannette is bi-lingual and currently lives in the Tongan Islands of the South Pacific. She posts daily freebies for homeschoolers!