These FREE Dinosaur Colors & Numbers Worksheets from Surviving a Teacher's Salary are perfect for any dinosaur lover! She includes 6 pages of bold primary colored dinosaurs to aid in teaching your kids color recognition and simple math.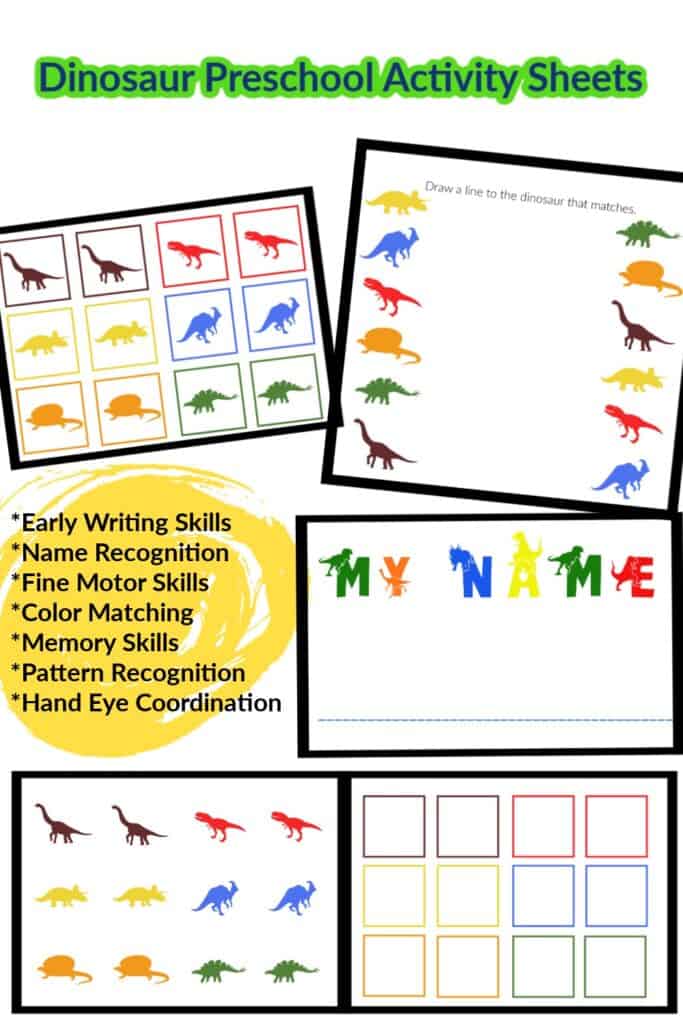 This set of Preschool Dinosaur Worksheets Includes:
1. My Name Worksheet
Features a special custom dinosaur font!
Has a large line for kids to write their name!
2. Dinosaur Matching Cards
Border frame is color coordinated to match the color of the dinosaur!
Each matching pair can be determined by matching color OR shape!
3. Dinosaur Color Match
Cut dinosaurs out and place into the square with coordinating color border.
Great for color recognition, coordination skills and fine motor skills practice!
4. Match the Dinosaurs Shape Recognition
Draw a line to connect the dinosaurs that match!
Skills used includes color recognition, shape recognition and fine motor skills.
5. Count the Dinosaurs Match
Simple math counting numbers from 1-10.
Also works on number recognition.
You can grab these worksheets for your dinosaur lover HERE!
Sarah is a wife, daughter of the King and Mama to 4 children (one who is a homeschool graduate)! She is a an eclectic, Charlotte Mason style homeschooler that has been homeschooling for over 16 years now. She is still trying to find the balance between work and keeping a home and says she can only do it by the Grace of God, and Coffee!