If you are a Christian family, do you have anything in your home that shows your faith and what you believe? If someone walked into your home would they see the evidence of your faith in your house? I love filling my home with scriptures. FREE Scripture Art Printables are a great way to bring the living and breathing word of God into your home.
We like to host and have neighbors and friends over often. Especially around big holidays. My husband likes to invite everyone over that he can to grill out and visit with. There are many people that we have over that may not be saved or know Jesus. Others may know Jesus, but be going through a rough time and need some encouragement. When we hang scriptures on our walls we have the living, breathing word of God in our house. There have been many times when the scriptures hanging on my living room walls have ministered to others.
We had a family that we barely knew come and stay with us during Hurricane Irma. They evacuated from 6 hours down south and had nowhere to go. We invited their large family to stay with us. Normally this would be a stressful time hosting a bunch of strangers, and not knowing how long they would stay, or how we would all eat or fare if the power was out for days on end. It was an even more scary and stressful time for them. They were away from their home and worried about the state it would be in when they returned to it. Their children were in an unfamiliar place. It could've been a very rough time for everyone, but it wasn't. There was so much peace in our home, and we were able to enjoy each other's fellowship.
The word of God is ALIVE and real!
I remember the mother sitting on the couch after a long drive in the middle of the night and breathing a sigh of relief that they made it safe. She sat on the couch and looked up at the large pallet scripture that was hanging on our living room wall. As tears filled her eyes, she said this was one of her favorite Bible verses. God had used it to minister to her many times in her life. And here it was hanging on my wall, like God was really singing comfort over her and her family during this time.
Hebrews 4:12 says: For the word of God is living and active, sharper than any two-edged sword, piercing to the division of soul and of spirit, of joints and of marrow, and discerning the thoughts and intentions of the heart.
I love how the scriptures can used as a great comfort and ministry to others. Scripture can also be used as a sharp sword to battle against our enemy. It only seems fitting to have this real, living and breathing word ever present in our homes. If you are wanting to add some scriptures to your home, scripture art is beautiful and you can print it out for free!
Check out all these FREE Scripture Art Printables:
Scripture Encouragement Postcards to color by Faith and Good Works. These would be good to hang up on a bulletin board or bathroom mirror.
Printable Scripture Art for when you are scared – Geez, Gwen
Positive Scripture Printables – Whats Up Fagans
5 Printable Scripture Art Prints – The Little Frugal House
Huge list of seasonal and holiday themed Scripture Art Printables – Hope Ink
Proverbs 31 Scripture Card Kit with Art Print – Simple Living Mama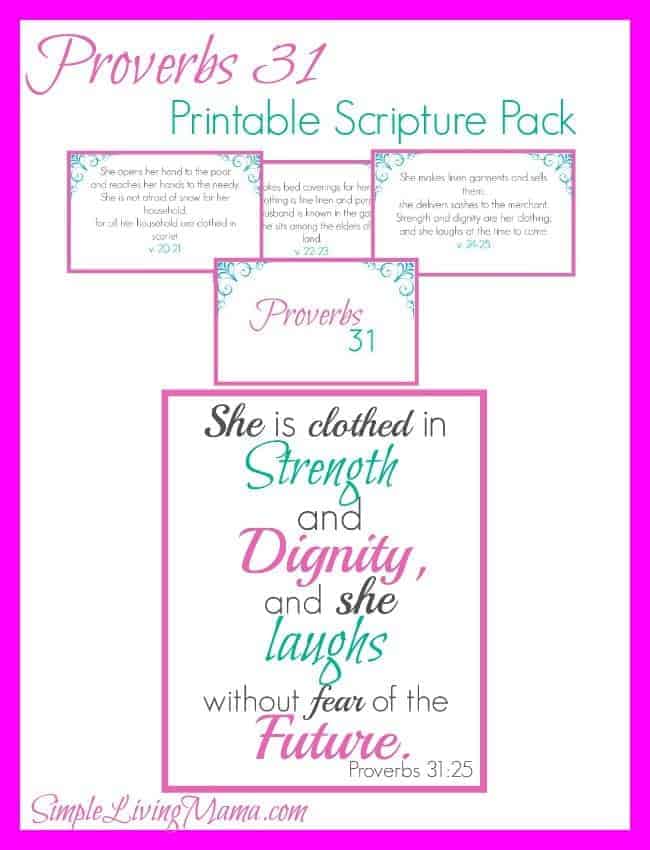 With God All Things Are Possible 8×10 Art Print – 6 Clever Sisters
100 Bible Verses for the Homeschool Heart plus Printable Scripture Art – Table Life Blog
Printable Farmhouse Scripture Printables – The Mountainview Cottage
Proverbs 31 Art Print – On Sutton Place
Six Beautiful Scripture Art Printables – I Should be Mopping the Floor
We really enjoy the products from Talking Mom 2 Mom. They are very high quality and beautiful. They have lots of scripture memory card printables. These packs are all FREE and they also come with a matching scripture wall art print:
Praise His Name Thankful Card Kit
Back to School Memory Card Kit
We have created a FREE Bible Verse Art Copywork Pack that will encourage your child to memorize scripture while being artsy at the same time. They will copy portions of 25 different Bible verses and create their own Scripture Word art in this free unit.
Sarah is a wife, daughter of the King and Mama to 4 children (one who is a homeschool graduate)! She is a an eclectic, Charlotte Mason style homeschooler that has been homeschooling for almost 20 years.. She is still trying to find the balance between work and keeping a home and says she can only do it by the Grace of God, and Coffee!