If you are studying about Ancient Greece in your homeschool, or lean towards a more classical style of homeschooling you will most definitely want to learn about Greek Mythology. Our free list of Greek Mythology Worksheets and Printables will come in handy for your homeschool.
Allusions to Greek Mythology are everywhere in our society and in the literature our children will read throughout the school years and in college. You see them even in the constellations and when studying astronomy and science. It is important to be familiar with these concepts and some of the myths as our children will come across them in many different studies throughout their lives.
Greek Mythology can be a lot of fun to learn about. My oldest son absolutely loved learning the myths and all the stories. He thought they were hilarious and also fascinating. I like how mythology separates heroes from villains and bad guys and monsters. There is usually no question who is bad and who isn't.
Kids really love to learn about heroes and boys especially enjoy reading about heroes fighting monsters! Yes, many of these stories can be extremely weird, and even slightly sexual, so you do need to preview what you are teaching, depending on the age group you are working with. I believe it's important to talk over these stories with our kids and explain the wrongs behind the belief system they are based upon.
Studying Greek Mythology can bring about some amazing conversations with our children. That's one of my favorite things about homeschooling, is that we can address topics as they come up. You will be surprised how quick they will be to point out wrong behavior in the stories and actually explain to you why they are wrong.
Discernment is a great skill to teach our children to be able to defend their belief systems and also develop a spirit of discernment. If they are in school, you may not even know what they are learning about or understand it. You have no idea what may be ingrained in their minds at a young age without any explanation. This could lead to a lot of confusion in the future if concerning topics aren't discussed as they come up.
Most history curriculum that covers Ancient Greece may only have a few lessons or chapters that touch on the basics of Greek Mythology. There are so many stories and things that can be learned, that sometimes you may want to devote an entire unit to learning about Greek Myths.
As kids get older and read the classics, you will find that Homer's Odyssey and Illiad is FULL of greek myths, so I would suggest learning about many of them before tackling those large books in the upper grades. It will really help your older students to be familiar with the stories and give them a better understanding of what they are learning and reading about.
If you are wanting to dig deeper into Greek Mythology, or do a separate unit study on it you will enjoy these FREE Greek Mythology Worksheets and Printables:
An Introduction to Greek Mythology Lesson Plans and Printable Worksheets – Mensa for Kids
ISL Collective has pages full of printable worksheets on Greek Mythology.
Woo Jr has tons of free printable worksheets and game on Greek Mythology.
Greek Mythology Bingo Cards – Bingo Card Creator
Greek Mythology gods and goddesses chart – Adventures in Mommydom
Greek Mythology Inspired Labryinth Craft – In the Playroom
Greek Mythology Printable Pack – 3 Dinosaurs
DLTKids has lots of resources for Greek Mythology:
The Story of Arachne the Weaver
The Story of Medusa and Athena
Greek Mythology Matching Card Game – Deceptively Educational
Ancient Greece Go Fish Game – Tina's Dynamic Homeschool Plus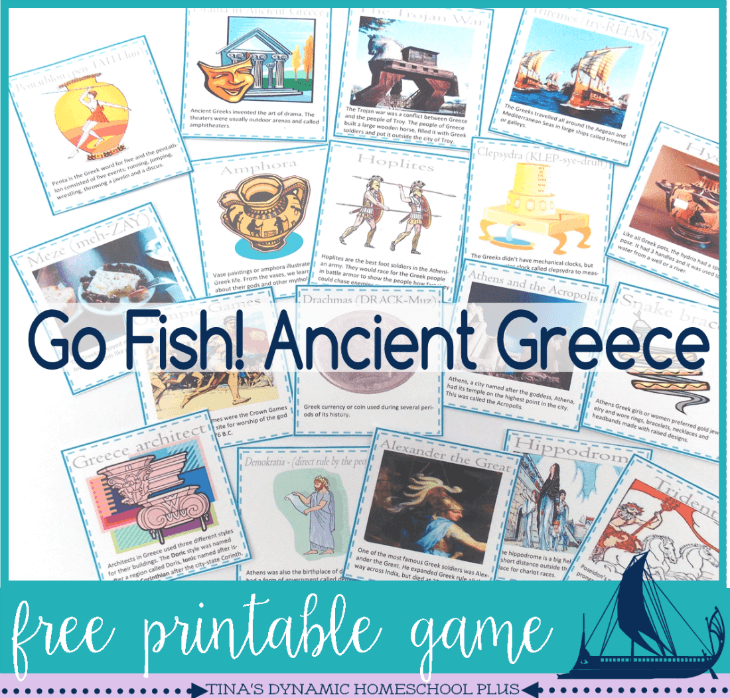 12 Week Greek Mythology Unit Study – Red Head Mom 8
Greek Mythology god and goddesses cards – Research Parent
Mythology Lesson: The 12 Labors of Hercules – My Very Educated Mother
Give your middle and high school students practice with independent research and a chance to learn more about over 50 fascinating individuals from Ancient Greece with this FREE download: People of Ancient Greece Notebooking Unit for Middle and High School
You may be concerned to teach about Greek Mythology with all the mysticism, fantasy and false god worship surrounding the origins of it. Find out why teaching your children about Greek Mythology is not a bad thing: Why Teaching About Greek Mythology in Your Christian Homeschool is Not Bad
Some additional recommendations to enhance your study of Ancient Greece:
Project Passport: Ancient Greece: You will discover cultures at another era of time with hands-on projects and activities that drive the lessons home in a fun way! You can spread this unit study over 8-12 weeks, while you learn about exciting events and meet interesting people of Ancient Greece.
Learn about life in Ancient Greece with eight engaging, Internet-based lessons. Along with fun hands-on projects, students will learn to create an online Time Travel Journal using a presentation webtool.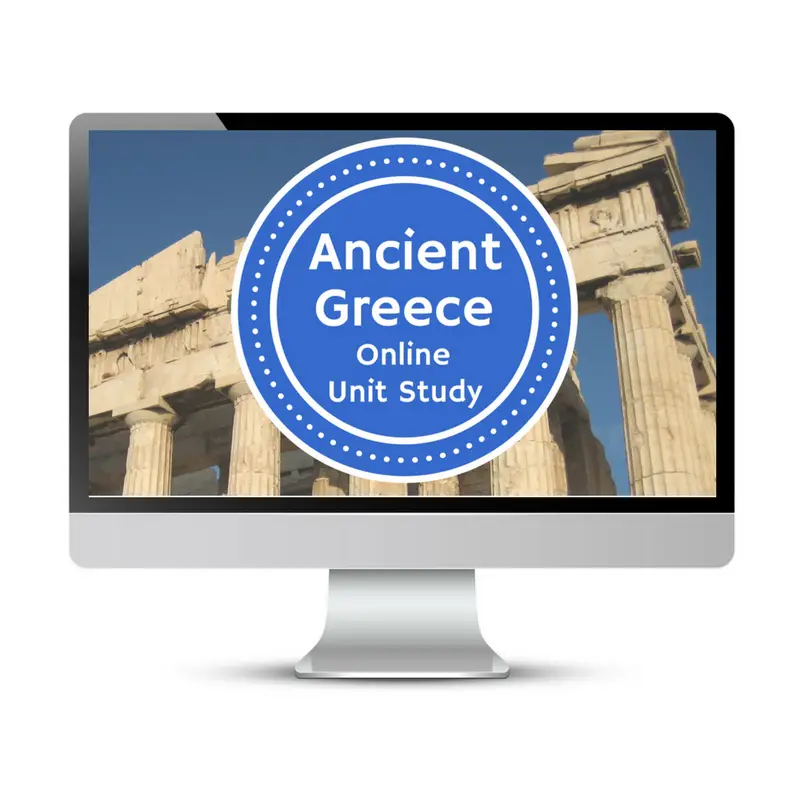 These books are fabulous for learning about Greek Mythology and we have these very books in our own homeschool library:
Treasury of Greek Mythology: Classic Stories of Gods, Goddesses, Heroes & MonstersD'Aulaires' Book of Greek MythsA Child's Introduction to Greek Mythology: The Stories of the Gods, Goddesses, Heroes, Monsters, and Other Mythical Creatures Mythology: Timeless Tales of Gods and Heroes, 75th Anniversary Illustrated EditionIllustrated Stories from the Greek MythsGreek Myths for Young Children (Stories for Young Children)
Sarah is a wife, daughter of the King and Mama to 4 children (one who is a homeschool graduate)! She is a an eclectic, Charlotte Mason style homeschooler that has been homeschooling for over 16 years now. She is still trying to find the balance between work and keeping a home and says she can only do it by the Grace of God, and Coffee!