If you have a child that struggles with writing it may be time to take a break from the textbook and try something creative and new. Writing Prompts are a great way to give our children the freedom to write creatively, with some prompting. This helps if you see that they are constantly finding themselves stuck on what to write.
You can even give them a creative writing notebook and let them free write with the use of prompts once a week, or as a break from a normal English/Language Arts scheduled writing assignment. You will see that it can really help to take the pressure off of them. A simple search online will yield hundreds and hundreds of results for writing prompts.
You can search for hours, but you don't have to, because we have done the hard work for you! Not only have we created some adorable, and very fun writing prompts of our own, we have rounded up some of our favorites. We've also taken the search a step further and broken them down for you into separate age groups. Creative writing prompts can help your children become better writers
Browse our huge list of free writing prompts broken down by age group:
Early Learning Writing Prompts:
Preschool Copy and Write Writing Prompts – Preschool Mom
Kindergarten Writing Prompts – Preschool Mom
Jungle Animal Creative Writing Prompts – 123 Homeschool 4 Me
[/ess_grid]
Farm Themed Creative Writing Prompts with Handwriting Practice for Early Learners – This subscriber only freebie includes a traceable short sentence for children who are not writing on their own yet, and additional lines for students who want to write more. There is a cute illustration they can color, as well as a space to illustrate the sentences.
Trace and Write Creativity Prompts and Handwriting Practice for Early Learners: January – This freebie can be used for any year, and is for the month of January. Each prompt has a winter theme with cute seasonal items, such as sledding, polar bears, hot cocoa, and more!
Space Themed Writing Prompts for Beginner and Elementary – These space themed creative writing freebies have two levels. They both include a place to draw and illustrate the creative writing prompt. Beginning writers only have a short copywork sentence, but there are also extra lines included if they want to keep writing.
Horse Themed Writing Prompts for Early Learners and Elementary (2 Levels) – The early learner pack contains dashed lines for younger children learning to trace a simple sentence with a space to illustrate. The elementary pack has regular lines for students who can write without dashed lines, and it has interesting questions to answer about horses.
Elementary Writing Prompts:
Writing Prompts About Community Helpers Instant Download (ages 8-12)
6 Minecraft Writing Prompts – Encouraging Moms at Home
Unicorn Writing Prompts for Grades 2-4 – 123 Homeschool 4 Me
Cat Comic Strip Homeschool Writing Prompts – Write Shop
Journal Buddies has lots of writing prompts broken down by grade:
35 1st Grade Journal Writing Prompts
Narrative Writing Prompts for 1st Grade
36 Daily Writing Prompts for 2nd Grade
39 Fun 3rd Grade Writing Prompts
Creative Writing Topics for Grade 3
30 Expository Writing Prompts for 4th Grade
35 Writing Prompts for 5th Grade
5th Grade Opinion Writing Prompts
FREE World of the Ocean Themed Writing Prompts for Elementary Children
Middle School Writing Prompts:
We love all the great writing prompts from Write Shop:
Persuasive Essay Writing Prompts for Middle School
Teen Essay Prompts About Cooking and Eating
Narrative Essay Writing Prompts for Junior High
Middle School Music Writing Prompts
Creative Writing Prompts for Teens
The True Story Behind The Grinch Middle School Writing Prompt – Writing With Sharon Watson
Time Travel Middle School Writing Prompt – Writing With Sharon Watson
Creative Writing Quotes from US Presidents with Printable Notebooking Pages – Ben and Me
100 Writing Prompts and Story Starters for Middle School and Highschool – My Cup Runs Over
Quick Writing Prompts for Middle Schoolers – Journal Buddies
High School Writing Prompts:
100 Writing Prompts From History for Teens – Write Bonnie Rose
Creative Writing and Notebooking Pages on Quotes by C.S. Lewis – Ben and Me
Highschool Cause and Effect Writing Prompts – Write Shop
Shakespeare Writing Prompts for High School – Write Shop
Writing With Sharon Watson has created some wonderful writing prompts perfect for High Schoolers:
What is Your Theory of Happiness?
Dear Future Me Writing Assignment
Let There Be Light: The Power of One Syllable Words Writing Prompts
3 Powerful Persuasion Strategies that Advertisers and Politicians Use Writing Prompts
For the Love of Narnia and Middle Earth Free Downloads and Writing Prompts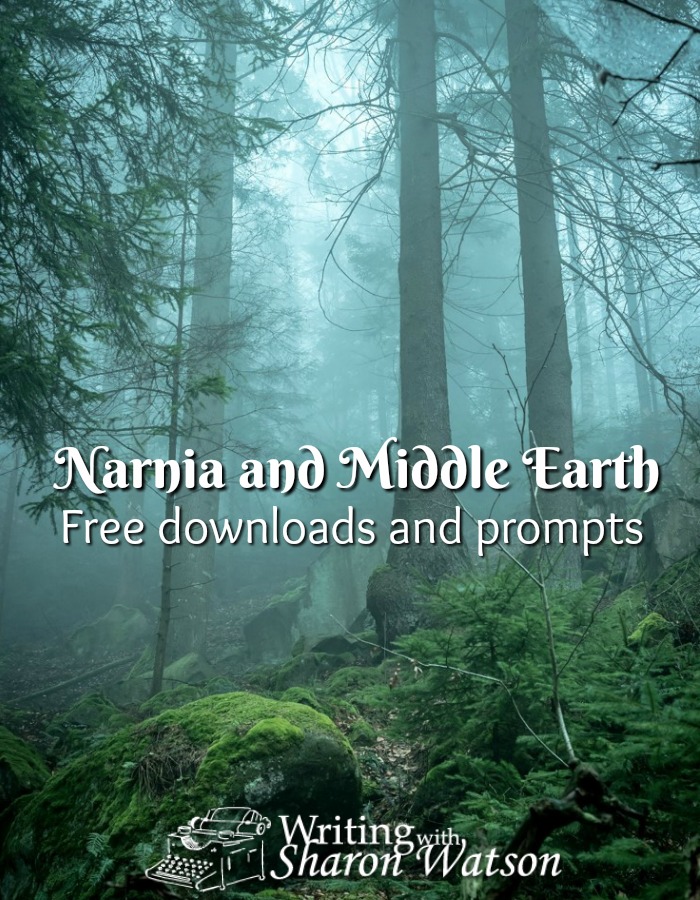 Creative Writing Helps:
One Sure Fire Way to Create Writing Prompts for your Homeschoolers – Writing With Sharon Watson
Recommended Resource: Creative Writing Story Steps Writing Guide – these steps will show your middle and high school students, step by step, how to the tackle many different kinds of writing with brainstorming questions. The questions included will help them to write fiction and also non fiction by using the steps in the writing guide.
Sarah is a wife, daughter of the King and Mama to 4 children (one who is a homeschool graduate)! She is a an eclectic, Charlotte Mason style homeschooler that has been homeschooling for over 16 years now. She is still trying to find the balance between work and keeping a home and says she can only do it by the Grace of God, and Coffee!