A homeschool portfolio is a collection and keepsake of samples of your students' work, assignments, grade records, and reading lists over the course of their homeschool year.
Portfolio pages are normally kept in a 3 ring binder, but can also be done digitally. I like to store samples of artwork, extra curricular activities, and collect brochures and handouts from nature classes or field trips that you have taken.
A portfolio serves as a record keeping tool, but is also fun to look back on each year and see how your children have progressed. Some states have homeschool laws that require you to keep a portfolio for a certain amount of years and you can be called on to have that portfolio of work reviewed, so it is important to always have that up to date.
Depending on your state laws and reporting, you may have the option to either have your student tested with a standardized test, or evaluated by a certified teacher. You can find out your state's homeschool laws on the HSLDA website.
Since we homeschool at our own pace and have some learning disabilities, I have opted out of testing my children. Instead, I am able to have their portfolio evaluated and "signed off" by a local homeschool mother who has a teaching license. This is so helpful and eases a lot of stress for a child that has testing anxiety.
If you aren't very organized, or you wait until the end of the school year to get your portfolio in order, this can be pretty stressful. Ask me how I know!
I have nightmares of piles and piles of papers for FOUR children that I have had to sort through. This panic escalates when you are trying to get ready for an end of the year portfolio review date.
With just a little planning and weekly or monthly preparation throughout the school year, you can have your portfolio ready for a review without the added stress and last minute scrambling.
You can use our free end-of-year homeschool checklist found at the bottom of this post to make sure your homeschool portfolio includes everything you want (and need) it to.
Our Homeschool Portfolio Pack will help you get organized!
This free printable Homeschool Portfolio Pack is the perfect tool to help you take control of the mountains of homeschool paperwork.
You can grab it for free from our subscriber library if you are an existing subscriber, or sign up now and get access to over 20 free homeschooling resources!
This homeschooling portfolio printable includes:
Cover pages and spines
About Me page for students to record their favorite subjects, achievements, and more
Attendance Sheet
Basic Daily Schedule
Extra Curricular Activities Sheet
Curriculum and Resources List
Book Log that includes a rating system so your child can record what they thought of each book
Goals Sheet to help them set goals for next year
Field Trip Log with space to record things they learned and what they enjoyed the most
Report Card
Subject Evaluation
Subject Binder Divider Sheets for language arts, spelling, math, science, geography, history, Bible, and foreign language along with several blank pages for you to customize
Free printables and resources to help you get ready for your child's portfolio review:
Printable Homeschool Record Forms – attendance form and physical education form – Thought Co.
2018-2019 Homeschool Binder Portfolio Printables – Homeschool On
Homeschool Day Planner and Portfolio – Just Mommies
Printable Portfolio Bundle – Homeschool.com
Homeschool Helper Online has a lot of printable resources that would work well in a homeschool portfolio.
Homeschool Organization Forms – 123 Homeschool 4 Free
The Homeschool Un-Planner Printables – Intentional Homeschooling
We have created a Portfolio Review Checklist to help you put together your portfolio. You can check off each item as you add it to your binder to make sure you haven't forgotten any important information. Click HERE to grab this as an instant download!
If you use Homeschool Planet in your homeschool you will be thrilled to know that you can create a homeschool portfolio in just a few clicks with their amazing features! Find out more in this article on Easy Homeschool Portfolios with Homeschool Planet.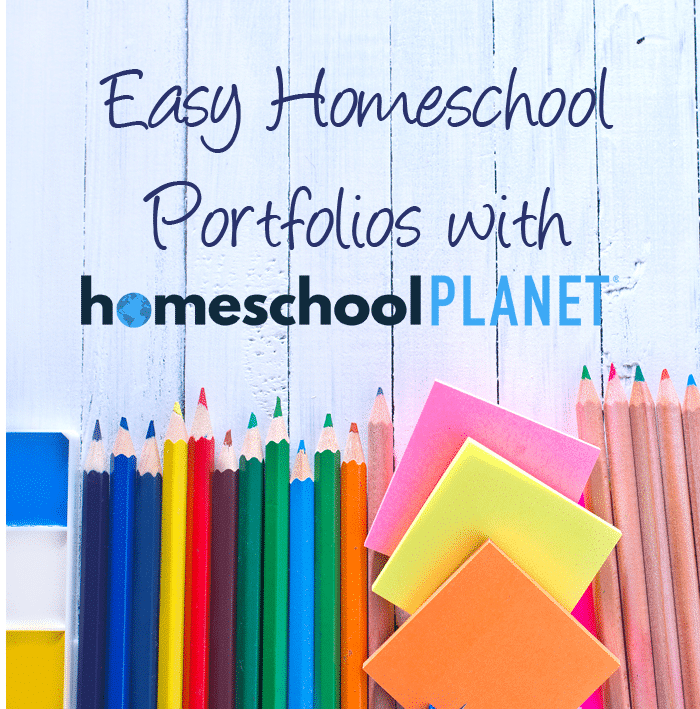 If you use Time 4 Learning in your homeschool they have an automated system that grades lessons and keeps reports for your student portfolios. All the work is done for you! Find out more about Homeschool Portfolio Evaluations and how easy they are with Time 4 Learning.
Sarah is a wife, daughter of the King and Mama to 4 children (one who is a homeschool graduate)! She is a an eclectic, Charlotte Mason style homeschooler that has been homeschooling for over 16 years now. She is still trying to find the balance between work and keeping a home and says she can only do it by the Grace of God, and Coffee!