My favorite part of homeschooling is being able to focus on important topics and subjects that may not be covered in school, or may only be covered for a very short period. I like being able to really drill in these topics and learning the Constitution is one of those topics that is very important for our family to learn.

I wasn't a history buff when I was in school, I barely skated by with passing grades. My husband however, is a huge history buff. He passed this trait down to my oldest who graduated from our homeschool last year. He loves history, especially American history and Government. He loved it so much that he took two different Government classes in our homeschool AND he took a semester of Constitutional Literacy. As a graduation present we sent my husband and son to Washington D.C. where they were able to see the real Constitution right in front of them. I know it was a precious moment for them!
The Constitution has lots of parts to it, if you are wanting your kids to learn it, you may need some resources to help with memorization.
Check out these great free printables and resources to help your children learn the Constitution:
Constitution Copywork and Printable Activities from Homeschool Creations

Preamble to the Constitution Copywork from Cynce's Place

Copybook of the Preamble to the United States Constitution from Proverbs 22:6 Academy

Patriotic Copywork Pack includes the Preamble from Only Passionate Curiosity
Preamble Scramble Informational Text Activity from The Best of Teacher Entrepreneurs
Preamble to the Constitution File Folder Game from The Wise Nest

FREE US Constitution Unit Study with Printables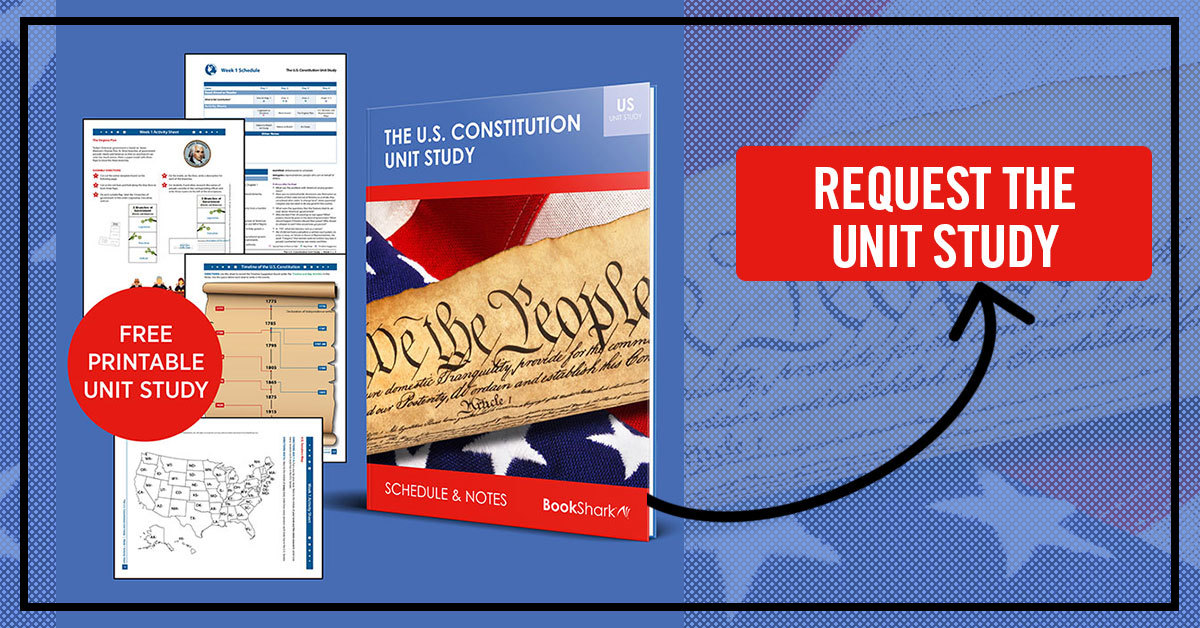 Resources to Celebrate Constitution Day
Constitution Practice Pages for Elementary

Preamble Constitution Vocabulary Worksheet
FREE U.S. Constitution Vocabulary Copywork
Learning About the First Amendment Worksheet

First and Fourth Amendments Worksheet

Constitution Lapbook Printables and Unit Study

Discover American history through the presidencies of those who have led it with this comprehensive resource.
This study takes a brief look at American history focusing on the actions of the presidents through reading comprehension, narration, notebooking, timelines, research projects, and more.
Annette from In All You Do has some amazing free printables to help with learning the Constitution:

Constitution Day Writing Activities – 33 pages of copywork and 34 pages of writing prompts
Constitution Day Coloring Activities – placemats, coloring pages, words to color, crossword puzzles, drawing activities and more
Constitution Day Mini Puzzle Unit – 25 pages of puzzles and games to learn the Constitution
Constitution Facts is a great website chock full of interesting facts on the Constitution and our Founding Fathers.
There is a US Constitution Fun Zone that has games and activities for kids with crossword puzzles and treasure hunts. They have activities broken down by grade levels: Grade K-4. 5-12, and even a section for adults!
Here are some books that will go great with a study on the Constitution:
A More Perfect Union: The Story of Our Constitution
We the Kids: The Preamble to the Constitution of the United States
What Is the Constitution? (What Was?)
We the People: The Story of Our Constitution
Know Your Rights!: A Modern Kid's Guide to the American Constitution
Our Constitution Rocks
. If You Were There When They Signed the Constitution
Constitutional Law for Kids: Discovering the Rights and Privileges Granted by the U.S. Constitution
Shh! We're Writing the Constitution
Sarah is a wife, daughter of the King and Mama to 4 children (one who is a homeschool graduate)! She is a an eclectic, Charlotte Mason style homeschooler that has been homeschooling for over 16 years now. She is still trying to find the balance between work and keeping a home and says she can only do it by the Grace of God, and Coffee!