Do your kids go crazy over those gigantic trucks you see on construction sites? You know what I mean. They try to press their faces to the car window and start bouncing and calling out the names of the vehicles they see. If that is them, I think they'll love these FREE Construction and Building Themed Printables and Crafts.
We created a free construction printable pack that we think your early learners will love. You can find the download at the bottom of this post.
Our city is growing like crazy. There are new roads being added, new shopping malls being built, and a Costco is literally going in my backyard. With growth comes lots of changes and lots of big, noisy trucks! I don't love it, but my little ones think these big trucks are very fascinating.
There are so many ways you can incorporate construction-themed resources into your day. From sensory activities and preschool play to construction contractions and notebooking for older students, there is a ton of fun just waiting to be had!
If your little ones love big work trucks, they will enjoy all these fun construction and building printables and crafts!
Construction Printables:
Lego Construction Worker Notebooking Pages

Construction Worker Pretend Play Prompt
Goodnight, Goodnight, Construction Site Printable Pack
24-Page Printable Construction Notebooking Pack
Construction Scene Contraction Cards
Under Construction Scissor Cutting Practice Sheets
Construction Vehicles Printable Pack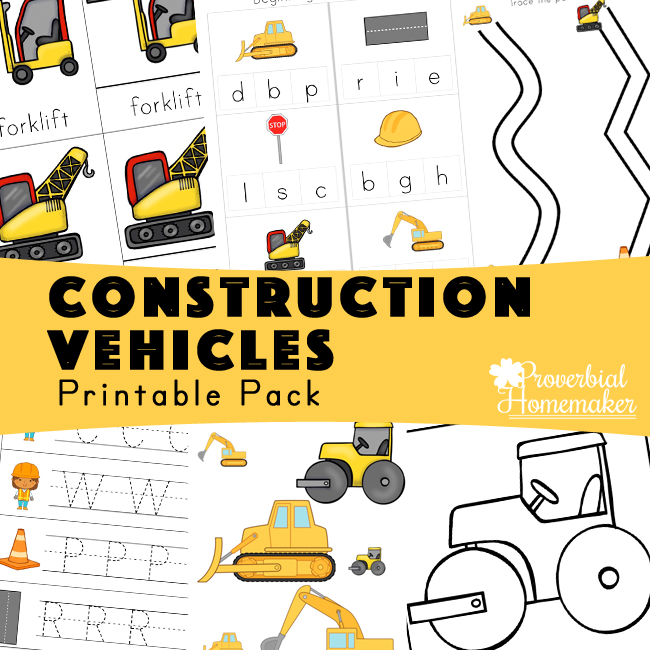 Construction Equipment and Truck Bingo Game Printable Pack

Construction Crafts:

I love these printable crafts from Learn, Create, Love:

Printable Construction Worker Craft

Build a Truck Preschool Activity


Construction Sensory Bins and Hands-On Play:
Construction Site Play Dough Invitation to Play
Construction Sensory Bin Using Kinetic Sand
Ooblek Construction Site Sensory Play
Download our FREE Construction Printable Pack for Early Learners by clicking the image below.

Here are some fun construction themed books and toys:
Mighty, Mighty Construction Site Where Do Diggers Sleep at Night?Goodnight, Goodnight Construction Site The Construction Alphabet Book Melissa & Doug Construction Vehicle Wooden Play Set Melissa & Doug Wooden Construction Site Vehicles With Wooden Storage TrayMelissa & Doug Round the Construction Zone Work Site Rug With 3 Wooden TrucksMelissa & Doug Construction Site Vehicles Wooden Peg Puzzle
Sarah is a wife, daughter of the King and Mama to 4 children (one who is a homeschool graduate)! She is a an eclectic, Charlotte Mason style homeschooler that has been homeschooling for over 16 years now. She is still trying to find the balance between work and keeping a home and says she can only do it by the Grace of God, and Coffee!