Checkout the free coloring packs over at www.1plus1plus1equals1.net.
She has themed coloring packs for other holidays too.
These were posted last year from Holy Spirit-Led homeschooling, but since they are still available, I thought I would post a link to them again.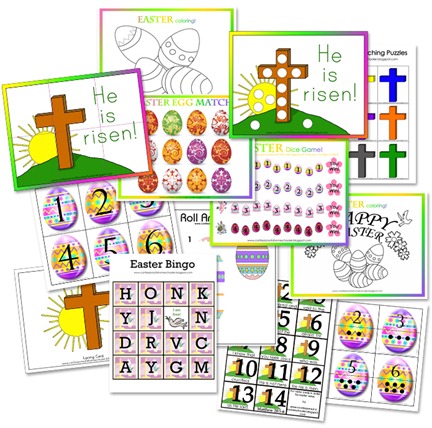 www.confessionsofahomeschooler.com always has great preschool printables. I use her Letter of the Week Curriculum and love it!
Amanda Bennett FREE Easter Lapbook Unit Study on Easter. Scroll down to the middle of the page.

Here you will find free Easter coloring pages, Lapbooks, printables, and more!
DIY Resurrection Eggs & Easter Story Book Printables

Inside this pack you will find 50 activities focused on skills such as colors, shapes and sizes, creative expression, same vs. different, sorting, sequencing, fine motor, puzzles, mazes, math, and literacy. Several activities have multiple versions so you can tailor the difficulty of the activity to your child's skill level.

This Lapbook is FREE right now at CurrClick!

Free Passover Download
Using Easter Eggs to teach Statistics ~ interesting
I found a bunch of free printables at 
www.busybeekidsprintables.com
: 
Easter Coloring Pages
,
Easter Mazes
,
Easter Dot-to-Dots
,
Easter themed Preschool and Kindergarten Math Worksheets
,
Easter Egg Memory Games
Find a ton of FREE Easter Crafts, Activities, Resurrection Printables, Games, Puzzles, Lessons, Bible Verse Cards, Songs and more at Christian Preschool Printables
Other Links and Goodies:
Easter Bible Lesson Links
http://www.littleblots.com/LessonEaster.html

Easter Crafts on Mama Jenn
http://www.mamajennblogs.com/search/label/Easter%20Crafts
Easter Lapbooks
http://lapbooklessons.ning.com/notes/Links_Easter_Lapbook
Natural Egg Dying Activity
http://thecraftyclassroom.com/blog/2010/04/04/a-hybrid-easter/
Easter Bookmarks (Gift Kids can Make)
http://www.biblestoryprintables.com/BibleCraftsEaster.html
TONS of Preschool Resources
http://www.christianpreschoolprintables.com/Easter.html
Free Resurrection Lapbook
http://www.lapbooklessons.com/ResurrectionLapbook.html
Easter Egg File Folder Games
http://www.filefolderfun.com/SubjectEaster.html
Resurrection File Folder Games
http://www.biblestoryprintables.com/Pages/FileFolderGames/HosannaFileFolderGame.html
Story of Easter Timeline & Coloring Pages
http://www.biblestoryprintables.com/BiblePrintablesEaster.html
Resurrection Egg Printables
http://www.christianpreschoolprintables.com/Pages/Easter/EasterResurrectionEggs.html
Carrie is the owner & operator of Homeschool Giveaways. She has been homeschooling for over a decade and has successfully graduated her first homeschooler. She has two girls and works side by side at home with her awesome husband. She has been saved by grace, fails daily, but continues to strive toward the prize of the high calling of being a daughter of the Most High God.