Does your family love The Wizard of Oz?
We love the Wizard of Oz. I loved it as a little girl and my kids love it now. All of my children ages 4-16, recently had the opportunity to perform in a Wizard of Oz Play with our local homeschool theater group. We had so much fun with this play! We have also watched the movie about a dozen times in the last couple of months!
As we were working on the play, I did a search for Wizard of Oz Printables and I found some great ones! If your family loves The Wizard of Oz, you will love these fun printables and resources!
FREE Printables:
The Wonderful Wizard of Oz Reading Comprehension Worksheet -5th grade
Wizard of Oz Themed First Grade English Worksheets – ages 6-7
Wizard of Oz Coloring Pages from the movie

Wizard of Oz Printable Scavenger Hunt Game
FREE Wizard of Oz Printable Lesson Plans and Worksheets for grades 3-6

Wizard of Oz Writing Prompt
Wizard of Oz Story Sticks

Wizard of Oz Lapbook Printables from Homeschool Share

Wizard of Oz Handwriting Practice Set – Manuscript from The Multi Taskin Mom
The Wizard of Oz Preschool Pack from Homeschool Creations 
Year Round Homeschooling has quite a few fun Wizard of Oz Activity Packs:
Wizard of Oz Pre-K Activity Pack
Wizard of Oz Kindgergarten Pack
Wizard of Oz Game Pack for 3-5th Grade 

The Wonderful Wizard of Oz Copywork Printables from Harrington Harmonies – these copywork quotes come straight from the classic book. There are also some neat drawings to color in.

Wizard of Oz Read Aloud 60 Page Printable Pack from Embark on the Journey – there is handwriting practice, coloring pages, venn diagrams, writing prompts, notebooking pages and much more!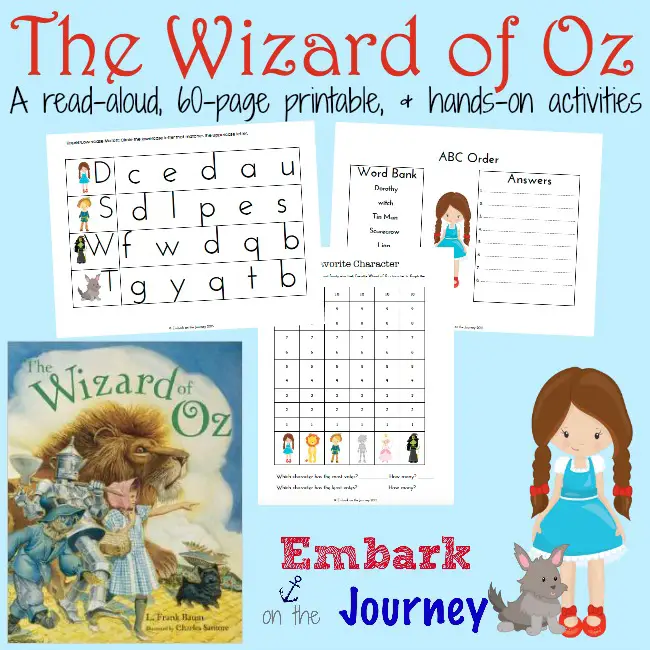 Wizard of Oz Printable Pack from Walking by the Way – this pack has:
a notebooking page to record research about Baum
a Venn diagram to compare and contrast the book with the movie
a favorite character graph
an Oz book challenge
pages of copywork
create a character
learning about the fantasy genre
word search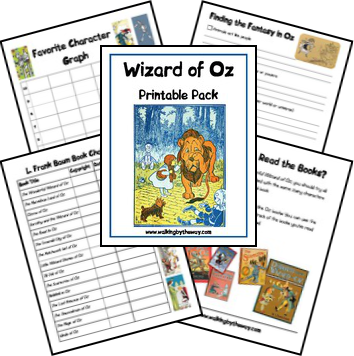 Online Resources:
The Wonder Behind the Wizard of Oz from Yale – this is a very detailed online lesson plan that has student questions for each chapter of the unabridged version of the book. There are also lessons plans for the teacher and discussion topics, like differences between the original film and the books. 
C is for Confidence: Lessons from the Wizard of Oz by One Time Through – this is a great character lesson plan on teaching confidence to children.
The Wonderful Wizard of Oz Website – this is a very informative website devoted to everything Wizard of Oz. There are so many links, pictures, historical infomartion about the movie, books and so much more! I think an older child or teen would love to research more on these pages!
Wizard of Oz Crafts:
Wicked Witch of the West Bookmarks – these are hilarious!


Build Your Own Tinman


Melt the Witch Sensory Bin 


Make Green Spectacles


Wizard of Oz Paper Flip Cubes

Wizard of Oz Books and Activities:
Sarah is a wife, daughter of the King and Mama to 4 children (one who is a homeschool graduate)! She is a an eclectic, Charlotte Mason style homeschooler that has been homeschooling for almost 20 years.. She is still trying to find the balance between work and keeping a home and says she can only do it by the Grace of God, and Coffee!