Disclaimer: I was provided with a free product in return for my honest review. I was not financially compensated for this post.  All thoughts and opinions expressed herein are my own and not influenced by the developing company and/or its affiliates in any way.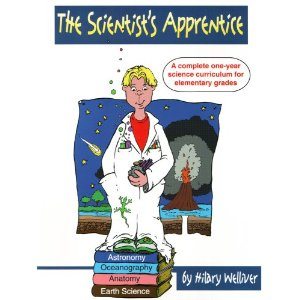 The Scientist's Apprentice by Hilary Welliver is a delightful science curriculum for kids of all ages. This year long study is sure to have your whole family on their feet during science class. You can tell that Welliver had the home school parent in mind when she created this amazing study. Not only are the experiments educational and entertaining, but they are easily done with items from around your house, and the reading list is easily obtained at your local library. The pages are reproducible, the lessons plans are flexible, and the activities included can be enjoyed by kids of all ages. 
Welliver covers four major topics: Astronomy, Oceanography, Anatomy, and Earth Science. Each unit is eight weeks long, making a thirty-two week year instead of the usual thirty-six, leaving ample room for adjustment in your schedule. Creative thinking is more than encouraged with experiments like "Faster Than the Speed of Smell" and "Kaleidoscope" but; Welliver also makes sure that the scientific method is followed while students create their own "Scientist's Apprentice" notebook. I especially enjoyed the craft activities. We always like to include a craft along with unit studies and there were more than enough ideas for us to choose from included in this curriculum. There are also plenty of activities for the more adventurous types, such as making your own "Ant Ranch". Another important feature this curriculum offers is completely reproducible teacher planner pages for everything from weekly lessons to reading logs, and even co-op planning. Absolutely everything has been though of for you, from lesson planning to lab safety rules, there is page for all of it.
There is no shortage of exciting ways to learn in this study and your kids will have almost as much fun with it as you do.
Click here to check it out, along with samples, on the publisher's website!