Review by Bridgette Taylor
Disclaimer: I was provided with a free product in return for my honest review. I was not financially compensated for this post.  All thoughts and opinions expressed herein are my own and not influenced by the developing company and/or its affiliates in any way.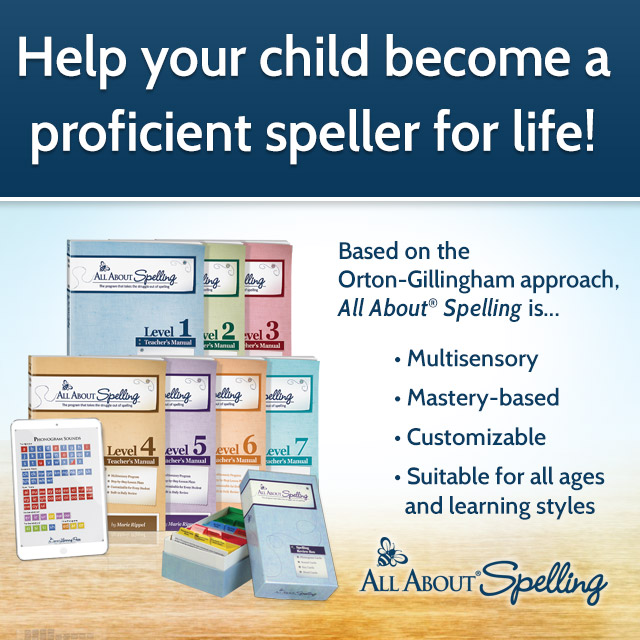 "All About Spelling – Level 1" by Marie Rippel is an amazing spelling program for beginning or struggling spellers. This 24 step program takes the confusion out of learning how to spell. 
"All About Spelling" takes a multi-sensory approach to teaching by combining visual, auditory, and kinesthetic activities in each lesson. This is unique to "AAS" as most programs use only one of these three avenues to explain the material. Combining activities that utilize all three avenues of learning helps to solidify the material in the child's memory by them seeing (visual), hearing (auditory), and doing (kinesthetic) tasks that pertain to each letter combination or phonogram.
The "All About Spelling" starter pack comes with a Teacher's Manual, a student material packet, a set of color-coded letter tiles which can be magnetized, a CD-ROM, and a set of phonogram sound and flashcards. Each lesson is referred to as a "step" and you can stay on each step for as long or as short as you need to. However, each step should be mastered before moving on to the next one. The letter tiles are an especially nice touch and you will use them often in this program.
I highly recommend that you use the provided magnetic strips to make magnets out of them. This makes them easier to move around on the white board and to store as well. If you prefer to have your letter tiles loose, then it would be best to have a large flat workspace for them daily. Many of the sound and letter cards will also be used in the subsequent levels so hang on to them. 
As you move through the program you will review the previously learned material often. I appreciate the frequent reviewing because there is little chance of the student forgetting what they have already learned. By the end of level 1, your student will have a good idea of which phonograms make what sounds as well as be able to identify which phonograms to use just by sound alone.
The lesson plans are easily customized for each student and are a breeze for the teacher too. I would definitely recommend "All About Spelling" for families with beginning spellers or for those that need a more solid foundation. 
Click here for FREE Spelling Tips & Downloads from All About Spelling!