Review by  – Sarah, used with her 5th & 6th grade son
Disclaimer: I was provided with a free product in return for my honest review. I was not financially compensated for this post.  All thoughts and opinions expressed herein are my own and not influenced by the developing company and/or its affiliates in any way.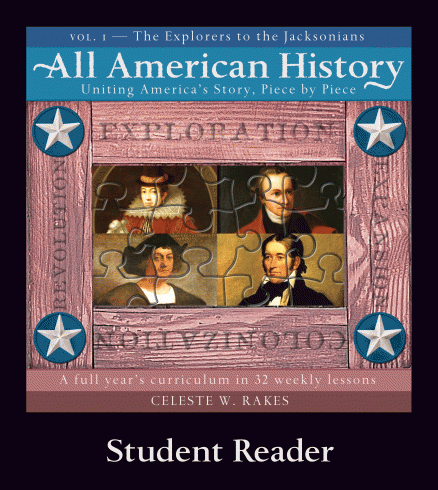 When I was first researching this curriculum, it seemed as if it was going to be like a regular history textbook. I was wrong! It is very informative and comes alive for the teacher and the student. My son is in the 6th grade this year and we have been using this curriculum since 5th grade. He really enjoys History and enjoys reading the lesson each week. This can be done as a read aloud or easily done independently. Each lesson includes reading that is broken down into different subjects, photos of famous people and events, maps, and a section at the end called Impact which tells about the impact of the unit's events on our nation. 
In my opinion, if you were to just use the student reader, it would be more like a typical textbook. I definitely recommend using the student activity book as well as incorporating some of the suggested readers to really make this come alive for your child. 
This curriculum comes in three parts: The Student Reader, the Student Activity Book, and the Teacher Guide with Answer Key. 
A great asset to this curriculum is the Activity Book. It comes pre hole punched and perforated which is wonderful. I immediately take it apart and put it in a big three ring binder broken down by unit. Each lesson includes activity worksheets to accompany that lesson. A neat hands-on to this book is that it includes small images of famous people and flags to cut out and paste onto the worksheets. This is great for my son to keep his hands busy while I am reading the lesson out loud. It's great quiet, busy work. The worksheets also include a fill in the blank and a multiple choice quiz to check older student's memory, as well as map work and additional ideas and resources for further study. This can easily be adaptable up to a high school level by using the ideas for further study and extra research/homework. 
The Teacher Guide is a great resource, especially if you are teaching multiple grades at once. It includes a lot of information and gives ideas for teaching different grades. There are activities written out that can go along with each lesson, but I really loved the book lists. Each unit has a long list of readers and literature books that go along with the time period you are studying. This is broken down into early elementary grades all the way up to high school! The author recommends it to be used for grades 5-8, but it is so flexible and easily adaptable to teach younger students as well as meaty enough to use with extra projects for High School Students! 
There are 2 Volumes to this full American History Curriculum each with 32 lessons. 

Volume 1 begins with Exploration through 1840. There are great studies on each different explorer and the lands they explored along with neat activities that teach about the science of navigation equipment and navigating the stars etc. The map exercises really bring alive the places that you are learning about. 
Volume 2 covers the Civil War to 21st Century. There are great maps that highlight where the wars were fought and showing the states as they were being formed. I really like that there are many forms on each president. They fill in facts about the president and paste their photo onto the sheet. This helps the student to learn about each president and also learn them in order! There are forms for memorizing the States and Capitals too. This is a very well rounded curriculum with a lot of information!