Review by Bridgette Taylor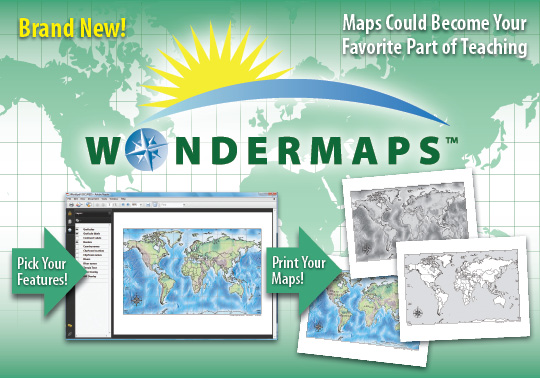 I am always impressed with products from Bright Ideas Press, but "WonderMaps" has far exceeded my expectations. "WonderMaps" offer over 350 maps under such titles as "The World," "The United States," "Historical Maps," and "Thematic Maps." "Mystery of History" users, like myself, and also "All American History" users will find this program invaluable as all the outline maps associated with those curricula are there for you to print.
I love this aspect because I don't have to waste time looking through books and internet links to find the map I need in outline form only. Having so many maps in one place makes it super easy to find any map that our curriculum calls for, but that's not even half of the appeal to this program. Not only are there numerous variations to each map, but the maps also feature layers which you can add or remove to customize the map to your individual needs. For instance, while studying the cities of the United States, "WonderMaps" makes it possible to print maps with the names and locations of the major cities in the U.S. for visual aids. However, you can then remove the layers, using the handy feature to the left of the map, in order to print the same map without city names or even locations so that you can adequately test on these skills. This same feature makes it possible to add or remove rivers, borders, mountains, country and regional names, and more. 
Another feature that I find helpful is the color overlay. All the maps can be printed in color, with various shades depicting landforms and regions, but they can also be printed in black and white so the student can color them in. The section entitled "Thematic Maps" is especially cool. Using this feature you can view and print maps from different ages of the world such as "The Chinese Dynasties," "The Native Americans," "The Explorers," "Biblical Maps," "American History," "World Wars," and even "20th Century Treatises." You can literally travel right along with Lewis and Clark on their famous expedition or follow Mary and Joseph as they fled from Bethlehem to Egypt with baby Jesus. 
If all of this sounds confusing, have no fear, the "Teacher's Guide" has a manual, a "Quick Start Guide," and also a video tutorial to explain how to use all of these components. Also included are 2 extra bonus mp3 workshops and many extra resources. I have not seen any mapping curriculum with as many maps or features as "WonderMaps." It is quite possibly the only geographical mapping program you will need as it complements any geography unit wonderfully. I highly recommend "WonderMaps" by Bright Ideas Press for any homeschooling family or any student who needs a more solid geography background.