Are you looking for some fun, quiet, learning activities for your preschoolers? Matching cards and games are perfect for this!

Matching games are great to play with your toddlers and preschoolers. I have found a ton of really cute cards with animal themes. These matching cards and flash cards would be great to play a game of Memory with. You can also laminate them and use them as flash cards, they can be used in games, or pocket folders. You can even use toy animals to match to the cards and use it as a quiet play time activity.
FREE Animal Themed Matching Cards:
Printable Matching Animal Cards

Zoo Animal Picture Matching Cards

Farm Matching Activity with FREE Printables

Animal Skeleton Matching Cards

Animal Matching Picture and Word Cards

Pets and Their Homes Matching Activity
FREE Animal Identification Cards
3 FREE Printable Forest Animal Matching Cards


Mommy and Baby Animals Matching Cards




Ocean Animals Shadow Matching Cards


Animal and Habitat Matching Printables
New Zealand Animal Flash Cards

North American Animal Flash Cards

Nocturnal Animals Matching Cards

Jan Brett's Matching Animals Game



Animal Tracks Match Up Game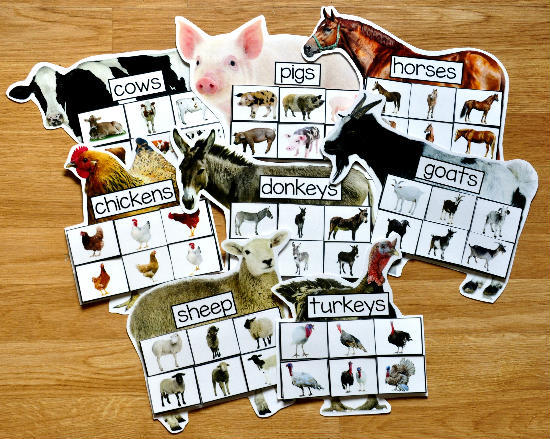 Animal X-Rays Matching Activity Set


If you don't want to print or laminate cards, but are still looking for some cute memory games, here are some of our favorites:


Baby Animals Matching Game
Animal Tracks
Stages Learning Materials Picture Memory Animal Card Real Photo Concentration Game, Red, Size 5 x 3
Mom & Baby Animal Matching Game – Preschool and Kindergarten Matching Activity – early learning toy language materials
eeBoo Preschool Animal Memory Matching Game
Ideal Who Lives Where Wooden Memory and Matching Game
HABA Animal Counting Matching Game – Reinforcing Numbers 1-5 – Ages 18 Months and Up (Made in Germany)
Animals! Matching Game
MasterPieces Learning Game of Animal Matching – 40 Pairing Piece Kids Puzzle
Sarah is a wife, daughter of the King and Mama to 4 children (one who is a homeschool graduate)! She is a an eclectic, Charlotte Mason style homeschooler that has been homeschooling for almost 20 years.. She is still trying to find the balance between work and keeping a home and says she can only do it by the Grace of God, and Coffee!