As we grow to know the Creator, everything else we have ever known is made anew. We were once taught subjects like history, science, and math as independent and apart from God. Now that we know Him, we can understand how to use the Bible to teach history, science, and math as He is the author of it all.
I heard a podcast that stated the Word of God is history, "HIS STORY." We can restore the recollections of history with the true stories from His creation.
I am convinced that the Lord meant for us to teach history in the context of His Word. Why wouldn't He? If he has left us this script, timeless and still the best-selling book of all time, which proves to be historically accurate – as a Christ-follower, we should use it to teach our children about the past.
In researching how to use God's Word to teach history, I learned about a passage in Joshua that explained how we should answer our children in the questions they ask us:
Joshua 4: 21-24 He said to the Israelites, "In the future, when your descendants ask their parents, 'What do these stones mean?' tell them, 'Israel crossed the Jordan on dry ground.' For the Lord, your God dried up the Jordan before you until you had crossed over. The Lord, your God, did to the Jordan what he had done to the Red Sea[b] when he dried it up before us until we had crossed over. He did this so that all the peoples of the earth might know that the hand of the Lord is powerful and so that you might always fear the Lord your God."
According to this passage, we should answer our descendants (our children) questions in the context of Biblical history and Biblical worldview. People search for answers and are not satisfied with the answers they are given.
In God's kingdom, there are definitive answers and good reasoning behind our perspectives according to God's design. There is a comfort in knowing we can rest in His truth and teach our children to do the same in a world where it seems no one is sure of anything anymore.
I wonder how we could teach history without Him!
Time and time again, new archaeological findings confirm that what the Bible tells us is accurate. A House of David reference discovered only 20 years ago was found on a 3,000-year-old column in the Middle East. Of course, the Davidic kingdom was considered only a legend before then to most "historians."
For hundreds of years, corroboration of the Bible has been proven over and over. We could align Biblical characters on the same timeline with secular historical figures of ancient times – the documented facts perfectly coincide with each other. These examples give you an idea of the historical figures and biblical characters that align similarly in time:
Joshua (1451 BC) and King Tut (1333 BC)
Shadrach, Meshach, & Abednego (c. 500 BC) and Buddha (c. 563 BC)
Belshazzar (539 BC) and Confucius (547 BC)
Ezra (467 BC) and Socrates (c. 469 BC)
Malachi (c. 400 BC) and Plato (c. 427 BC)
Herod the Great (37 BC) and Cleopatra (37 BC)
Jesus Christ (c. 4 BC) and Augustus Caesar (27 BC)
We can teach all of the world's history by using the Bible. From ancient to modern, our kids can learn everything from geography to all of the people groups in the world.
Here are a few ideas that can help you use the Bible to teach history in your homeschool:
Find a curriculum that specifically uses the Bible to follow the biblical timeline. Our favorite Christian history curriculum is The Mystery of History.
Beginning with the Creation of the world, The Mystery of History four-volume series teaches world history in chronological order. It is written from a Christian worldview in a conversational tone that makes it much more enjoyable than a dry history textbook.
That being said, you do NOT have to purchase or use a curriculum to use the Bible to teach history in your homeschool.
Read stories of the Bible and dig into the historical context of the book.
For instance, God allowed Judah to be taken captive by Nebuchadnezzar in 605 BC, we see 70 years later He returned the Jews to their homeland through Cyrus the Great of Persia. This was a biblical prophecy! A king of Persia – modern-day Iran – freed the Jews from captivity in Babylon. Only God can do this!
Take a weekly Bible Road Trip with your kids. Celebrating the Lord's birth in December can be a great time to teach about Bethlehem.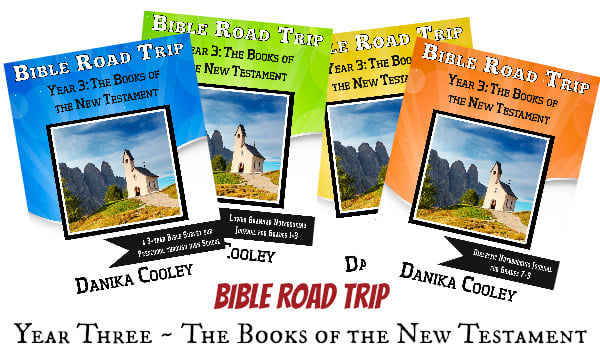 Select a topic and read about cultures, archaeology, events, etc. in the Bible. For instance, it is always intriguing to teach kids about the Pharisees, their customs, and why they were against Christ's coming. Studying prophesy shows that God is still faithful and true (Isaiah 40:8).
Learn the books of the Bible and research to teach the history behind them. As you go through Genesis, you can teach how Babel (Babylon) was a real place in history, where Nimrod, a real person, led a rebellion against the Jehovah God himself.
The Sea of Galilee is mentioned in several places in the Old Testament, including Numbers 34:11 and Joshua 12:3. The Sea of Galilee is an important landmark your kids can research.
Learn about current world cultures and pray for the people who follow it. Teach the history behind Buddhism, its paganism, what God says about other gods, and pray for their salvation earnestly with your children.
Secular facts and Biblical stories overlap. History, as told in the Bible, can help us put world events into a biblical perspective. As Christians, we can see God's hand interwoven into the world's history, giving us hope and encouraging us to look towards His ultimate plan for mankind and redemption.
History only proves the existence of a sovereign God. We all could be reminded of this truth now and again.
I read some insight that stated:
"From Genesis to Revelation, God tells us about His Kingdom, why He created us, why sin is inevitably destructive, and His amazing plan of redemption."
Every single thing that has happened in our past, and what will happen in the future points to Him AND is for His glory. When we study history in this context with our kids, it is an opportunity for our kids to be in awe of His Word.
Jeannette is a wife, mother and homeschooling mom. She has been mightily, saved by grace and is grateful for God's sovereignty throughout her life's journey. She has a Bachelor in English Education and her MBA. Jeannette is bi-lingual and currently lives in the Tongan Islands of the South Pacific. She posts daily freebies for homeschoolers!