My kids are city kids, so cattle drives and cowboys are things they aren't quite used to. These free resources for learning about cowboys and cattle drives will help even city kids appreciate the country lifestyle.
It is a great benefit to teach kids about cowboys and cattle drives, even if – especially if – they aren't familiar with them.
Cowboys and cattle drives actually played an important role in the history of America's expansion towards the west. Ranching became a big industry, and cowboys kept the ranches running.
Cowboys
The cowboys repaired broken fences and buildings, they cared for the horses, and they herded the cattle.
Cowboys woke up in wee hours of the morning to start their day and guided the herds to the next points, usually at night time.
Cowboys had to be hard workers, yet they also often sang songs at night for entertainment and to soothe the cattle from the long journey. Some songs they sang were "In the Sweet By and By" and "The Texas Lullaby."
Many cowboys worked on cattle drives. Cattle drives were when large herds of cattle were moved from the ranch to the marketplace to be placed on sale. The cattle drives stretched from Texas to railroads in Kansas.
Cattle Drives
Working the cattle drives was pretty tough work for cowboys. This really can teach your kids about a good work ethic.
There were usually about 12 cowboys for a cattle drive with a size of about 3,000 cattle. The senior riders rode in front of the cattle leading the herd, and junior cowboys rode in the back – with the dust and the dung smell, I am guessing.
Read more about this lifestyle with your homeschool this year.
Enjoy these free resources for learning about cowboys and cattle drives:
FREE Vocabulary Copywork for Learning About Cowboys
Handwriting Practice Old West (FREE)
FREE Resources About the Old West
Resources About Famous Pioneers, Settlers, and Mountain Men
FREE American West Research Notebooking Unit
History of the Texas Cowboy, Cattle Drives, and Chisholm Trail | Tina's Dynamic Homeschool Plus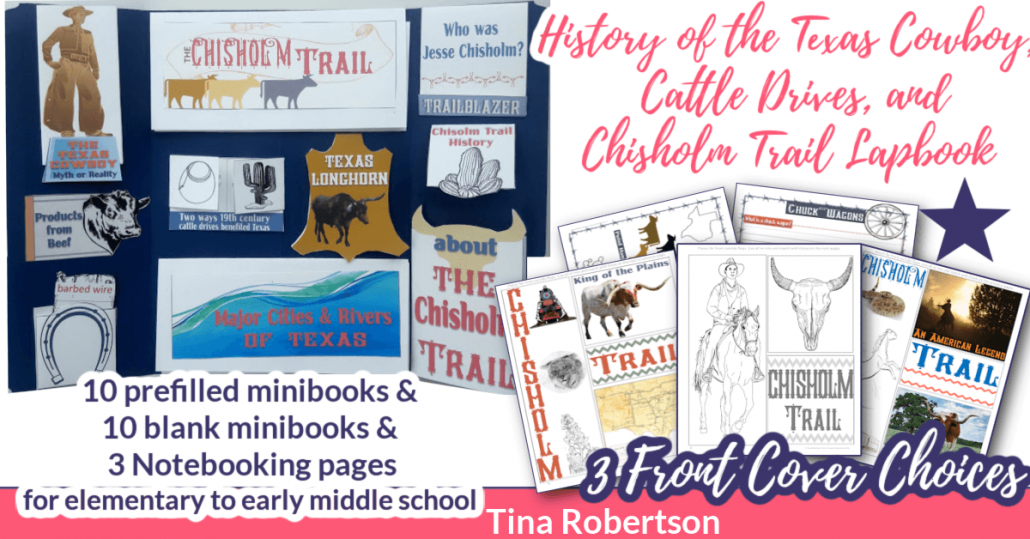 Cowboys FREE Minibooks – American History | Tina's Dynamic Homeschool PLUS
FREE Cowboy Unit Study and Lapbook Ideas | I Choose Joy
Yeehaw! A Texas (and Western) Unit | Fantastic First
Cowboy Unit ~ Preschool Corner | Homeschool Creations
Yee-haw – Wild West Unit & FREEBIE | Teacher Idea Factory
Cowboy Unit Early Learning Printables | Homeschool Creations
FREE Cattle Lapbook | Homeschool Helper Online
Night Life on the Cattle Drive and why Cowboys Sing to the Cattle | Wild West History
Cowboys History | History.com
The Cattle Drive and Westward Expansion Lesson Plan | National Agriculture in the Classroom
Historic Cattle Trails & Cowboy Culture | Texas Time Travel
Cowboys and Cattle Drives | Ducksters
Cowboys of the Old West for Kids and Teachers | Mr. Donn
Books about cowboys to check out at the local library:
20 Cowboy Books For Little Learners | Mrs. Jones' Creation Station
Activities to add hands-on activities to your cowboy and cattle drive lessons:
The Best Pioneer Survival Food: Cowboy Biscuits | Bio Pepper
Cattle Drive Quiz Online | Quizlet
Create a Cowboy Craft (FREEBIE) | Sophie's Stuff
How To Play Cowboy – Distance Learning Social Activity FREE | LittleLearners728
Videos to watch about cattle drives and cowboys for visual learners:
The Great Cattle Drives: Old Texas & the Trail Drivers Part 5 – American history | Zane Education
Cowboys, Kids, and a Cattle Drive (Video) | Growing America
(Video) Cowboy History For Kids | A Kid Explains History
Working Cowboys and Cattle Video | PurinaMillsTV
Cowboy and cattle drive themed learning resources for your little ones:
FREE Cowboys & Cowgirls I Spy Fun Pack | In All You Do
Counting Cards up to 20 | Blessed Beyond a Doubt
Cowboy Categories- FREEBIE! | Speech Time Fun
FREE Preschool Worksheets: Counting & Number Tracing Worksheets | Happiness is Homemade
FREE MATH LESSON – "Cowboy Boot Line Symmetry Coloring Page" | The Best of Teacher Entrepreneurs
Cowboy Theme FREE Bingo Game | Pre-K Pages
FREE Cowboy-Themed Alphabet Puzzles | Homeschool Preschool
Cowboy Word Family Game FREE | Lauren Hollier
FREE Cowboy Math Unit | The Resourceful Kindergarten
Cowboy Number Roundup FREE Matching Game | More Excellent Me
FREE Cowboy Lego Writing Printable | DIY Paper
Western Theme Vowel Teams FREE Activity | The Kindergarten Connection
FREE Printable Cowboy Movement Cards | Pre-K Pages
Wild West FREE Worksheets for Kids | 123Homschool4Me
FREE Cowboy Printables | Homeschool Creations
Cowboy Wild West Unit Theme Page! | Teaching Heart
How to Measure: Cowboy FREE Download | Education.com
FREEBIE! Cowboy book | The Teacher Bin
Our kids hear about cowboys on the TV, yet we rarely take the time to teach their history. Take advantage of a cool subject and maximize learning with a cowboys and cattle drive unit in your homeschool.
Jeannette is a wife, mother and homeschooling mom. She has been mightily, saved by grace and is grateful for God's sovereignty throughout her life's journey. She has a Bachelor in English Education and her MBA. Jeannette is bi-lingual and currently lives in the Tongan Islands of the South Pacific. She posts daily freebies for homeschoolers!